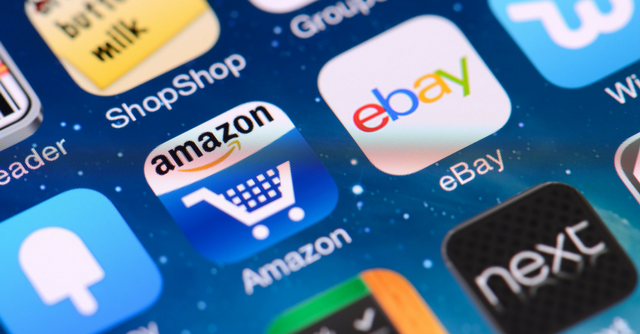 Today's ecommerce sector offers no shortage of selling opportunities. eBay is certainly right next to Amazon in terms of popularity and size. According to a recent estimate, eBay has about 169 million active users, with 25 million sellers, and 1 billion live listings at any given time.
With so many sellers competing for placement, wise merchants should really assess the pros and cons of the marketplace and consider eBay alternatives to maximize sales opportunity.
1. eBay Selling Fees
The eBay marketplace is a business of its own and the company has to be profitable. So to make money, they charge eBay sellers various fees for their items. These fees can be confusing because they are all split across different stages of the sales pipeline. So let's break down them one at a time:
Listing Fees. There are limits on how many products you can list on eBay for free. Once you have reached a limit of free listings for the month, the marketplace starts charging you. The "insertion" fee usually starts at $0.10, but can go higher, depending on the details of your listing. We recommend familiarizing yourself with

eBay's Standard Selling Fee

terms and conditions, as they can change periodically.

Final Value Fees

. eBay is also charging sellers the percentage of your overall sale profit. Again, it ranges from 2 to 9% depending on the item. If you wish to have shoppers pay for the shipping, there will be an additional final value fee deducted from the shipping costs.

PayPal Fees

. Every transaction on eBay goes through PayPal, and not surprisingly there is an additional fee, associated with accepting every payment. And conveniently enough, eBay owns PayPal.
So, as you can see, the eBay fees can add up to quite a substantial value, especially if you want to grow as a high-volume seller. However, when compared to Amazon for example, the profit margins at eBay tend to be higher for virtually every type of product. Most other marketplaces don't have such large fees as eBay or Amazon. Jet, for example only charges $50 annually, which is negligible for mid- and large-size retailers, when compared to 10%+ sale fees.
2. Fixed-Price vs. Auction Bidding
The fastest way to check a merchant's stock is to add a large number of the item, say 30 of it, to your cart. The system will show you how much of that item the seller has in stock. This is a great way to get a feel for how long a lower buy box price will stand, and how soon you can expect the price to increase after their stock is purchased.
Not every seller aims to sell items at the highest price in a short time. Some are seeking to turn over their inventories quickly and make a lower profit. Let's have a look at these two listing types to make sure you fully understand the difference between them.
Fixed-price listings

. Fixed-price listings can be compared to inventories at a retail store. All the items are available for sale at any time. What is more, there are special features that help automatically renew items every 30 days, which makes managing your store more automated.




One of the best things provided in this listing type is the immediate payment option. After a customer clicks on the Buy It Now button, the item will still be available for purchase until it is paid for. In addition to that, buyers are enabled to submit their offers for the seller's consideration. The only drawback is that you will be charged fees for using these features.

Auction Bidding.

Auctions can be beneficial for selling rare things. Some people like collecting unique items or simply want to possess something no one else has, so things that are hard to find on the average market can sell for high prices via auctions since the market determines the price.
However, there is a fly in the ointment because of the potential shipping backlog. When a lot of auctions end at the same time, shipping becomes a real challenge. Sometimes sellers send a large number of items on auction but forget that they will have to ship them. So the risk of failing to ship all the orders is high.
3. eBay's Reputation as an Auction Site and Scammer's Haven
Some call eBay the best place to sell rare items and it is still likely true in certain niche categories. And there's no doubt that auctions create a sense of urgency and make buyers purchase the item immediately. However, the fact is that the majority of the goods offered by sellers can really be found on many other channels - sometimes even at your local brick-and-mortar store.
Auctions that are so popular on eBay are not always the best sales channel for your items. It's no secret that non-paying bidders are the biggest hassle when it comes to auctions. The thing is that auction buyers are allowed to pay for the item within four days, but what if that buyer changes their mind and decides they don't need your product anymore? They will cancel the order. So for sellers, the transaction may be just a waste of time and effort.
A more important consideration closely related to auctions, and selling on eBay in general, is the fact that anyone can sell on the marketplace. For many millennials, buying on eBay is akin to buying from a thrift shop. You can never be sure of the quality. And like Amazon being plagued by counterfeiters, eBay has a reputation for enabling scam artists.
Trust - or the lack thereof - is something eBay is working hard on in their advertising efforts, especially among younger shoppers. For eBay sellers, ramping up reviews will help improve sales. Compared to alternatives, eBay merchants will really need to work hard to improve their seller ratings and actively request positive feedback from their buyers.
4. Lack of Customer Service
Both sellers and buyers have many complains when it comes to eBay's customer service, and these issues bring fairly a lot of problems.
Difficulty obtaining eBay customer service

. Contacting eBay's customer service is a nightmare for both buyers and sellers. Shoppers often complain that it takes time to get the problem resolved, and many emails go unanswered. Compare to Amazon and

Walmart's customer service

, eBay really has to catch up.

eBay favors buyers over sellers

. From the sellers' end, eBay does little to protect sellers from unfounded bad reviews. Some buyers can be too demanding and might complain about the smallest things. They are enabled to leave a negative feedback which can hurt the seller's credibility, even if the seller is not at fault.
5. High Competition, When Compared to Some Alternatives

With 25 million sellers competing for limited placement on eBay, it's a true challenge to sell non-niche products. Usually, when selling an item that already has multiple listings on eBay, chances are good that you'll spend a lot of time and money to reprice or promote your listings.
Instead, why not consider other marketplaces: regional or even international sales channels?
eBid is a great example of UK-based eBay alternative that grew in popularity. The service is pretty much identical. Moreover, right now it offers a lifetime membership that allows you sell items for free in any amount, with no final value fees.
Read Now: Learn how to Growth Hack Your Business Through Multi-Channel Selling
The Need to Go Multi-Channel
To sum things up, it comes as no surprise that multi-channel selling is the future of eCommerce, and putting all your eggs in one eBay basket is not a smart move.
Nowadays, buyers are browsing across multiple channels before making a purchase. It's clear that they want the best goods at the best price, and at the greatest convenience. It's clear that businesses have to expand to meet the customers' requirements. Multi-channel selling allows for expanding your customer reach which, in turn, results in a higher turnover.
It is no secret that over the years, other marketplaces have taken a huge portion of online traffic from eBay. Marketplaces like Jet and Walmart have won over shoppers by providing a better experience. And this is not mentioning Amazon, the largest marketplace in the US.
Although sales channels like Jet aren't even close to the total traffic share of eBay, they experienced a phenomenal growth, becoming the top 5 marketplaces in the US in just 2 years. Amazon's traffic is double of eBay's, with 58.7 million unique monthly views versus 26.6 million respectively. In terms of traffic, eBay also appears to be stagnating. In the last 6 months, eBay has experienced almost no growth, even during the holiday season, according to Similarweb. This reflects the marketplace's declining reputation amongst millennials and the growing competition from other eBay alternatives.
Final Thoughts on Going with Alternatives to eBay

At the end of a day, selling on multiple marketplaces is a much better option. Not only do you broaden your audience, but you compensate eBay's weaknesses with every other channel's strengths. The challenge is how to juggle all these different platforms, without risking inventory problems or hiring more people to manage more listings.
Luckily there is no shortage of solutions available - all you need is a single ecommerce interface that integrates with multiple marketplaces. Jazva makes multi-channel selling easy by providing you with a single platform for managing your entire ecommerce operation, from managing listings and syncing inventory to viewing reports across all marketplaces.
Make selling on eBay easy with Jazva's unified eCommerce platform