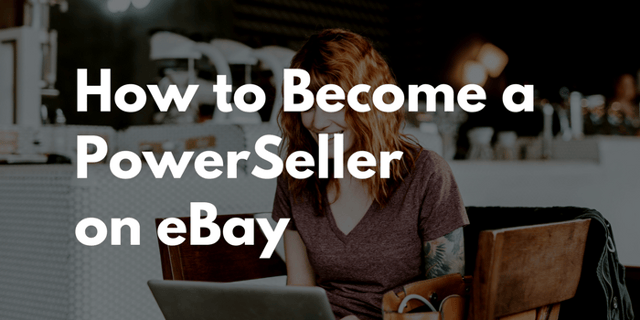 Becoming a PowerSeller should be the goal of every seller wanting to take their eBay business to the next level. The earning potential is huge, and if you have the right strategies in place, you can easily achieve the PowerSeller status.
Being an eBay PowerSeller is all about product sales and customer satisfaction. Among other requirements, you'll need to consistently sell a significant volume of items and maintain a 98% positive feedback. If you want to up your level, say from Bronze to Silver, or Gold to Platinum, you'll have to reach certain volume requirements and get more positive reviews. Not an easy feat!
But is it worth becoming a PowerSeller? And how do you become one? Read on and see how you can achieve this coveted seller status.
The Perks of Being a PowerSeller
PowerSellers rank among the most successful sellers on eBay. While the PowerSeller status no longer appears in search listings, PowerSellers still have a few advantages, such as:
USPS Commercial Plus Pricing - Silver, Gold, Platinum and Titanium PowerSellers can enjoy discounted rates when they ship via USPS eBay Labels.
Priority Customer Service with eBay - Powersellers have a dedicated customer service team that not only helps resolve issues faster, but also helps PowerSellers achieve the Top Rated Seller status through 1:1 phone consultations. No waiting in line for customer support!
Unpaid Item Protection - PowerSellers get a credit for any Listing Feature Fees when the buyer doesn't pay for the item and the seller closes an Unpaid Item dispute.
Other Benefits - PowerSellers have access to a separate private community, discussion boards and resources specific to eBay's top sellers.
Also, in most cases, buyers cannot leave neutral or negative feedback for PowerSellers until 7 days after purchase. eBay encourages buyers to work things out with the seller to protect their feedback scores. This protection is a HUGE advantage for PowerSellers in a crowded marketplace where ratings can significantly impact sales.
How to Achieve eBay PowerSeller Status
You don't apply to become a PowerSeller. And membership is free. You just need to meet the program requirements, and eBay automatically includes your account once you qualify. Here are eBay's current PowerSeller guidelines:
Be registered with eBay for at least 90 days.
Have an account in good standing.
Maintain a positive Feedback of 98% or higher over the past 12 months.
Follow all eBay policies.
Have a minimum of 100 transactions and $3,000 in sales with US buyers over the past 12 months.
For all transactions with US buyers, have no more than 0.30% of transactions result in the eBay Money Back Guarantee and PayPal Purchase Protection cases closed without seller resolution.
If your account doesn't meet these requirements, you may lose your PowerSeller status. There are six PowerSeller tiers or levels based on sales volume. These include Bronze, Silver, Gold, Platinum, Titanium, and Diamond.
Sellers will need to achieve and maintain the above performance standards to keep their status.
Amp Up Your Sales & Improve Buyer Satisfaction (Your Guide to Happier Customers)
Studies show that there are two things online shoppers generally care about: price and convenience. Shoppers are looking for the best deals on eBay, so if you want to sell more and maintain good reviews, you'll need to have an actionable strategy in place to set yourself up for PowerSeller success.
These practical tips will drive sales and win customers:
Be upfront about your products - It all starts with the product. If you have something worth selling, you will have buyers. If you lie about your products, buyers will feel scammed and you will definitely get negative feedback!
Optimize your listings for better relevance and search traffic - As part of eBay's structured data initiative, eBay has been pushing sellers to provide more detailed and specific titles and descriptions. Clear information will help eBay match your listings with the right customers.
Provide rich product content - Discard old factory photos and provide high quality product images. Ninety percent of shopping cart abandonment happens because shoppers feel they don't have enough product information.
Expand your product assortment - More listings can mean more visibility, especially if you offer great deals and varied options. Consider using kits, bundles and shadow listings to improve sales velocity.
Be smart about product pricing - Develop a repricing strategy if you want to beat competition on eBay. Price your items high if competitor products are unavailable; price low when competition is high. But it's impossible to stay on top of price without proper automation. Consider using an eBay repricer instead of manually monitoring competitor pricing and availability.
Ship products as fast as possible - When you deliver products on time or faster than expected, you'll get happy customers. Your seller level and placement will go up slowly. But mis-ships, overselling and delays can happen if you don't have a good order and inventory management system in place. If you don't want to handle inventory and warehousing, consider alternative fulfillment options, such as Amazon Multi-Channel Fulfillment, FedEx Fulfillment, or dropshipping.
Deliver outstanding customer service and ask for reviews - Customer relationships go long ways, and developing that trust is important, even on online marketplaces. Make sure to respond quickly and professionally to buyer inquiries and complaints. If possible, have a generous returns policy. Lastly, don't be shy about asking for customer reviews. Good or bad, you want that feedback to see how you can better improve as a seller!
Why You Need PowerSeller Automation
eBay Powersellers that achieve high sales volumes while still meeting and exceeding customer expectations usually have a robust ecommerce management infrastructure in place:
Listing automation to generate high quality listings and manage product content
An eBay repricer to stay on top of competition
An inventory management system to maintain optimal stock levels
An order management system to handle multiple fulfillment options for fast delivery
Many PowerSellers are using Jazva's ecommerce management software today. See our eBay Sellers solution in action. Get your free demo!