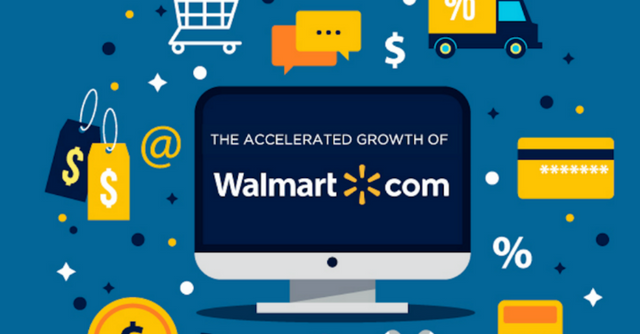 In their fight against Amazon, Walmart recently announced a strategic partnership with Microsoft. The five-year agreement will allow Walmart to take advantage of Microsoft's technology and cloud services, and they will pair up on new projects focused on machine learning, artificial intelligence, and data platforms, along with the potential to take on Amazon Go's self-checkout system. This strategic partnership can put Walmart Marketplace to the new level and allow it to compete better in the ecommerce sector.
This is exciting news for both shoppers and retailers who are not too fond of Amazon. Walmart is Amazon's largest retail competitor, while Microsoft is Amazon's biggest rival in cloud services.
For some of you who may be out of the loop, you might be wondering why Walmart Marketplace is investing so much on technology or even ecommerce. After all, Walmart made its name in the brick-and-mortar world as a big-box powerhouse, disrupting local stores and putting them out of business.
Today, Walmart is the world's largest omnichannel retailer and a brand known throughout the globe. It is also a marketplace that's becoming increasingly popular for third-party sellers and wholesalers, giving them opportunities to reach a wider audience. But if you look closely at Walmart history, you'll see that the company has always been following technological innovations and adapted its business model for the time.
If you're wondering how an old brick-and-mortar brand became a major player in ecommerce, this article and infographic are for you.
Walmart as a Retail Powerhouse
In the 1960s, Sam Walton believed that every American should have access to good quality products at affordable prices. His vision continues to power the mission of the company until today.
"If we work together, we'll lower the cost of living for everyone...we'll give the world an opportunity to see what it's like to save and have a better life."
-Sam Walton
Notable years in the timeline:
The first Walmart store opens (1962).
Walmart's network expands to 24 stores (1967).
Walmart becomes a publicly traded company (1970).
The Walmart Foundation is established (1979).
The first Walmart Supercenter is launched (1980).
The first Walmart Supercenter opens in Washington, Missouri (1988).
In the 1990s, Walmart becomes America's #1 retailer and goes international.
Walmart earns its first $1 billion in sales in a week (1993).
Walmart goes to Canada (1994).
Walmart earns $100 billion in sales in a year (1997).
Walmart in the Digital Age
In 2000, Walmart.com is launched. Walmart enters the new millennium dedicated to offering customers a seamless shopping experience, whether they are online or in a store.
In 2007, Walmart.com launches its Site to Store Service. Walmart pioneers multi-channel shopping experience enabling customers to pick up their online purchases in stores.
In 2009, Walmart Marketplace goes live, inviting third-party merchants to sell their products on Walmart.com. This opened an entirely new avenue for Walmart retailers countrywide, increasing their reach and the number of opportunities.
In 2012, Walmart celebrates 50 years of helping people save money, so they can live better.
In August 2016, Walmart acquires Jet.com, a fast-growing ecommerce company, to expand customer reach and accelerate ecommerce growth.
Recent Major Developments at Walmart
In January 2017, Walmart.com launches Free 2-day Shipping without a membership to offer best-in-class customer experience.
In March 2017, Walmart launches Easy Reorder for digital and in-store purchases, available on their website and mobile app.
In April 2017, Walmart.com launches the Pickup Discount to lower prices for shoppers even further.
In August 2017, Walmart announces a partnership with Google to make shopping easier via Google Express and voice shopping.
In October 2017, Walmart announces Mobile Express Returns, creating a faster, simpler returns process.
In March 2018, in just one year, the size of Walmart's online catalog grew from 35M to 75M SKUs.
In April 2018, Walmart teams up with FedEx to offer an enhanced shipping program to Marketplace sellers. Third-party sellers who use the FedEx Advantage® program can save up to 37% on shipping.
In May 2018, a new Walmart.com website is launched, showcasing more personalized, on-trend experiences.
In July 2018, Walmart announces its partnership with Microsoft on projects involving retail and technology.
Walmart Marketplace Today
Today, Walmart receives more than 100 million unique visits a month according to ComScore.com. And based on these recent developments, Walmart Marketplace is accelerating its pace in ecommerce, taking more market share from Amazon. Today, having Walmart integration as part of your multi-channel ecommerce strategy can put your brand above competition and allow you to tap into one of the largest customer base worldwide.
Third-party sellers and wholesalers can take advantage of these pricing wars if they have a solid multi-channel strategy. Walmart Marketplace offers great opportunities, with less expensive fees and more selling tools to help you scale. If you're not yet a seller, now is the time.
Apply to be a Walmart Seller today!

Sources
https://corporate.walmart.com/our-story/our-history
https://blog.walmart.com/innovation/20170131/two-day-free-shipping-just-the-beginning
https://blog.walmart.com/innovation/20170725/how-easy-reorder-is-making-shopping-even-easier
https://blog.walmart.com/innovation/20170823/walmart-google-partner-to-make-shopping-even-easier-heres-how
https://news.walmart.com/2017/10/09/walmart-reinvents-the-returns-process
https://marketplace.walmart.com/knowledgebase/articles/Article/News-FedEx-Advantage-Program?c=&q=fedex&l=en_US&kb=
https://news.walmart.com/2018/04/17/introducing-the-new-walmartcom
http://blog.jazva.com/pros-cons-selling-walmart-marketplace
Start Selling More with Our eCommerce Software