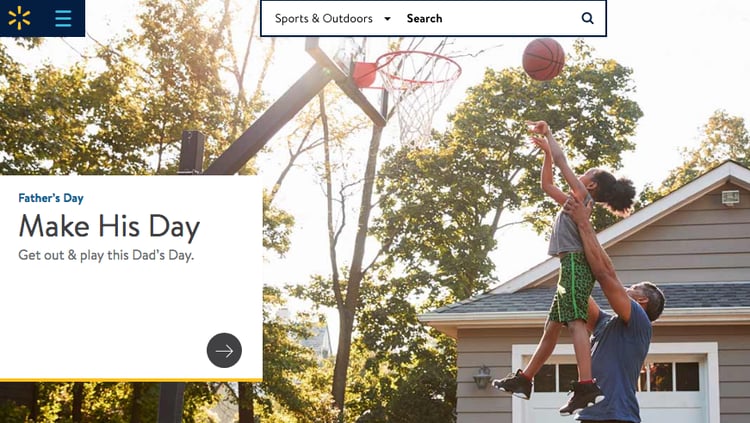 Roughly 39% of Jazva users are now selling on Walmart Marketplace, a huge spike from last year's numbers. With Amazon raising Prime subscription costs and Walmart offering competitive prices and rolling out more personalized experiences, shoppers today have no reason to stay loyal to any single channel. As a seller, diversification is key to scaling your ecommerce business.
Walmart Marketplace will help you reach a whole new group of potential buyers. The online marketplace sells over 75 million SKUs and gets about 100 million unique visits each month, according to ComScore. According to Marketplace Pulse, Walmart has almost 19,000 sellers right now, which offers great opportunities to compete.
Still, like any marketplace, you will face competition, particularly when it comes to the buy box.
Understanding the Walmart Buy Box
At the end of the day, pricing plays the biggest role in whether or not you win the Walmart buy box. Other factors, such as marketplace reviews and on-time shipping performance, also affects your chance of selling effectively on Walmart's website and mobile app.
The Lowest Price Gets the Spot
Walmart Marketplace automatically awards the buy box to the seller with the lowest price for a product. For instance, if you sell an action figure for $9 and someone else sells the same action figure for $8.99, the buy box will go to the other seller. This creates an incredibly competitive marketplace that helps shoppers save money on their purchases.
Keep in mind that Walmart Marketplace includes the cost of shipping in your price. If you were to offer free shipping, you could win the buy box instead of your competitor. This isn't always the case, though, since Walmart offers free, two-day shipping on orders over $35. You'll need to take a strategic approach to make sure you always win the buy box. Of course, having the right management software helps.
Preview and Test Your Items
When looking at product listings, it isn't always obvious which seller will win the buy box. You don't have to take your position, though, because Walmart will let you download a Buy Box Report that shows you whether you will win the top position.
Preview and test your items to make sure you win the buy box. Otherwise, your competitors will probably sell more items than you.
Achieving and Maintaining Positive Reviews
The buy box gives you a competitive advantage over other sellers, but you shouldn't assume that winning it is the only thing that matters. The truth is - savvy shoppers pay attention to other factors before they decide which seller to buy from.
Achieving and maintaining positive reviews is incredibly important. If you have a lot of negative reviews, shoppers might avoid you even if you offer the lowest price on a product. Some ways to earn positive reviews include:
Describing your products accurately so shoppers know what to expect.

Using adequate shipping materials to ensure the product reaches its destination in excellent condition.

Shipping products as soon as you receive orders.
Unfortunately, you cannot ask shoppers to leave reviews directly. If you do, Walmart could suspend your account and prevent you from selling.
Importance of 99%+ On-Time Shipment Rate
Walmart needs to make sure its online marketplace gives consumers reliable services. One bad seller, after all, could have a negative effect on Walmart's brand.
Paying attention to on-time shipment rates helps Walmart control the level of services customers receive. According to the most recent service agreement, you need to maintain a 99% or higher on-time shipment rate.
If you can't meet this standard, Walmart will penalize you. You may even lose the opportunity to sell products on the Marketplace.
How Walmart Differs from Amazon and Other Marketplaces
On the surface, Walmart Marketplace seems very similar to Amazon and other online selling platforms. There are some important differences that set Walmart apart, though. For instance, Walmart competes with Amazon and other marketplaces by:
Charging lower seller fees.
Requiring sellers to get approved, which limits your competition and ensures customer success.
Letting sellers handle their fulfillment options.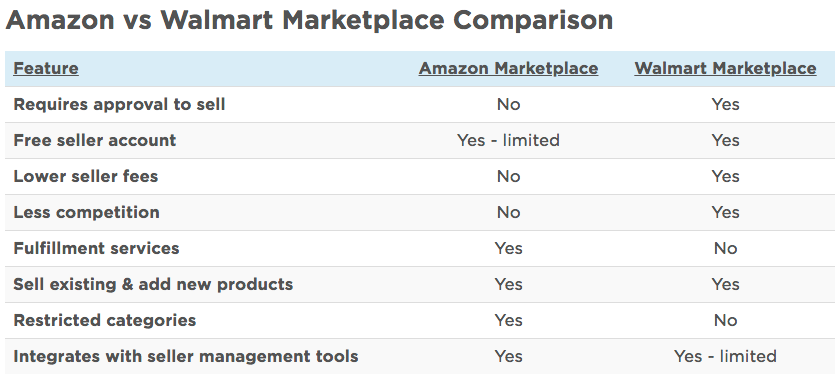 Source: Fitsmallbusiness.com
Walmart's lower seller fees probably got your attention. The specific fee you pay depends on how many products you sell. Regardless, Walmart does not charge listing or variable fees. Amazon, however, charges a $1.80 variable fee for some media products and $0.99 for each item sold.
Walmart's Latest Acquisitions
Walmart has acquired several companies over the last few years. Some of the acquired companies can help Walmart and independent sellers improve their services and range of products.
Some of the most noteworthy acquisitions for Walmart Marketplace include:
Parcel, a company that hand-delivers packages.
Shoebuy, an

ecommerce

platform that sells clothes, accessories and, of course, footwear.
Bossa Nova Robotics, a company that makes autonomous robots that perform inventory and fulfillment services.
Even if these acquisitions aren't connected to the products you sell, they will help improve the marketplace's brand, which should make Walmart more competitive with established ecommerce companies like Amazon.
Become a Superior Walmart Marketplace Retailer With Jazva
Winning the buy box on Walmart Marketplace can take a lot of work. Even though the site has fewer sellers than Amazon, it still has enough to ensure you face heavy competition. Having the right software on your side can make winning the Walmart Marketplace buy box much easier. Jazva stands out as one of your best options because it:
Streamlines and simplifies selling on Walmart Marketplace.
Automatically syncs your inventory with your list of products on Walmart Marketplace.
Gives you real-time inventory tracking, even across several warehouses.
Provides a central location for your orders and returns so you can exceed the 99% fulfillment rate.
Helps you compare your product listings to those of other sellers.
Generates invoices and shipping notices to improve your reputation as a seller.
Tracks your marketplace performance so you can make decisions based on accurate data.
Walmart Marketplace isn't quite as big as Amazon yet, but its popularity is growing. Win the buy box now so you can develop a strong presence on the platform and get a head start on other sellers.
See our Walmart Seller Software in action!