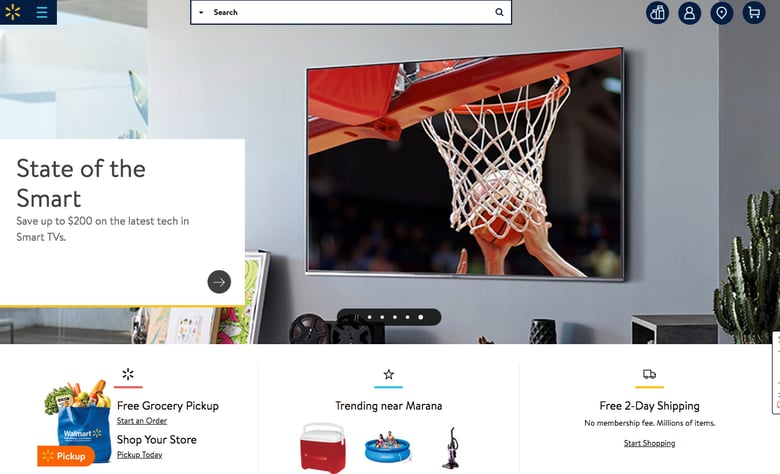 Early in 2017, Amazon quietly dropped their free shipping minimum from $49 to $35 to match Walmart and Jet. This reactionary response, just three weeks after Walmart announced their membership-free 2-day free shipping model, is clearly an indication of how seriously Amazon is taking competition from Walmart, the world's largest retailer.
If there's a company with deep enough pockets and a massive distribution network to compete with Amazon, it would be Walmart. But despite Walmart's efforts, many online sellers still hesitate selling on Walmart Marketplace for a number of reasons, ranging from Walmart's reputation and the seller's licensing agreements with brands, to the very real operational challenges in multi-channel selling.
With all things considered, is it worth selling on Walmart Marketplace?
Walmart Then, Walmart Marketplace Now
Walmart Marketplace went into beta in 2009, starting with a handful of third-party brands. Before the Jet.com acquisition in August 2016, Walmart's online sales had been slipping. But since Marc Lore had taken the helm of Walmart's e-commerce operations, there had been drastic restructuring, acquisitions of e-commerce companies, and great results in online sales.
To feel this accelerating pace, have a look at their 2017 4Q earnings report. Walmart's online sales have grown by 29% - with more than 35 million SKUs, 7,000 marketplace sellers, and a very enticing 2-day free shipping offer that doesn't require a membership. While these figures are small compared to Amazon's 480+ million SKUs, Walmart Marketplace continues to grow, adding more than 1,000 new sellers per month.
Now compare this to Walmart's Q1 FY18 press release, which shows a whopping 69% e-commerce growth in this quarter alone. And to expand bolster their product assortment and e-commerce infrastructure, Walmart has acquired many notable players, including Jet, ShoeBuy, Moosejaw, Bonobos, and more recently, the delivery logistics startup Parcel. Today, Walmart boasts a combined 75 million SKUs and more than 18,000 sellers, according to Marketplace Pulse.
Walmart.com is also adopting some form of Jet.com's "smart basket" technology, a pricing engine that reduces a shopper's purchase costs based on a range of metrics, such as buying items stocked in the same warehouse, foregoing return policies, or choosing a debit card for payment.
In May of 2018, Walmart.com rolled out an entirely new look and feel. The new website design showcases real-life moments and brings inspirational and on-trend shopping experiences, now catering to millennials and not just families and older shoppers.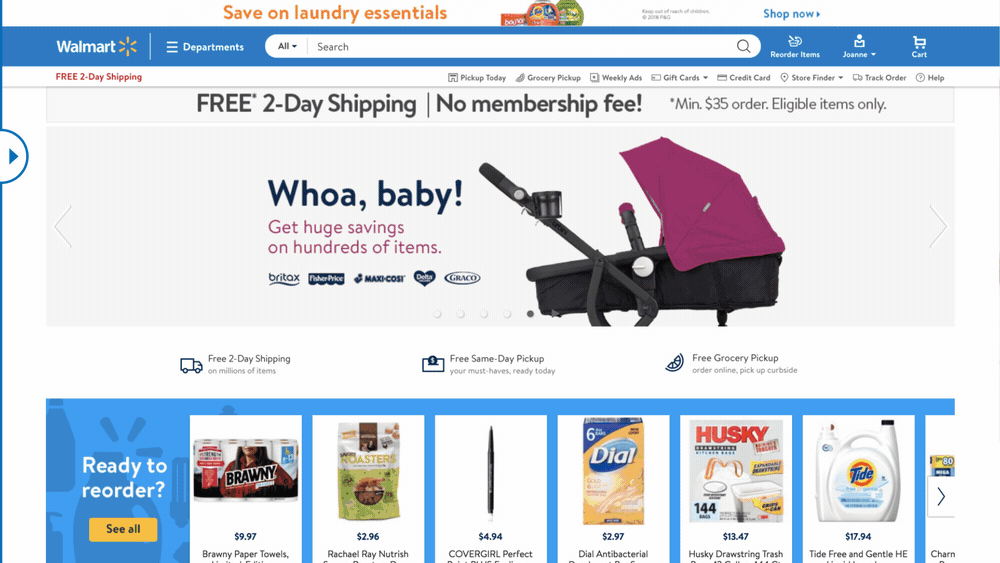 Personalization will be a huge game changer for Walmart. The change will incorporate a more personalized shopping experience starting from the homepage and extending across all items, according to Marc Lore in a press release.
"We also considered feedback from current and prospective brands as we look to continue building our assortment," says Marc Lore. "With these changes, brands will have opportunities to better tell their stories on Walmart.com, including new approaches to advertising within seamlessly integrated ads."
Walmart and FedEx have also teamed up to offer the FedEx Advantage program to Marketplace sellers. Walmart Marketplace sellers can now choose the convenience and reliability of FedEx services and save up to 37% on shipping.
There's a lot more to come from Walmart Marketplace, and you're doing yourself a disservice if you're still not selling on this channel. Apply for a Walmart Seller Account today!
Perks of Being a Walmart Marketplace Seller
Walmart Marketplace intends to add one million items per month, largely through the help of new third-party sellers. Since Walmart enforces a strict pre-approval process, it prevents scams and counterfeiting associated with eBay and Amazon.
Here are a few benefits Walmart Marketplace sellers can expect:
High Exposure
With more than 100 million unique visits a month according to ComScore, Walmart.com is easily one of the most trafficked ecommerce site in the U.S. By selling on Walmart, you can reach new customers and increase your digital footprint.
Authority & Credibility
As the largest retailer in the world, Walmart has become a trusted brand that generally targets consumers with families. Walmart's unique customer base will especially be a good fit if you sell in their top product categories, such as electronics, home improvement and appliances, and sports and outdoor equipment.
Only Pay When You Make a Sale
Unlike Amazon, Walmart currently doesn't charge monthly or annual listing fees. Instead, Walmart charges a referral fee per sale, which varies based on your product's category. Like Amazon and eBay, referral fees hover around 15%.
Effortless Transactions
Walmart continues to invest heavily in the online shopping experience, from a fully remodeled website to faster checkouts and easy transaction methods like Walmart Pay.
Flexible Returns Policy
Sellers are allowed to set their own return policies.
Customer Support
As a marketplace, Walmart will provide the first line of support for customer service issues. In cases where there are product issues, shoppers will be referred to the seller for assistance.
Operational Safety
Walmart has been selling products online since 2000, and their operational security measures are designed to protect both buyer and seller.
Analytics Tools
Walmart Marketplace will provide metrics and insight on your sales performance.
Walmart Marketplace presents a great opportunity for multi-channel retailers looking for more flexibility and reach. Amazon and eBay sellers should consider joining Walmart Marketplace as soon as possible, while there is still relatively little marketplace competition.
Gaining approval to sell on Walmart Marketplace, however, can be a challenge as they carefully handpick each seller to ensure the quality of their marketplace. Walmart prioritizes sellers that integrate with a full-service solution provider.
Read Now: Learn how to Growth Hack Your Business Through Multi-Channel Selling
Current Disadvantages of Walmart Marketplace
Despite the new website and technological investments, Walmart has been unable to shake off its longheld budget image, deterring certain sellers from even considering Walmart as a marketplace. Premium brands are also reluctant to grant approval to authorized resellers as the "cheap" image may hurt their branding.
Walmart also maintains strict quality requirements where you'll need to request an invitation to join. Sellers are chosen based on reputation, unique product assortment, competitive pricing, and fast and reliable fulfillment. In other words, you must be an experienced high volume seller on Amazon or eBay, and you must own your own warehouse.
FBA-only sellers are not qualified, but drop ship vendors can sell on the marketplace. While there are no brand restrictions, Walmart doesn't permit personalized products you would sell on Etsy. As we noted before, certain categories sell better than others on specific marketplaces.
More importantly, customer satisfaction has been a problem on Walmart Marketplace. The average rating for the top 100 sellers on the platform is 3.9 out of 5, compared to the top 100 sellers on Amazon and eBay, which average a near-perfect 4.9 out of 5.
Most complaints against Walmart Marketplace sellers were related to shipping issues, such as products taking too long to ship, or returns not being free. As the marketplace is still a new concept, many shoppers on Walmart.com expect to be buying from Walmart itself. Customers who buy from third-party sellers feel frustrated that they cannot complain or return the items to a local Walmart store.
To succeed as a marketplace, Walmart must somehow manage customer expectations and unify the omnichannel shopping experience, which Walmart is no doubt busy working on. If perfected, Walmart would gain a massive advantage over Amazon: 5,000+ stores nationwide.
Should Walmart Be Part of Your Multi-Channel Strategy?
Walmart upping the ante is good news for marketplace sellers as both Amazon and Walmart step up their game to woo more shoppers and offer competitive advantages for sellers. Walmart CEO Doug McMillon has noted that their two-day free shipping offer has already led to "a nice uptick" in ecommerce sales. Now is a great time to go multi-channel.
But multi-channel selling is not easy. The more SKUs and channels you manage, the easier it is to lose track of inventory or mis-ship an order. Intelligent automation through an integrated software is key to managing your ecommerce business, whether you sell on Walmart, Amazon or Shopify.
Jazva is a Walmart Full Service Integration Partner and can help you achieve your long-term growth goals. Roughly 39% of Jazva users are now Walmart Marketplace sellers, using the software to manage their inventory, orders and listings on this fast-growing channel.
See our Walmart Seller Software in Action