If you carefully researched the best places to host an online store, then there's a good chance you came across BigCommerce. Noting their continuous growth, impressive uptime and useful content that train you in ecommerce success, it makes sense that you and many others decided to go with BigCommerce as your shopping cart solution and main sales channel.
However, in a world where more than half of consumers start their product search on marketplaces rather than Google, it's necessary to sell your items beyond just your website. With well over 300 million users, Amazon is the obvious choice for those who want to branch out.
If you're a high-volume seller, you're most likely already experienced at managing your ecommerce store while simultaneously selling on Amazon. The challenge, however, is how to keep BigCommerce and Amazon inventory in sync and at scale. Listing processes for a web store and marketplace are different, and tracking inventory becomes increasingly more complex as a multi-channel seller.
Advantages of Integrating BigCommerce and Amazon
Multi-channel selling offers many opportunities for growth. Amazon is the dominant marketplace where shoppers go to. In fact, 76 percent of consumers say they do "all or most of" their holiday shopping on Amazon. If you're not selling efficiently on Amazon, then you're missing out.
There are many benefits to integrating your BigCommerce store with Amazon Marketplace. Here are just a few:
Avoid Selling Items You Don't Have
When you take a multi-channel selling approach, you offer the same items on multiple platforms. But what happens if two people buy the product from different sites and inventory is not adjusted in real time? You risk backorders, which can hurt your performance on Amazon. Data integration can prevent situations like these and improve inventory tracking across Amazon and BigCommerce.
Save Time Listing on Amazon and BigCommerce
Listing management becomes painful without a proper integration. Each time you adjust pricing, images, descriptions, etc through copy-pasting or using spreadsheets, you risk causing errors on both listings. A proper integration can seamlessly correct your items and ensure your channels are in sync.
Take Advantage of Amazon Multi-Channel Fulfillment
The huge appeal of a BigCommerce-Amazon integration is the pre-existing fulfillment infrastructure that Amazon has in place. Fulfillment by Amazon (FBA) is a popular choice among sellers looking to take advantage of Amazon Prime. Multi-Channel Fulfillment uses the same FBA infrastructure to fulfill BigCommerce orders from an Amazon warehouse.
These benefits make it obvious that you should integrate BigCommerce and Amazon, but one question remains. How?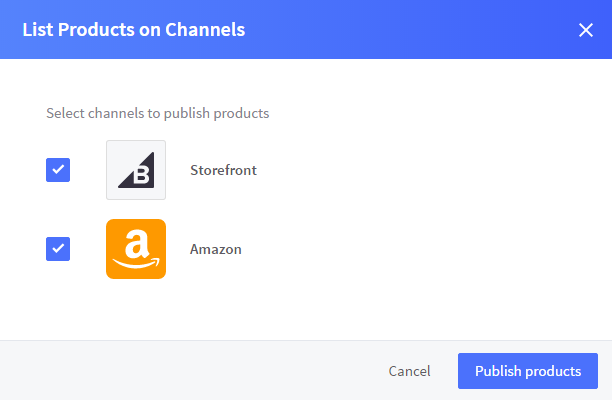 How to Integrate BigCommerce and Amazon
There are a few ways you can import BigCommerce products onto Amazon, and some are certainly better than others.
Importing BigCommerce and Amazon Inventory
Managing your Seller Central account separately from your BigCommerce Storefront is the most inefficient way to keep your shops in sync. Even bulk upload methods can get tiring, and we do not recommend this method.
Syncing BigCommerce and Amazon Directly
The simplest way to integrate is to use the BigCommerce site to connect directly to Amazon. The BigCommerce backend offers multi-channel sellers a clean and easy way to keep their products in sync.
From your Storefront, you can add product details, select Amazon categories, and even change information between the platforms.
Select Channel Manager and then Get Started.
Select all your Seller Central Requirements and choose Get Started again.
Afterwards, a window will show up titled "Things you should know."
If you're okay with the policies, select Connect to Amazon.
This will send you to Amazon.com where you can sign in.
You'll have to review the Amazon MWS License Agreement and select Next.
Afterwards, select Continue to connect your BigCommerce site.
Clicking Finish Setup will complete the process.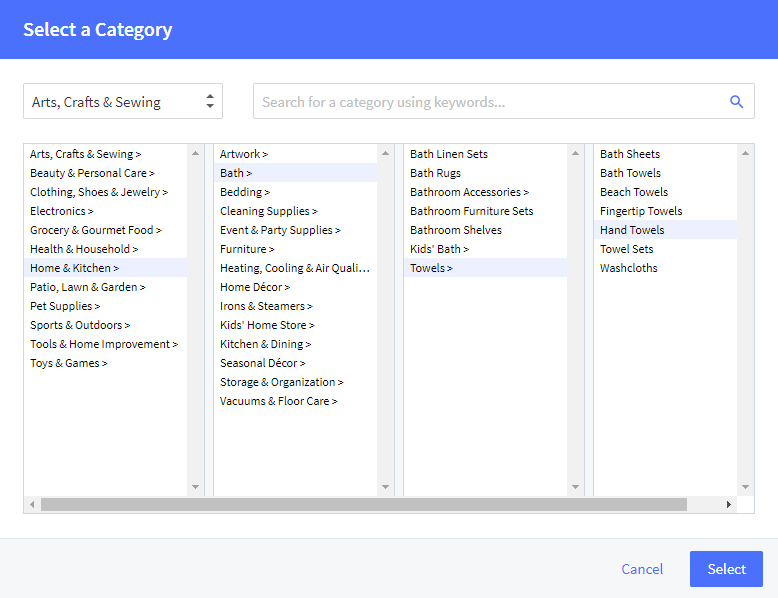 For low volume sellers, this is a great starting point. But after your business grows, there will come a time when you will need more robust features, such as multi-channel inventory, warehouse management, and a QuickBooks accounting integration. Multi-channel selling will require a more powerful solution.
Using the BigCommerce's Amazon integration is certainly more efficient than doing everything by hand, but luckily, there are automated ways to go beyond Amazon and BigCommerce - connecting all the pieces into one single UI.
Using Automation – Real-Time Product Inventory Syncing with Jazva
When it comes down to it, Jazva's BigCommerce Amazon integration tool is exactly what high-volume sellers need. The system centralizes orders and returns management, and this means both your Amazon customers and your BigCommerce customers will receive more efficient service.
Where Jazva really stands out is in its ability to work with several other channels. Besides BigCommerce, do you want to integrate with Walmart, Houzz, and QuickBooks as well? Jazva can handle it. This is combined with real-time inventory control, which prevents selling out-of-stock items – and automated importing, syncing, and listing of your products across multiple channels and warehouses.
While there are several methods to handle ecommerce integrations, choosing Jazva will help you maximize efficiency and win the multi-channel game.
Start Integrating BigCommerce and Amazon Today!