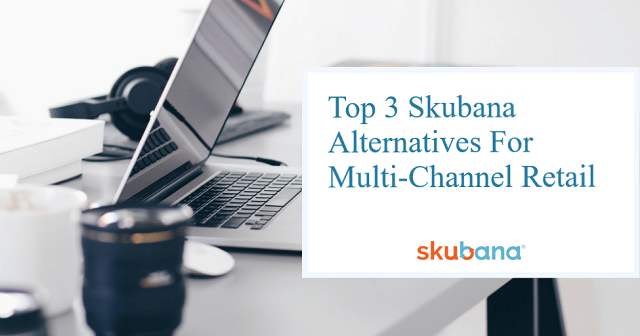 When you're researching software solutions, you've probably heard of Skubana. Founded by Amazon 250 seller Chad Rubin, the software was originally used to power his online vacuum business. Today, it has become one of the most popular enterprise resource planning (ERP) platforms competing with Netsuite and ChannelAdvisor.
Depending on the size and needs of your business, Skubana may or may not be the best solution for you. Aside from your budget, you'll need to see what apps and channels you'll need an integration with, and which features are most important to you.
In this article, we'll explore a few Skubana alternatives to give you more options for comparison. We'll talk about overall core functionality, Skubana pricing, how it holds up against competition and a few in-depth aspects of the software in comparison to other alternatives.
An Overview of Skubana's Functionalities
Looking at various user Skubana reviews there are quite a few features that stnd out as definitive strengths. Skubana is generally a solid order and inventory management system. It provides quite a few features that sellers find useful, including:

Multi-warehouse order fulfillment;
Inventory management;
Automated inventory reordering;
Product information management;
Analytics tools;
EDI connections.
These are all very important features high-volume retailers should look for in an all-in-one solution. As you explore some examples of software similar to Skubana, you'll discover that many of the company's competitors have very similar functionalities, but varying degrees of depth.
Understanding the Depth of an Integration or Feature
Software providers will often boast that they have many API connections. Before entrusting them with your business, however, you'll need to ask smart questions, mainly to distinguish quantity vs quality.

Make sure to ask questions such as:

When's the last time you updated your API?
How stable are your connections?
Can you do all the features you claim?
Demand to see this in your live demo.
As an example, let's compare Skubana's vs. Jazva's Walmart integration. Walmart is listed on both company websites as a channel and EDI integration, so it will be a great side-by-side software comparison.
But when you look at the official Walmart partners page, Skubana is listed only as a specialty solution provider, whereas Jazva provides the full-service solution package of item setup, inventory, orders, and pricing. This depth of integration is key to understanding if a solution can really scale with your business.
The last thing you want is to demo a software lightly, sign up for a one-year contract, and then realize you'll need to log into Walmart's backend to manage item setup and repricing manually. These are not features for everyone, so naturally, many Skubana reviews wouldn't mention this particular issue.
The same is true for a feature, such as multi-warehouse inventory. For instance, Jazva offers more warehouse management features such as built-in barcode scanning and a mobile app, while Skubana will require you to purchase those solutions from their partnered vendors.
So before deciding on software, make sure you ask the right questions.
Top 3 Skubana Competitors to Consider
When it comes to inventory management software, pricing will vary depending on how many channels you sell on. It's important to know the how much each alternative costs before choosing a solution.

Here are 3 solutions to consider as you research the best fit for your business.

Skubana Vs. ChannelAdvisor

ChannelAdvisor is one of the oldest and most well-known brand in multi-channel ecommerce. Listing and publishing are their bread and butter, and they have the most depth in terms of capabilities per channel.

Customers comparing Skubana vs. ChannelAdvisor point out that ChannelAdvisor is better at:

Selling large amounts of products through multiple marketplaces.
Scaling quickly to meet customer demand without lag.
Adapting to new marketplaces.
Improving employee efficiency.
Unfortunately, ChannelAdvisor lacks the breadth of features compared to Skubana. For instance, if you go with ChannelAdvisor, you'll have to integrate with a SkuVault to perform warehouse management, or a ShipStation to handle shipping.
Overall, ChannelAdvisor offers more channels than Skubana and has a better depth of integration, but is also much more costly. Skubana offers more features but may lack depth at certain marketplaces. If listings are the most important feature you're looking for, you should consider ChannelAdvisor over Skubana.
Skubana Vs. Stitch Labs
Built for high-volume sellers, Skubana often meets the needs of large enterprise companies. When it comes to smaller sellers, though, Stitch Labs almost always comes out ahead in the Skubana vs. Stitch Labs debate. If you don't have high-volume sales, then Stitch Labs will be a more cost-effective solution for you. You'll notice that a Stitch Labs subscription costs less than half of a Skubana subscription. This will be trues for many software alternatives that you'll find. Skubana pricing for the subscription is relatively high, when you consider all the functionalities and features together.
Stitch Labs also offers accounting integrations that you won't find in Skubana. Stitch Labs is built for smaller sellers who want to connect with as many apps before switching to an all-in-one platform.
If you run a small ecommerce operation and want to pay less for more integrations, then Stitch Labs is your obvious choice.
Skubana Vs. Jazva
Now is the time to compare Skubana and Jazva head to head. Generally speaking, the two software offer essentially the same features but use different terms. For instance, what Skubana calls orderbots, Jazva calls business rules.
Both software are built for high-volume sellers looking for enterprise-grade capabilities, but the difference is in depth.
From the get-go, Skubana shows way more integrations, including sales channels, repricing software and shipping providers. Do note that more is not always better, as a higher number of integrations can lead to major disruption if one connection breaks.
By contrast, Jazva offers a smaller but deeper set of integrations, built-in Amazon and eBay repricers, and QuickBooks integrations. As we mentioned earlier, Jazva provides more depth in some areas than Skubana. Jazva also provides more B2B capabilities, including tiered pricing and a wholesale portal.
When it comes to analytics and reporting tools, Jazva and Skubana are essentially tied. You get in-depth analytics that will help you sell more products, and you also get accurate data that makes it easier to make informed decisions.
Asking the Right Questions During Your Demo
eCommerce sellers have unique needs, so it's important to explore several solutions before you decide which one is right for you. We hope that this article has armed you with the right perspective, so when you research any type of software, you'll discover the right breadth or depth of feature you'll need to scale your business.
Want a Live Demo of Jazva? Sign Up today