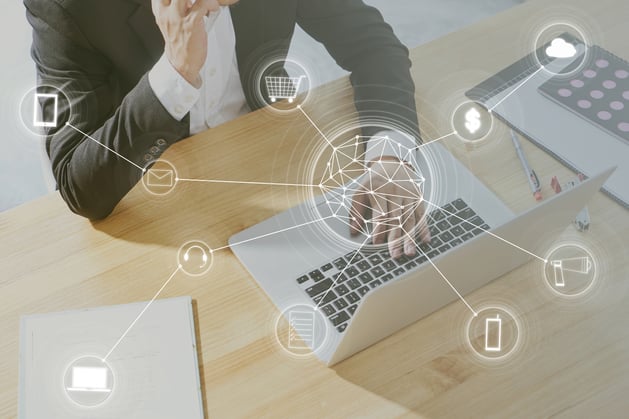 The patterns of E-commerce have shifted. It used to be that you'd have a single online storefront (your website), and would spend tons of money advertising to get customers there.
These days, customers have become accustomed to the convenience of the one-stop-shop marketplace. Online superstores have all the advantages of brick-and-mortar superstores and much, much more, especially when it comes to the ability to compare prices for the best deal.
So if you want to succeed selling online, you have to go where the customers are: Amazon, Walmart, eBay, and so on.
How has multi-channel E-commerce strategy changed online business?
On the seller side, modern E-commerce means the company with the best products at the best prices can find customers without enormous ad spends.
And on the buyer side, it's safe to say customers have never been so informed or so willing to research their products before they buy.
Better products, better deals, better customers. Many of you already deeply understand this insight, running businesses that have been riding this new wave of ecommerce. But there's always room for new growth, for more efficiency.
Today's multi-channel ecommerce platforms offer unparalleled integration. It's easy to manage multiple sales channels: Amazon, eBay, Walmart, your own personal storefront, and more. Inventory, sales, fulfillment, marketing––nearly all of your business's operations can be integrated and automated.
How to choose the best multi-channel ecommerce software
When choosing an E-commerce platform, first make a mental list of what your business needs.
For most online businesses, the biggest pain points occur during transitions: from small to medium to large. Each step has its own challenges, but multi-channel software can help your company grow while cutting waste and frustration.
From studying this market closely, we know what features tend to most benefit businesses. We recommend you look for multi-channel ecommerce software that ticks these boxes:
1. Multi-channel ecommerce integrations:
Almost 50% of all online purchases are researched on Amazon, even if they're purchased elsewhere. Online shoppers visit multiple online stores before they buy. They compare prices and products to get a complete impression before buying.
Multi-channel ecommerce integrations allow you to get closer to your customer. Instead of spending all your time updating your stores individually, you can spend time customizing your sales pages to target your customers directly.
In addition to making it easy to sell online, multi-channel ecommerce software provides the tools and data insights to help you market your products effectively.
2. Robust operations and logistics integrations
Your E-commerce solution should work with the services you already use and integrate your business operations into one powerful platform.
You can have access to all your trusted services––FedEx, Fulfillment by Amazon, QuickBooks, and so on—all in a single platform.
3. Flexible fulfillment solutions
Automating fulfillment and returns will start curing headaches on day one, and we all know you don't have time for headaches.
Typically, online retailers face more fulfillment errors than traditional shipping-based businesses, but a good E-commerce solution can cut those errors down to near zero, allowing you to automate your fulfillment no matter how complicated it is.
Does your company sell to individual customers and wholesalers? Do you have a mixture of real and "virtual" warehouse solutions? Are you a 100% drop-shipping organization? No problem. A multi-channel ecommerce platform allows you to easily provide industry discounts, adjusts to your supply chain, and empowers you to know what's going on with every piece of inventory at all times.
4. Powerful automations
How often have you thought, "Gosh, if I could just automate this, I'd have time for the important stuff"? That's what a multi-channel ecommerce solution is for. No more inputting data by hand and merging clunky Excel sheets.
Supercharge your business by integrating every level of your operation and let the power of process automation remove errors and extra steps. The best multi-channel E-commerce platforms do this for you, taking over the repetitive stuff to free up your time.
Using Jazva to build an effective multi-channel E-commerce strategy
Everyone in e-commerce could benefit from a multi-channel solution, but of course we're pretty partial to our own. So how does Jazva compare to our competitors, you may be wondering?
Unlike other platforms, Jazva is very solutions-oriented. Our multi-channel ecommerce strategy focuses on integrating services and automating processes—and our software even plays nice with our competitors'. We've built our software with an eye to simplifying the processes all online sellers deal with. This means removing redundancies, extra steps, and common pitfalls.
Not only does our software keep your data clean, but we track your inventory from the time you buy it to the time it's delivered to your customer. We can even help you automate your pricing strategies to help you stay ahead of your competitors. It's a bit of a cliché to say that knowledge is power, but it's true: actionable data is king in online business.
And because versatility is our goal, our software can help you scale your business whether you're a brick-and-mortar establishment, you're running an enormous drop-shipping operation, or even if you've been a large online seller since web 1.0.
So far we've automated huge swaths of the operations side of online ecommerce, and we're always working on the next exciting thing. We study our customers' needs and focus on saving them time, money, and frustration. We're a powerful partner now, and we aim to keep becoming more and more useful.
Let's grow your business together
Automation is a tool for business growth. When you automate repetitive tasks and eliminate waste at all levels of operation, you can expand your inventory, maximize your exposure, and control the direction of your growth.
Stop doing grunt work. Spend more time growing your business.