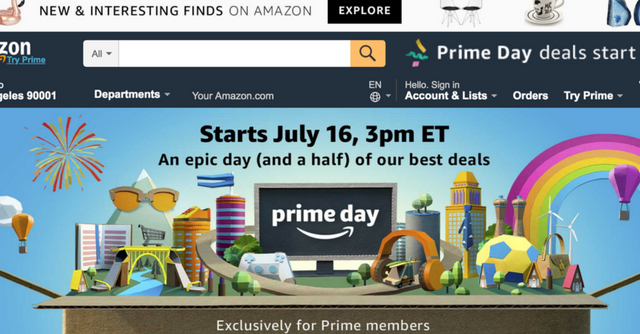 Amazon Prime Day is fast approaching, and buyers and sellers alike are preparing for the big sales event. Last year, more than 3.5 million toys and 200,000 light bulbs were sold, on top of all the other deals and items sold not just on Amazon, but across several shopping sites.
This year, Amazon added more hours to the event, now extending to 36 hours of lightning deals. If you think of Prime Day as a holiday, its effect on the economy falls behind only Black Friday and Cyber Monday.
The online sales event will begin on July 16th at 12:00 pm PT (3:00 pm ET) and end the following day at midnight. Shoppers are setting aside time for shopping, so if you want to take advantage of this, you'll need to gear up.
Why Prime Day Matters for Multi-Channel Sellers
Even if you sell your products through other marketplaces, Prime Day will affect your sales. According to a survey by Bazaarvoice, more than 76% of U.S. Prime Day shoppers plan to visit non-Amazon shopping sites to make sure they were getting the best deals. On sites like Reddit and SlickDeals, you might find passionate shoppers already discussing the best deals across multiple sites and comparing prices with their peers.
In another survey, 49% of shoppers always compare prices before making a purchase from Amazon. This presents great opportunity for non-Amazon sellers. In fact, according to a study by UPS, 36% of online shoppers search for products on one channel then purchase the product from another channel. Prime Day does more than boost Amazon's sales and visibility. It generates a frenzy of online shopping that improves sales across the internet. This is why multi-channel sellers need to prepare for this major sales event.
Prime Day for eBay and Walmart Sellers
Hours after Amazon announced the official date of Prime Day, the CEO of eBay, Devin Wenig, tweeted a quick response: "eBay will hold large deals events on the week of July 16 to showcase our significant inventory and price advantages. Expect the next wave of our brand and marketing campaign to launch as well."
Earlier this week, eBay launched a press release, subtly criticizing Amazon Prime's exclusive membership model and increasing subscription fees.
"Why spend money on monthly membership fees to get deals on the things you want? Beginning the week of July 16th, head to eBay for exclusive deals on whatever you're into this summer – no membership required… ever. Shop thousands of brand new, in-demand items across categories like electronics, home, fashion, and sporting goods at up to 80% off their regular retail price. And, with free shipping on eBay Deals items, you can get all the things that'll fuel all your passions."
In 2017, eBay had its best two days of sales during Amazon's Prime Day event. As Amazon ran out of popular items, shoppers turned to eBay, which had already primed consumers with advertisements that read, "Did You Check eBay?"
Prime's subscription model might also encourage buyers to flock to Walmart.com, which offers free two-day shipping. Last year's Prime Day event helped Walmart.com exceed its expected sales. While the company hasn't released specific numbers, it did everything possible to compete with Amazon.
Some of Walmart's strategies included:
Matching Amazon's prices.
Offering free, two-day shipping for orders over $35.
Giving people perks without forcing them to pay membership fees.
At the time, an Amazon Prime membership was $10.99 per month. This year, the membership costs $12.99 per month, an increase of 18 percent. Without a Prime membership, shoppers can't take advantage of Amazon's deals, and this is a major reason why buyers will look to other marketplaces.
How You Can Prepare for Prime Day 2018
Prime Day attracts millions of shoppers from all over the world. It's global gluttony of sales that could drive sales if you properly prepare to make the most the 36-hour event.
Here are a few things you can do to maximize sales on Prime Day:
Review your listings, product descriptions, and images to ensure they are up-to-date and consistent across your channels.
Establish a repricing strategy, so you can compete with other sellers.
Stock up on popular items, so you don't run out during the event.
Get more of your items approved for Prime shipping, either through FBA or Seller Fulfilled Prime.
Review your return and refund policies.
If you're selling through a website, ensure it is properly optimized and has a smooth checkout process.
Make sure you have inventory management software that can track your sales, reset prices and let you know when you're running low on stock.
Also, start training customer service and improving guaranteed delivery times. You want to earn an excellent reputation before Prime Day begins.
Avoid Some of the Most Common Prime Day Disasters
No matter where or what you sell, there's a good chance that traffic will spike and you'll be expected to deliver an outstanding customer experience. What you don't want to happen is to upset or frustrate customers actively searching for deals.
Some of the common problems include:
A slow or poorly optimized website and a complicated checkout process.
Running out of a popular product while people still want to buy more.
Failing to reprice products so they can compete with other sellers.
Letting your shipments pile up, which will lead to angry customers who might cancel their orders.
Use Prime Day as an opportunity to increase sales. If you take the right approach, Prime Day could help you find loyal customers who will continue buying from you long after the big sales end.
Take Advantage of Primed4PrimeDay
If you lack the infrastructure to sell during Prime Day, Jazva can help you get there in no time. We are currently running a summer promotion to help you prepare for the big sales spike. Simply mention "Primed4PrimeDay" to your sales rep when you sign up for a demo and get 25% off your setup fee. Offer ends 7/31/18.