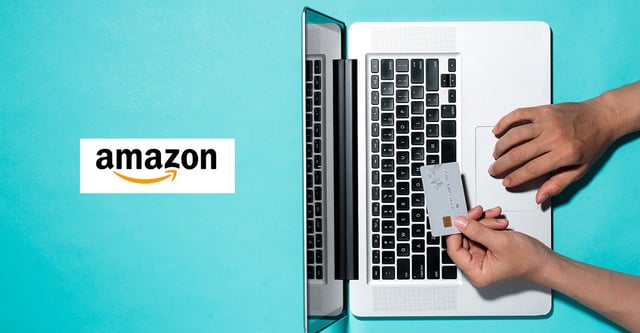 As an Amazon seller, you're likely well aware of "Fulfillment By Amazon (FBA)."
The FBA program is Amazon's highly successful order fulfillment strategy (handling packaging, shipping, returns and customer care) so the seller can concentrate on other pertinent aspects of their business.
Now, the FBA program was set up in order to help sales on one channel: Amazon.
However, to help sellers grow and boost sales on multiple channels (including their own website and other marketplaces), Amazon introduced the Multi-channel Fulfilment (MCF) program, a sub-feature of FBA.
MCF takes Amazon Fulfillment a step further, extending its capabilities for multiple-channel eCommerce.
Amazon picks the products from your FBA inventory, packs them and ships them to customers who have placed orders on those channels. And, as with FBA, it handles the returns and customers service for those orders.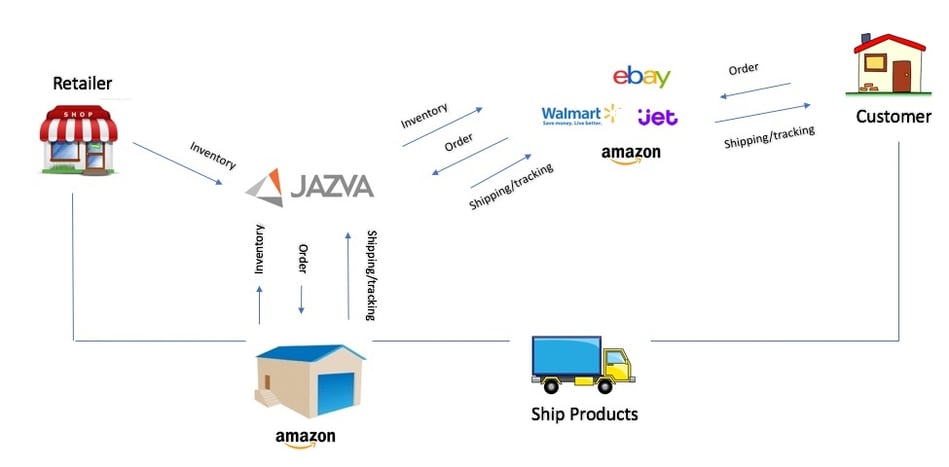 Given the success of FBA, fulfillment capabilities that extend across multiple channels outside Amazon make it beneficial for sellers who are looking to expand their sales reach and improve order fulfillment capabilities.
How does the FBA/MCF actually work?
Create the Product Listing
First, you create your product listing, one at a time or in bulk. You can also integrate your inventory management system with Amazon's API.
Prep and Ship the Products to Amazon
You prep and pack your stock following Amazon's stock prep guidelines, set up a shipping plan to one of Amazon's many warehouses (or Fulfillment Centers, in Amazon jargon).
Customers Place Their Orders
When customers place their order(s), the fulfillment is handled within the system, as Amazon picks, packs and delivers the products to the customers. Once the order comes in from an external site, they are routed through the Amazon API Gateway, and the order is processed.
Amazon Fulfills the Orders
Once the orders - both FBA and MCF - are sent through to the Fulfillment centers, Amazon picks the products from your FBA inventory, packs them and ships them using the shipping options the customers selected.
Amazon's FBA and MCF Fee Structure
Whether you use FBA or MCF for your fulfillment needs, there are two primary fees you need to consider:
Fulfillment Fee

- includes the costs for Amazon to pick and pack your orders, shipping costs, packaging costs, returns handling

Storage Fee - the monthly fee that Amazon charges for storing your products in their warehouses; fees are calculated per the cubic-footage your products occupy in their space
The key difference in the FBA and MCF fee is the Fulfillment Fee, which is slightly higher in the case of MCF. The storage fees remain the same.
Depending on the shipping options selected by the customer and weight of the product, Amazon has structured a detailed pricing plan that you can check out here.
For instance, a 2-pound, standard size item with expedited 2-day shipping, will incur...
$3.96 per order in fulfillment fees if the order comes through Amazon's FBA, and
$5.95 per unit ordered through MCF when the order comes through external channels.
There are two other differences:
MCF does not incur an additional Amazon Seller's fee since the product wasn't sold on Amazon
MCF Fulfillment fees do not drop during the holiday season, unlike FBA which charges lower fulfillment rates in the months from October to December
Deciding whether Amazon's MCF fee structure is a pro or a con depends entirely on the perspective of the seller.
Since MCF essentially carries Amazon's brand power and all the benefits of FBA's exemplary fulfillment capabilities, it could be considered a worthy investment.
Pros and Cons of the Amazon Multi-Channel Fulfillment Program
Pros of Amazon's Multi-Channel Fulfillment
1.) Multiple Shipping Options Build Brand Trust
Similar to the FBA shipping options, MCF offers three shipping options:
One-day priority shipping
Two-day expedited shipping
Standard shipping (3-5 business days) shipping
This makes it ideal if you have multiple shipping options for your own channels. Furthermore, considering Amazon's long-standing and highly-trusted capabilities in meeting shipping deadlines, this can help you build trust with your customers.
2.) Inventory Storage Space
Amazon receives and stocks inventory at one or more of the Fulfillment centers across the globe. So, you don't ever have to worry (or calculate) how much room you have.
Furthermore, in order to provide the best-expedited shipping experiences, Amazon will sometimes relocate stock to the nearest warehouses geographically, if a seller's orders are largely concentrated within a specific geographical location.
3.) Full Control of Inventory
With MCF (and FBA), even though Amazon handles the logistics, the actual control of the inventory still lies with the seller.
You can request Amazon to return the inventory to you at any time.
4.) Branding and Customization
Though these options are limited, MCF does allow a certain level of brand promotion:
Custom messaging printed on their packing slips to include the brand name and other valuable information on every order that is shipped
Have the products shipped in plain brown boxes instead of those branded with Amazon's logo.
5.) Basic Returns Processing
When a customer returns an order or asks for a replacement, Amazon's fulfillment provides you with the tracking numbers and then handles the returns according to your preferences.
6.) Exclusive Multi-Channel Listing for Pro Merchants
Sellers with a Pro Merchant account on Amazon can list their products exclusively for Amazon's MCF without having to list them on Amazon for selling. However, individual sellers have to list their products on Amazon, if they want to qualify or be eligible for MCF.
7.) Managing Spikes in Orders During Peak Season
Amazon's MCF also allows sellers to effortlessly manage their orders during peak season, without breaking a sweat in operational efficiency.
Since Amazon handles the bulk of the shipping aspect, the sellers can manage multiple orders across multiple channels through one unified platform in Amazon's seller dashboard.
Cons of Amazon's Multi-Channel Fulfillment
1..) Limitations on Product Eligibility
Amazon's FBA (and MCF, consequently) programs have strict guidelines on product eligibility. They have restrictions based on:
FBA Prohibited Products which are products generally prohibited by Amazon's guidelines and restricted from distribution in the United States by government mandates
Expiration-date restrictions which include products like perishables that come with an expiration date, beyond which Amazon will dispose of the stock without reimbursement
Dangerous goods which include flammable solids, aerosols and other corrosive substances that Amazon will not store in its warehouses.
As a seller, it is necessary to become familiar with all of Amazon's product restrictions; failure to do so can result in fines and reimbursement fees that can eat into the budget.
2.) Stale Inventory
One of the commonly overlooked problems in using FBA or MCF is stale inventory: which is inventory that languishes in the warehouses due to low demand.
Amazon does an inventory cleanup on February 15 and August 15 of every year, and inventory that has been sitting for between 181 and 365 days, or more are assessed, and long-term storage fees are charged to the sellers.
Now, these fees can be pretty steep:
$11.25 per cubic foot for products that have been in storage between 181 and 365 days
$22.50 per cubic foot for products that have been in storage for more than 365 days
Sellers need to either come up with strategies to increase sales of slow-selling merchandise or recall the inventory from Amazon before the 180-day mark or the cleanup dates to avoid paying storage fees.
3.) May Not Be Right for Low-Profit Margins
Keeping to the point above, the ROI on MCF can be low if the seller is unable to generate high-selling profits within a month.
This is because MCF fees can quickly accumulate over time, and if your sales fail to keep up with the fees incurred, then MCF may not be the right solution for you.
Therefore, products with low volume or low margins, and heavy and large items which can incur higher storage fees, may not be the right fit for MCF.
4.) Additional Fees That Can Factor In
In addition to fulfillment and storage fees, MCF sellers can also encounter some additional fees if their shipments or inventory don't meet Amazon's guidelines, such as:
Labeling Fees, if stock labels don't meet their strict barcode label specifications.
FBA Prep Service fee if sellers opt to have Amazon undertake the packaging and prepping, as well.
Unplanned Prep Fee if the stock was improperly prepared and did not meet Amazon's packaging and prepping guidelines.
Long-term Storage Fees, which as discussed above, can be incurred on stale inventory that doesn't clear before inventory cleanup dates.
The additional fees shouldn't scare you off MCF, however. As long as you're clear about their guidelines, you shouldn't run into problems.
The Final Verdict: To MCF or not to MCF?
That is indeed a valid question, and our answer as we've stated earlier really depends on each individual business and its specific needs, the kind of products being sold and the budget capabilities. However, all things considered, the biggest advantage of this system still remains Amazon's exemplary shipping and fulfillment services which shifts a huge responsibility off the shoulders of the seller.
In making their transition into FBA/MCF painless and seamless, Jazva's solution helps sellers manage their FBA multi-channel sales. Using Jazva's auto Amazon MCF feature, sellers can publish their listings to FBA, view and manage their warehouse inventory and shipments, pricing, and keep all their channels organized.
Save time and sell smarter with Jazva's unified marketplace management system