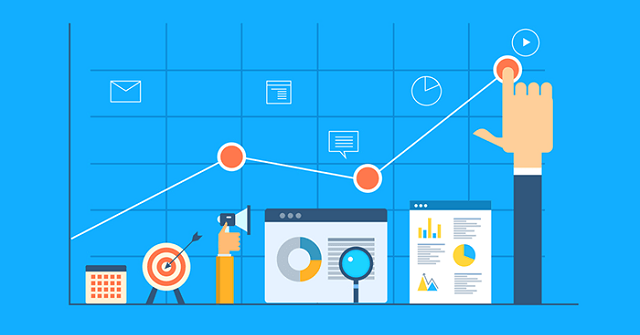 Remaining profitable on Amazon is an uphill battle for many sellers. There are stricter FBA limitations, increased storage fees, fake reviews, buyer fraud, sales rank manipulation, and so on. However, if you have the right growth hacking strategy in place, you can become a powerseller that consistently beats competition.
While big legacy companies have access to all the right resources, most small-to-mid-sized businesses are powered by Amazon. With more than half of the items being sold on Amazon coming from third-party sellers, Amazon with their Prime two-day shipping service offers the most potential for growth.
The platform allows businesses to expand their customer base, offer value-added services and make more money without having to manage a large team.
The following are few exciting benefits of selling on Amazon:
Opportunities for Growth on Amazon
Large Base of Potential Customers
The number of interested customers on Amazon tops every other platform, including eBay and Walmart. The company claims that over 150 million monthly unique visitors in the U.S. alone can be seen visiting its site for shopping purposes. In the last quarter of 2016, there were approximately 310 million active customers on Amazon resulting in an annual revenue of $136 billion. eBay, on the other hand, was able to secure only $8.9 billion in sales that year.
With their recent acquisitions of Twitch and Wholefoods, Amazon is targeting a wide net of passionate consumers. On one hand, Wholefoods has enlarged Amazon's brick-and-mortar presence and further increased its appeal for mid-to-high income shoppers. On the other hand, Twitch and Amazon Prime are strategically targeting consumers interested in gaming, electronics, and computer hardware.
Resources Such As Fulfillment by Amazon (FBA)
In their efforts to assure the quality of services and products being offered through their platform, Amazon offers all third-party sellers their Fulfillment by Amazon (FBA) program. Designed to ensure high quality and an exceptional shopping experience, FBA lets you save on warehouse and fulfillment fees, all the while Prime-badging your products to boost your sales.
Amazon, undeniably, has a lot in store for businesses looking to set-up shop online and for those looking to expand their reach and achieve truly exponential growth. FBA can also be used for other channels, such as eBay or your website. Multi-Channel Fulfillment (MCF) lets you take advantage of Amazon's fulfillment infrastructure and reduce the cost of shipping and warehousing.
Roadblocks to Amazon Growth
On the other side of the coin, Amazon storage fees are rising, and their policies are becoming stricter. Gone are the days when a simple online store was enough to bag a hefty profit. When you sell on Amazon, you need to play by their rules.
Many sellers quit because of the A to Z guarantee and other similar policies that favor shoppers. Sellers fail to make money because of buyer scams, fake review, and counterfeiters plaguing the marketplace.
And with new businesses emerging out of every nook and corner, the level of competition is accelerating, making it difficult for businesses to compete in overly saturated industries. For businesses operating through Amazon, the real challenge is being able to stand apart from thousands of competitors offering the same products and win the buy box consistently.
4 Steps to Amazon Success
Step #1: Learn How to the Algorithm Works
On Amazon, gaining exposure and being easy to find means everything. To help you understand this further, it is important that you first learn how the Amazon algorithm works. After all, Amazon is its own product search engine.
Each time someone performs a search using Amazon's search bar, an entire page of multiple results come up. The page featuring the results will have a specific URL that is based on keywords that were searched for. Successful conversion on Amazon relies massively on the buy box, which mainly involves the total cost of the product and your shipping performance.
The following are some tips to improve your buy box win rate:
Strategically price your products by doing competitor research.
Consider using automation tools such as Amazon repricers.
Use Amazon's Fulfilled by Amazon program to boost your shipping performance.
Strive to accomplish a stellar seller rating. Anything 90% or more can do wonders when it comes to winning the buy box.
Ask for customer feedback to get more reviews.
Step #2: Set Up an Infrastructure for Success
Amazon is all about the customer experience, and that means, you, as a seller, must meet performance requirements. It's a known fact that Amazon has dozens of retailers competing to sell similar products. Therefore, winning the buy box is vital to your success and survival as a third-party seller.
The key to winning the Amazon buy box is to deliver a great customer experience. Pay special attention to your seller rating and order defect rate. A high number of returns, cancellations, order defects and complaints regarding shipping time are some of the many known metrics that come into play when it comes to your seller's score and buy box win rate.
Amazon FBA can help you with fulfillment metrics, but can be costly over time. Seller Fulfilled Prime (SFP) is an excellent alternative that allows sellers to fulfill from their own warehouse if they can ensure that items are shipped out on time. However, to maintain good ratings and performance, you need to make shipping your number 1 priority.
This means investing in a great team and automation software to ensure quality control and enough lead time for your deliveries.
Step #3: Try Marketing Your Products on Amazon
Marketing efforts go along way when it comes to achieving growth on Amazon. We recommend that you look into Amazon's built-in promotion tools such as sponsored ads, daily deals and Vendor Powered Coupons (VPC) to take your marketing strategy up a notch.
Here's how you can use VPC to help your business grow:
You can get more eyes on your product by promoting it through coupons.
You can win a spot on Amazon's daily Coupons page by offering a discount much bigger than that of your competitors.
You can showcase your VPCs on third-party sites and allow an additional flow of traffic.
Step #4: Manage Amazon Feedback
One of the most important hacks for growing your business on Amazon is by gaining feedback from your customers. Essentially, no form of marketing can beat positive customer reviews. There is nothing more effective in attracting new customers than reading about the positive experience that other customers have had with your business.
We recommend that you utilize feedback management tools such as an automated feedback request system to gather reviews from your existing customers and establish a reputation on the platform. Learn to personalize your emails to boost engagement.
Understandably, it's impossible to maintain a perfect feedback score. No matter how great your product, some of your customers will leave negative reviews. Taking the time to manage reviews will go along way. If you can delight an unhappy customer, you will show publicly that you care about your customers.
Conclusion
With new businesses emerging out of every nook and corner, the level of competition is growing with each passing second; making it difficult for businesses to compete in overly saturated industries.
Selling on Amazon and targeting growth doesn't have to be an intimidating process. You now have all the information you need to utilize the largest ecommerce platform in the world along with access to a never-ending sea of growth opportunities. However, in the end, it all comes down to putting these hacking tips into action and taking a step towards accomplishing your business goals.
Start Selling More with Our eCommerce Software