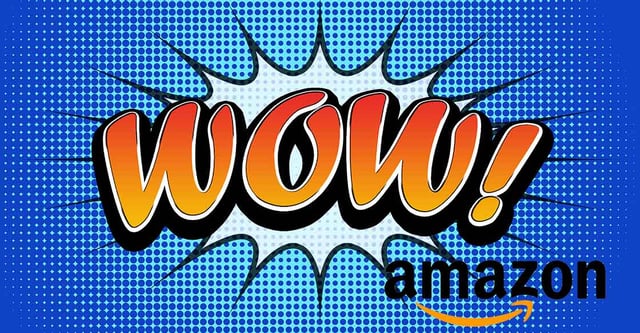 Improving your Amazon search ranking can feel daunting.
To achieve success in the hugely competitive marketplace, most assume you have to know the ins and outs of the Amazon search ranking algorithm.
Surprisingly, however, most Amazon Sellers (and SEO experts) seem to be unaware of it, and still, expend most of their resources on drawing traffic through Google's product searches -- not via Amazon.
Now, don't get us wrong: improving your ranking on Google product searches should be a part of your marketing strategy. But, when it comes to eCommerce, three times as many buyers search for products on Amazon than on Google. That's a seriously huge chunk of potential traffic that sellers are missing out on when they fail to optimize their listings for Amazon.
The SEO Difference: Google vs. Amazon
Amazon's Search Algorithm, A9's ranking mechanism is fundamentally different from Google in primary focus:
Google's focus lies in finding and identifying content that accurately answers a searcher's query.

Amazon's focus is on identifying and displaying the products that will most likely result in a conversion (sale).
Understanding this key difference is the first step towards optimizing your listings for Amazon's SERPs. To put it in the simplest of terms: The more your product sells, the higher it will rank.
It's really that simple.
When you optimize for Google, your content should be geared towards providing as much information to encourage users to click your link; whereas, with Amazon, the content on your product listing should be geared towards convincing users to buy your product.
3 Things to Know About Amazon Before Optimizing Your Search Ranking
1. The Buy Box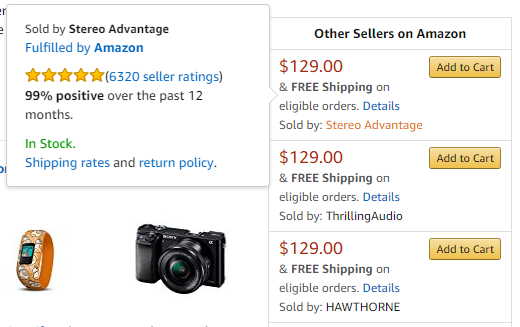 The Buy Box is the key element of the Amazon Product Listing since it accounts for over 90% of conversions (sales) that takes place on Amazon. It's the box which features the familiar yellow "Add to Cart" option.
Generally, when customers click on the "Add to Cart" button, they are buying from the merchant which has secured the top spot on the Buy Box. The merchant that wins this top spot gains a prime advantage over other sellers, and is perceived as trustworthy, customer-friendly, and most importantly, highly recommended by Amazon.
Needless to say, gaining this spot isn't easy. The Buy Box also features up to three sellers who are highly ranked on Amazon. Merchants can also vie for a spot on this piece of real estate on the Product Listing page.
2. The Merchant Offers List
Even if you can't secure a spot in the Buy Box as a third-party seller, you can still get a fighting chance if you rank high enough on the Merchant Offers list. The link to the Merchant Offers list can be found at the end of the product's description, and at the bottom of the Buy Box.
A merchant's ranking, whether it's a top spot on the Buy Box or the Merchant Listing, is contingent upon a number of factors including:
Featured Merchant Status

Fulfillment by Amazon (See below)

Competitive Pricing

Length of Time on Amazon

Seller Ratings

Shipping Time

Feedback Score

Product Availability
Here's a more detailed take on the factors affecting your Buy Box and Amazon Merchant Listing positions.
3. Fulfillment by Amazon (FBA)
This is a special program where merchants can sign up to have their inventory stocked at one of Amazon's fulfillment centers (warehouses). Amazon then takes over the packing, shipping, handling and customer care, while the merchant is left to handle the other pertinent aspects of the business. Signing up for FBA comes with a number of benefits including:
Featured Merchant Status

Increased customer reach to Amazon Prime Members and Super Saving Shipping offers

Increased chances of earning a spot on the coveted Buy Box
Copywriting Tips for a Killer Product Listing Page
First, a word on completeness:
Conversion is the key focus for Amazon's ranking algorithm, so your Product Listing Page factors hugely into this. Every individual section of your listing -- from the titles to the product description -- has a role to play. Furthermore, Amazon loves product listings that are complete.
The more details you give Amazon about your product, the better it will be for your ranking. Amazon's data is highly structured: every field on the "Add a Product" form has a name, a defined format and a list of valid values, depending on the categories and subcategories that the product falls under.
Now that you've got a grasp on some of the key aspects of the Amazon Seller's account, it's time to take on the main factor that impacts your ranking with Amazon's A9 algorithm: Creating Your Product Listing Page.
Seeing as Amazon pretty much tells you what it wants, there's really no excuse not to create a complete listing.
Now, we come to copywriting.
The elements that are covered in this section contribute to the relevancy of the listing for specific keywords and search terms. When a user enters a specific keyword to search for a product, Amazon looks at these elements and decides on how and where to rank your listing according to how close it matches the customer's intent.
1. Research, Research, and More Research
Before you even begin to think about writing your descriptions, make sure you're armed with an arsenal of information about your target audience.
Why? Remember, when we said Amazon was about making a sale: this means your sales pitch needs to strike the right note with people whose decisions are based on emotions and behaviors.
Start by creating a complete profile of your target audience, including:
Demographic information: age, gender, occupation, hobbies and other details that can help you in crafting your message.
Pain Points, which include issues and challenges members of your audience face, that your product can help them overcome. You can gather this information in a number of ways, for example by looking at negative reviews of your competitors and looking for common issues mentioned by those reviewers.
Real-life situations by scouring the web for live demonstrations of the product you're selling: see how people are putting your product to use and find ways to incorporate those into your listing.
2. Product Titles
Depending on the device and medium (web or mobile app) it is viewed, Amazon displays the titles at different character lengths as follows:
35 characters, usually in sponsored listings displayed on the top or side of the search results page on the website

76 characters, primarily in the Amazon Mobile App

140 characters on Tablet devices

115-250 characters on Search Result Pages on the website
Therefore, the key is to get the most pertinent information within those limits, so that no matter the medium, they still garner enough interest for customers to click on them.
According to Karon Thackston of Marketing Words, it also doesn't make sense to shove keyword after keyword into the title in the hopes of getting Amazon to rank you for relevancy. Overstuffing is a red flag, and Amazon is too smart to be fooled.
Let's look at these two listings for a phone wall charger:
The first image is the title of the top-ranked listing for the keyword "cell phone wall chargers" and the second-ranked somewhere on the 20th page of the results.

Title 1: Contains pertinent information/keywords at the beginning of the title, while supported devices take the second precedence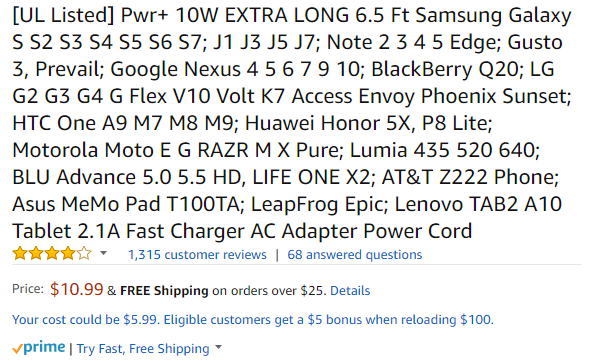 Title 2: There is little to no pertinent information about the product's specifications; it's just a long list of supported devices that doesn't really help the customer. The information that really matters (which isn't even as important as the power capacity) is at the very end of the title, and won't be visible in search results.
3. Features and Bullet Points
This is where you get down to business. Features and bullet points should be concise, inclusive and specific. Avoid using vague, flowery language and hype--
However, don't bluntly list the features of your product; instead, include real-world benefits of those features. Put yourself in your customer's shoes and ask, "Why does this feature matter to me?" The more you relate to a customer's real-world challenges, the more your listing will resonate.
Take, for instance, this listing for "kitchen blender" from Breville. Note how each feature is specified clearly, along with a brief note on why and how that feature benefits the buyer.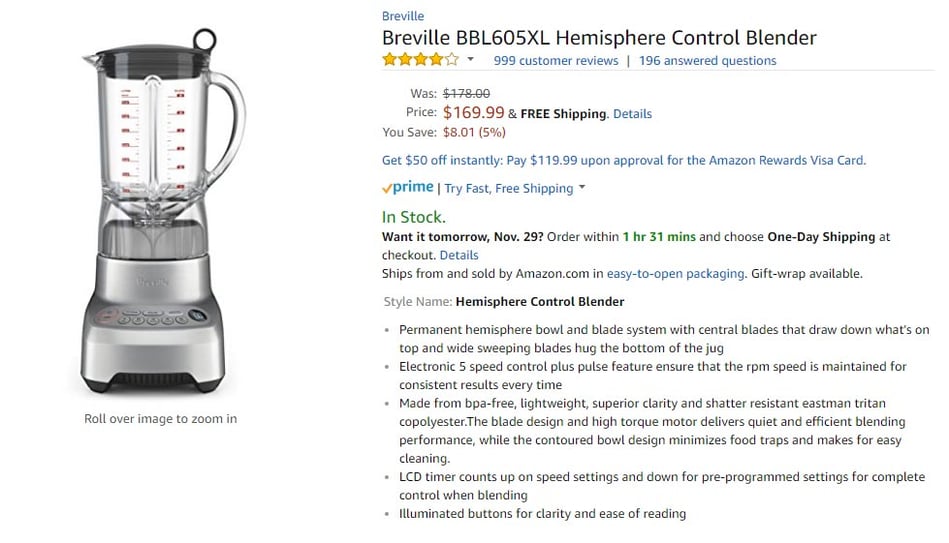 Another good example is this listing for "gardening gloves" from Pine Tree Tools, which steps outside the scope of its niche to appeal to a broader audience.

In some SERPs, Amazon displays snippets of the Product Features page, as seen below in the search results for "gardening gloves". So, try to include any pertinent information that you know will appeal to your customer at first glance.

4. Product Description
Sometimes, the benefits/feature bullets may be more than enough to convince your customers to buy; but, your they may still need more. They'll need to get down to specifics and details. This is where your product description comes in. You will need to pull out all stops to give your customers the whole picture.
Your product descriptions should, therefore:
Highlight what makes your product different from your competitors.

Relate to real-life situations and challenges that can be solved/handled using your product.

Akin to real-world shopping, allow customers to experience using your product… through words and images.
An excellent example of Product Descriptions is the one that the brand Breville has for its espresso machine, conveying the product's features through text and images. The detailed part diagram is a plus.

Actionable SEO Listing Techniques
Besides writing excellent copy, optimizing some of the following aspects of your listing can also impact A9's ranking algorithm.
1. Search Keywords
Allow Amazon search ranking expert, Dave Chesson, to explain his simple method for delighting Amazon's algorithm:
"The number one factor to wow'ing Amazon's A9 algorithm is having the highest click conversion. We 'can' manipulate the system in different ways to jockey to the top, but in the end, if customers who naturally type that keyword into the search box, don't click us, we'll sink faster than the Titanic. Therefore, once you've identified your top keywords for the product, you need to ensure your product title, pictures, and description exude that this truly is THE product they are looking for. So, place yourself in the shoes of someone who would type that search term in, and think "what is it they'd want to see to prove to them your product is the one."
This is one area where sellers or SEOs, who are used to Google's PPC keyword research, falter. Sellers can enter a maximum of 5 search keywords that Amazon can use to index their products. Amazon has laid out its own set of guidelines for these keywords:
The length should be less than 250 characters (

Amazon recently updated this limit from 50 to 250

)

Irrelevant or misleading keywords can result in your listing being pulled.

Only provide accurate information.

Duplicate content such as those present in your title or descriptions should be avoided

Avoid repeating any keywords in your five allotted terms

Include spelling variations and synonyms in your keywords.
In his extensive poston Amazon SEO in Moz, Nathan Grimm gives this example of Search Keywords for Sunscreen Lotion:

2. Brand Name and Manufacturer ID
Perform any generic search for a product on Amazon, you'll see the brand name and the manufacturer ID included at the beginning of every search listing. Doing this allows your product to:
Be enabled for the brand search filters on Amazon

Become visible to customers searching for brand-specific products
See this example for "Toaster Ovens" below:

3. Categories and Subcategories
When you enter a specific search term, such as "Women's Halter Tops", Amazon's search results take you a deep into their catalog, depending on the search term in question. So, make sure you enter your product in the category that's as narrow as it is relevant. Only then can your product be visible even in the most specific searches.
Here, Amazon takes you two categories deep:
Category: Clothing, Shoes, & Jewelry

4. Image Size and Quality
The product image is another key detail which needs to be optimized for Amazon's A9 Algorithm. Amazon's guidelines for images state that every listing should have at least ONE image that is 1000px x 1000px or larger for their Hover-to-Zoom feature. Listings that don't include this are "suppressed" in the search listings.
As long the primary 1000px x 1000 px image is informative and detailed enough, Amazon does not care how many other images you add to the preview. The number of the preview images have little effect on rankings.
Amazon's Performance Metrics
Customer satisfaction and your performance need to be monitored in order to track your success and to adjust selling strategies on Amazon. You can track your performance metrics on Amazon's Account Health Dashboard which include:
Perfect Order Percentage (POP): This metric is a measurement of how many orders were successful, right from the time the product was added to the cart to the time it reaches the customer.
Order Defect Rate (ODR): The opposite of POP, your Order Defect Rate is the number of orders with a defect against the total number of orders processed within a given time, usually 30 days. In Amazon, the ODR, in turn, is affected by the following:
A-Z Guarantee Claim Rate: The total percentage of orders which

received A-Z Guarantee claims

Negative Feedback Rate: The total percentage of orders that received negative feedback from the customers.

Credit Chargeback Rate: The total percentage of orders that received credit chargeback claims.
Cancellation Rates: The cancellation rate defines the percentage of orders that were canceled before the "Shipping Confirmations" are sent against the total number of orders processed within a given period of time.
Late Shipment Rate: This is the percentage of orders that got a shipping confirmation after the "Expected Delivery Date" divided by the total number of orders processed by the seller.
On-Time Delivery Rate: This is the percentage of the orders that were delivered on time or before expected delivery date.
Valid Tracking Rate: This is the percentage of the shipping orders that had valid shipping tracking numbers. This should be at least 95% for American sellers.
Customer Response Time: Contact Response Time is a measure of the percentage of customer-initiated messages that you respond to within 24 hours.
Return Dissatisfaction Rate (RDR): RDR is the percentage of valid return requests that were not answered within 48 hours, were incorrectly rejected, or received negative customer feedback.
Tips to Keep Your Performance Metrics on Track
Be prompt with your communication: Always ensure your support/sales team is on top of all received messages and claims received from customers.

Ship on time: Keep your shipping schedules on track with the delivery times you have set for your products. Learn about Jazva's order tracking software.
Stay on top of your inventory: Always ensure that your inventory is up-to-date, and only list items that are in-stock on your inventory. If any items are out-of-stock, turn the listings off till they are back in stock. A centralized inventory management system can dramatically improve how you handle logistics.

Refunds: Respond to refunds and chargeback claims on time. The more you delay, the less your customers will be satisfied.

Trackable shipping: Always choose a carrier that provides tracking numbers and confirmations for deliveries.
In Conclusion:
Ranking for Amazon is fundamentally different than ranking for Google and other search engines since Amazon search is a

vertical search

that focuses on

conversions rather than clicks.
Amazon loves product listings that are

optimized for copy

and factors such as

keywords, brand name, categories and even images.
Finally, sellers should keep track of their

performance metrics

through the

Account Health Dashboard

in order to achieve customer satisfaction and brand success on Amazon. Keeping track of these metrics can also help them adjust their strategies on the platform.
See how Jazva's powerful multi-channel eCommerce solution can help you grow your business