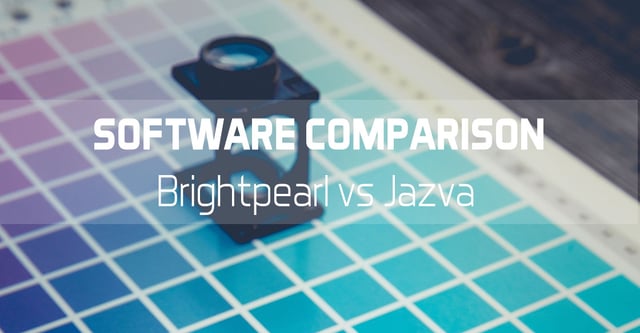 To survive and grow in today's fierce online retail environment, you require a commerce solution that improves your efficiency.
And that means a thorough comparison of multi-channel ecommerce software is your key to winning the eCommerce game.
You need to find a SaaS that consolidates and updates inventory levels across all sales channels. That means getting products packaged and shipped to customers, and transferring sales data into your accounting system quickly and accurately.
And that's just the tip of the iceberg.
The reality is, manually managing multiple eCommerce stores, while orchestrating the complex back-end measures they require, can be harmful to both capital and productivity.
A cloud-based [automated] eCommerce solution is your key to best-serving customers, expanding product lines, investing in other areas of business and keeping you toe-to-toe with competitors.
Here at Jazva, we understand that the software we sell is very important to how you do business. We also understand that they're a lot of software to choose from, which makes surveying the marketplace very complicated.
[READ - Why High-Volume Sellers Should Consider Sellbrite Alternatives]
If you're in the midst of looking for the right solution – or perhaps considering a change of your own – we are going to briefly outline some of the differences between our software and one of our distinguished competitors, Brightpearl.
A Quick History of Brightpearl
Before Brightpearl, founders Chris Tanner and Andy Mulvenna were two college friends who shared a love of longboard skateboarding, and coincidently, a passion for the entrepreneurship lifestyle. After graduation in '97, they put two and two together and started Lush Longboards – and it quickly resonated with its targeted demographic.
However, in the early years of online retail, there weren't too many tools for multichannel operations, and Chris became increasingly frustrated with the complexity involved in running a global online business. So, in the mid-'00s, Chris began developing a product that would assist him in his internal processes but quickly realized the potential he laid the foundation for.
And in 2007, Brightpearl was born.
With over 100 employees, over 1,400 customers worldwide and supported by a strong team of investors, Brightpearl continues to grow and has established itself as one of the best SaaS companies for small to mid-sized online merchants.
Brightpearl vs. Jazva Functionalities
Where Brightpearl Excels
When it comes to analyzing the two software, the first thing you will notice is the discrepancy in product features. Brightpearl heavily focuses on helping you manage, control and view the financial footprint of your company.
Every step – from updating stock levels across sales channels, processing POs to accounting, auto-dispatching orders, and generating reports – is all done automatically via a centralized web-based location, accessible anywhere.
However, where Brightpearl excels as an inventory management solution, it falls in its ability to help you win more sales, customize your business and adjust to market conditions.
Where Jazva Excels
Jazva was built to not only help you manage the financials of your business but also sell smarter and effectively manage listings across all your desired sales channels. For example, Jazva's basket options allow you to modify, publish or deactivate products in bulk. The categorization tool, additionally, gives you the ability to organize products to be sold at specific channels, each with individual rules and requirements – all tool Brightpearl does not provide.
Big picture-wise, Jazva is intended for the many roles that exist within your business, including but not limited to personnel within warehouse and inventory management, marketing and promotions, customer service, channel listings and merchandising, and accounting. Brightpearl, however, mainly serves eCommerce managers and executives within the roles of finance, accounting, and inventory.
Spotlighting the Core Features
Brightpearl and Jazva offer many of the same features, including integrations with QuickBooks, 3rd party marketplace integrations, standalone financials, and a basic CRM package.
However, Brightpearl lacks a number of features that you'd expect from an all-in-one eCommerce management solution, including:
• No marketplace repricer [Amazon, eBay]
• No product listing capabilities
• No integrated cart or integrated shipping
• No B2B tiered pricing
• No wholesale portal
• No barcode scanning or advanced batching
• No cloud printing
• No product kitting
Additional benefits of Jazva
• iOS app makes it simple to process and ship orders from any location
• Batch processing
• Advanced basket options
• Custom bin location management
• Integrated shipping
• Manage eBay Motors directly, with fitment data categorization
What Customers Have to Say
Jazva and Brightpearl both maintain strong user assessment scores on software review sites such as Capterra and Software Advice.
The Consensus on Brightpearl:
With 4.5/5 rating on Capterra, Brightpearl is widely recognized for its flexibility in inventory management, as one user reports,
"Brightpearl is the only software in the market which caters for all aspects of accounting. It also does VAT and Stock reconciliations which a lot of other software does not. You can also track all your stock from one place. I would highly recommend using this software. We have been using Brightpearl for last 4 years."
However, not everyone shares the same high praise of the product:
"Compared to [x company], Brightpearl's accounting functionality is weak. Accounting and related functions are cumbersome for non-financial staff to work with. If you need to 'assemble' your products - i.e. build up a product from a group of inputs - Brightpearl can only deal with this at a rudimentary level and then some of the usability starts to weaken."
The Consensus on Jazva:
With a 5/5 rating on Capterra, Jazva's reliability, ease of use and flexible product listing features win over the hearts of many users, with one happy customer saying,
"The biggest benefit is that it saves us a lot of time, keeping us organized and fulfilling orders faster. Batch processing, custom bin location management, and integrated shipping are also a huge plus. Jazva really went out of their way to customize the shipping part to help us with our specific warehouse needs, like having FedEx trailers."
However, not all customers share the same experience:
"Most items work as they should, however, there are a few things that should be able to be changed, such as kit items and the way they show on orders."
Something for us to surely think about…
Final Thoughts
Jazva is constantly adding to its product-rich catalog nearly every month, as it's a priority that we continue to innovate, adjust, implement, and repeat.
Jazva's objective is to remove the complexity out of each facet of your multi-channel selling experience, so you can concentrate on the growth of your business; Brightpearl allows you do much of the same, however, is more focused on helping you accomplish tasks related to inventory, order processing, and accounting.
So, what matters more to you?
Do you need an all-in- one eCommerce solution that handles all aspects of your business? If your answer is yes then Jazva is likely the better-suited solution to meet all your multi-channel needs. If your answer is no – and you are more focused on accounting and financial management – Brightpearl is a powerful and recommended software to consider.
If you would like to learn more about differences between these two platforms then you can check out our detailed comparison of Brightpearl and Jazva where we take a closer look at usabilty, B2B capabilities and inventory management functionality of these ecommerce platforms.
Still not sure which software is best for you? Get our free demo and start to sell more!