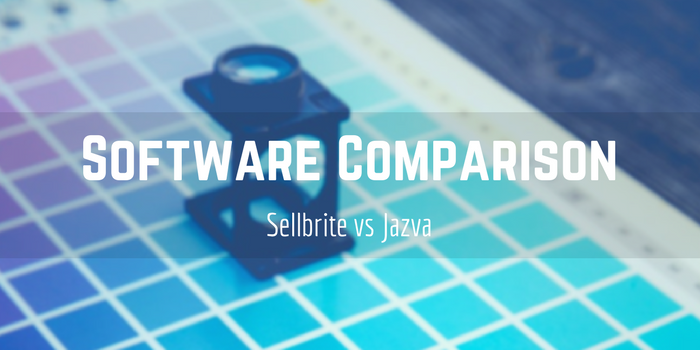 Given the number of inventory management systems available in the market, it can be difficult to choose the right solution for your business. In our last software comparison article, we identified how Jazva is different from ChannelAdvisor. Today, we look at Sellbrite and why we believe high-volume sellers can benefit more from enterprise-level Sellbrite alternatives.
A Quick Background on Sellbrite
Formerly known as Seller AppVantage, Sellbrite started out with a small team, powering an FBA management software known as AutoMCF. From 2013 to 2016, the team developed the Sellbrite software from an incubator startup studio, IdeaLab. They now operate in their new headquarters in Pasadena, CA.
Today, Sellbrite is one of the most well-known inventory management systems, due to its simplicity, ease of use, entry-level pricing, and engaged customer base. While Sellbrite claims to be the "#1 Multi-channel Software," it's important to have an objective view of the product, especially when the future of your business operations is at stake.
Sellbrite vs Jazva Functionalities
When comparing the capabilities of each platform, keep in mind that SaaS companies like Sellbrite and its competitors might use the same terminology, but mean different things. The key is to understand the full extent of each functionality. This can be done by identifying how each software is marketed, such as what kind of audience are they targeting.
Sellbrite, for example, often presents itself a simple, painless multi-channel software: an all-in-one product anyone can pick up in just a few minutes.
By contrast, Jazva, one of Sellbrite's competitors, is marketed as a more advanced automation platform, loaded with out-of-the-box custom capabilities, and is focused on helping high-volume retailers dominate their respective industries and scale across the major global marketplaces.
Core Features
Sellbrite and Jazva offer many of the same functionalities, including bulk listing, custom templates, variations, inventory control, FBA, and shipping management.
Sellbrite, however, lacks some features, that could only come from all-in-one automation solution. Compared to its competitor Jazva, it misses a few features, including:
No Amazon or eBay repricer;

No Seller Fulfilled Prime Integration;

No inventory scanning or receiving;
No drop ship support;

No barcode scanning;

No direct eBay motors management;
No purchase order management;
No accounting integration;

No EDI functionality.
By comparison, Jazva has a passion for innovation, releasing new features almost every month, and has some of the best end-to-end capabilities that can be found on the market. As an enterprise-level solution, Jazva offers advanced listing and inventory management features that allow kitting products with ease, and can even extend to drop ship vendors and multiple warehouses.
Here are some additional benefits to using Jazva as Sellbrite alternative:
All these features make Jazva an attractive Sellbrite alternative for running a complex ecommerce business. Instead of combining multiple software at piecemeal, Jazva's an all-in-one solution may be the best alternative to Sellbrite if you're looking for an operational infrastructure built to scale, while reducing costs through automation.
Integrations
When comparing ecommerce management platforms, it's also important to assess the list of integrated marketplaces and shopping carts. You will need to review each solution's connected channels and consider the ramifications of missing integrations, especially in terms of productivity loss, inventory syncing, and accounting.
As of this writing, Sellbrite has not implemented integrations with Volusion or Magento. Marketplaces, on the other hand, are a bit more complicated. At a glance, Sellbrite appears to have more API integrations with smaller channels, such as Etsy, Sears, and Newegg.
It's important to note, however, that channel integrations are often built as at the behest of a few clients. Niche marketplaces aren't always beneficial or worthwhile for high-volume sellers. Service integrations could also cause problems if you do not use their preferred partners.
Juggling too many API integrations is risky, not to mention costly to maintain up-to-date, especially for a small startup. If one integration breaks, all connected listings, orders, and inventory, could be affected.
Usability
While Sellbrite lacks certain functionalities, it's difficult to argue against its usability. The beauty of this particular platform lies in simplicity. The seamless user interface competes with solutions like Stitchlabs. You can also read our detailed comparison of Jazva and Stitchlabs ecommerce solutions. People new to online selling will love the clean design, without being overwhelmed with complicated features reserved for high-volume sellers.
Similarly, Jazva also has the end user in mind, having won the 2017 Great User Experience Award despite offering complex functionalities. Still, given the size and scale of the platform, Jazva will likely have a longer learning curve than basic inventory management software systems like Sellbrite, but this is much better than learning 4 disparate systems at once. Jazva's all-in-one platform easily replaces many of the piecemeal services needed by growing sellers.
Jazva as an Alternative Sellbrite - The Final Verdict
We try to be objective when comparing our software to the competition. And while both options presented are great ecommerce solutions, we would still like to offer our advice for prospective software buyers.
If it's functionality you're looking for, then Jazva's all-in-one solution would be a great Sellbrite alternative. But if you don't need advanced functionalities or if you're already using many of Sellbrite's channel and service integrations, then we would be happy to recommend Sellbrite for its short learning curve and simple interface. If you wish to know more on how Jazva is different from Sellbrite, then you can check out side by side comparison where we look at user reviews, pricing options and more.
Still, it's always best to see both platforms before making a decision.
Check out our product tour or
schedule your free demo
now!