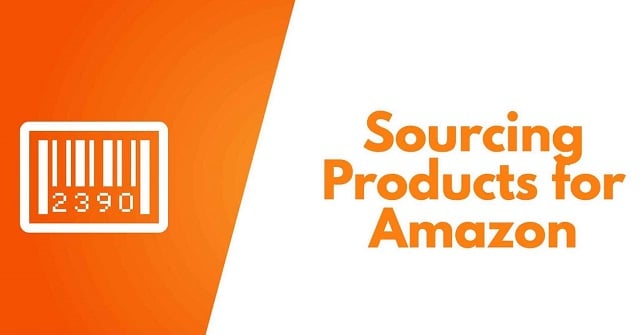 Amazon inventory management. Such a complex topic and so many things to consider when it comes to it. It all starts with creating an inventory. There are so many possibilities to buy and own items to sell on Amazon that sellers can get confused and don't know where to turn.
This article will present to you information about how to source new products on Amazon and how you can look for sourcing inventory for Amazon.
Most inventory options need an initial investment and sellers take a calculated risk before buying. The cost needs to be recovered, the supplier needs to be reliable and the merchandise has to arrive on time. These are the key aspects of creating an inventory.
There are multiple sourcing options that are usually considered by sellers:
Retail Arbitrage - buying discounted products from retail shops and reselling them;
Online Arbitrage - buying discounted products online and reselling them;
Drop Shipping - buying a product from a retailer or wholesaler after you sold on Amazon and having the item sent to your customer directly without actually handling the product;
Wholesale - buying products directly from the manufacturer/brand owner (often in bulk and at a discounted price) and reselling them;
Private label - buying generic products from a manufacturer, add your labels and sell them as part of your brand
Buying from overseas wholesale marketplaces and resell them.
All of these source options are used by sellers and are popular choices when it comes to creating an inventory. However, it all depends on what kind of business needs you have, what's your initial investment budget and how long are you willing to wait to get your merchandise.
Using a domestic supplier, as easy as that might sound, can come with some restrictions and extra costs. When you use a local source, the delivery of the goods is expected to be fast. That's a big plus if you want to start selling on Amazon right away. However, you have way fewer choices when it comes to the diversity of the products. A minimum order is usually required and the prices are always higher. This can make some sellers give up the idea of using a local supplier.
Ok, using a domestic supplier has its benefits, but financially speaking it makes more sense to turn to other countries.
Why Sellers turn Away from US Suppliers for Amazon Business? Let's take China, the global leader of manufacturing and supplying source. Buying from China is first of all, much cheaper. Second of all, the minimum order required is much lower than anywhere else. The diversity of the products is endless, plus manufacturers are really flexible when it comes to creating new products based on sellers' requests. Production costs are significantly reduced and private labeling is easy to implement.
There are a few challenges that need to be taken into consideration. The delivery time is longer, but if you are willing to wait, you are saving up a lot. The customs laws can be problematic as well. However if you research your local customs rules and regulations, you should know upfront whether this applies to you and your business.
If you are considering China as a inventory source, let's look into some of the most popular sourcing options and suppliers:
Aliexpress https://www.aliexpress.com/
This marketplace is great for sellers that want to buy in bulk, but not in very large volumes. It offers quality products at factory prices, making it an excellent source for small and mid-size businesses. There is a huge variety of products on this website.
Alibaba https://www.alibaba.com/
Alibaba is one of the biggest suppliers for eCommerce. It's perfect if you want to trade larger volumes of items, it offers a rich variety of products, it hosts millions of merchants and a well-known supplier for Amazon sellers.
Globalsources https://www.globalsources.com/
Globalsources focuses mainly on electronics and mobile devices and facilitates the trade between Asian countries and the rest of the world.
There are also some European suppliers that could be a good option for you:
Zentrada https://www.zentrada.eu/
Zentrada is Europe's leading wholesale marketplace for volume and consumer goods in a variety of domains, ranging from fashion to drug store items and much more. It is a marketplace dedicated exclusively to resellers.
MX Wholesale https://www.mxwholesale.co.uk/
MX Wholesale is a leading supplier, offering a lot of discounted items, competitive prices, a wide range of products for individual shoppers, shop owners and other businesses.
Besides the marketplaces mentioned above and wholesalers, there is another way to source products - crowdfunding. This method is a great way to get you started with your business. Essentially, crowdfunding refers to the ability to raise money from a collective group of people on the internet who are willing to support your business idea. The most remarkable websites for this are Kickstarter and Indiegogo.
Kickstarter https://www.kickstarter.com/
Since its launch in 2009, Kickstarter raised $649 million for more than 40,000 projects. Over 10 million people from around the world have backed Kickstarter projects. They are committed to helping talented people bring their great ideas to life.
Indiegogo https://www.indiegogo.com/
Indiegogo is both a platform for crowdfunding and a marketplace for innovative products. They support innovation in a lot of domains, by giving entrepreneurs the possibility to launch their projects. The products present on this website are unique, interesting and all come with guaranteed shipping.
As an alternative, you can always look into Amazon product sourcing software solutions. Some of the most well-known ones are Amazowl, BuyBotPro, Algopix and Tactical Arbitrage. They have good features such as searching and comparing product listings, providing sourcing options from around the world, it provides estimates for revenues and shipping fees, allow Amazon product tracking and Amazon product sales predictions.
All of this valuable data can make up for a great marketing strategy, a good financial plan and a successful Amazon product launch.
Selling on Amazon can be very profitable and beneficial to sellers. Given the high number of buyers that visit the platform every day, profits are there for the taking. Some challenges might appear along the way, but these days everything has a solution. You were just presented with some valid and cost-efficient ways on how to create an inventory and how to handle your stock levels.
Doing your research before buying your products is crucial. Consider your budget, the delivery time and the business goals you have before taking a final decision on sourcing your products.
Start Selling More with Our eCommerce Software