Shopify powers around 600,000 businesses worldwide and more than $72 billion dollars are being transacted through the platform. If you are using Shopify for your web store and would like to know how you can reach more customers, you've come to the right place.
This article will give you information on how to integrate Shopify with eBay, get more sales with less effort, manage orders in real time and attract new clients. eBay is all about taking care of both the seller and the buyer and Shopify it's easy to use and manage, so combining the two can really make up for a successful business story.
Why Expand to Multi-Channel Retail?
The simple answer is to see your business prosper. But let's talk more.
Going multi-channel means making your product available in more than one source - your eCommerce source, marketplaces, social media, brick-and-mortar store and others. Observing the customers' behavior, we can notice that multi-channel presence is pretty much mandatory these days. Shoppers usually like to research before they buy, they want to read about other people's experiences, get to know the seller and the brand and also find a good price for products.
Exposing your brand and products on marketplaces, adding plenty of information to your items, create detailed listings and offering good deals to the shoppers can be of great benefit for your business. Statistically speaking, adding a sales channel to your existing web store can increase your income by more than 35%. The more you expand, the more you make. However, with more territory comes more inventory management challenges.
Marketplaces also provide a lot of information and data that can help you get to know your audience better, understand their behavior and needs and create marketing strategies that can help you sell more.
Why Shopify and why eBay?
Shopify is affordable, it offers plenty of opportunities to its users and it's easy to manage. What more can you ask for?
As far as eBay goes, the possibilities are almost endless. Having so many active buyers, eBay has been investing in more user-friendly technology, in usability and more engaging experiences. They less product and category restrictions than Amazon, you can brand your eBay store and they also have the drop shipping option available. Plenty of benefits to go around, right?
Why are the two such a big success? Let's see some of the benefits:
Unique prices for eBay listings
Set up the business policies for eBay inside Shopify
Track eBay sales with Shopify reports
Fulfill eBay orders from Shopify
Manage eBay inventory and orders from Shopify
There are a few things to consider before you start selling on eBay. Shipping and fulfillment can turn into a headache if you don't spend enough time to tackle it. You can always use a third-party fulfillment center if it gets too problematic for you. Some people have had issues understanding the fees for listings and selling on eBay; make sure you give this topic the right amount of research before you proceed. eBay allows you to add items for auction and sells it to the highest bidder. However, people forget how good it can be for new items as well. Contrary to common beliefs, 86% of eBay merchandise volume comes from items with a fixed price and 80% of the sold items are new, not used.
Importing Products from eBay to Shopify
The Shopify import from eBay is not really a hard thing to do. You will need a good tool to help you with the process. You can use the Shopify-developed software for it or you can choose another one, such as ShopiBay or SybCommerce. They are easy to use, the process is not lengthy and you just need to make sure your inventory is synced after the eBay to Shopify product import. Recommended tools for inventory sync is Stitch Labs and inkFrog.
Syncing the Channels with Latest Shopify Integration
The Shopify-eBay integration app makes the process of integrating the two fairly easy. What you need is both accounts ready and some time to connect them. Let's see the basic steps of how to sync Shopify with eBay:
Start from Connect eBay Support - connect your existing account or register for a new account and select the Connect button
Sign in your eBay account and click on Agree once it shows up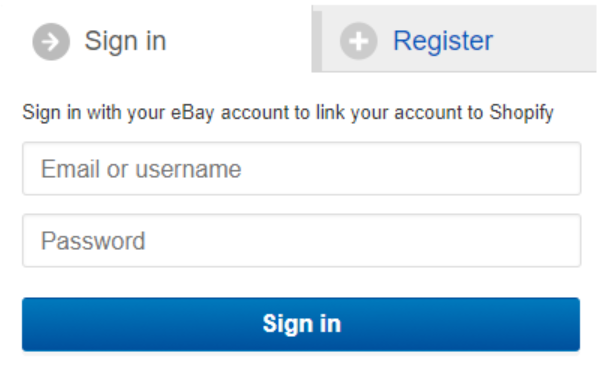 Allow access to Shopify - connect Shopify to eBay

The first thing you need to do is to configure your inventory location.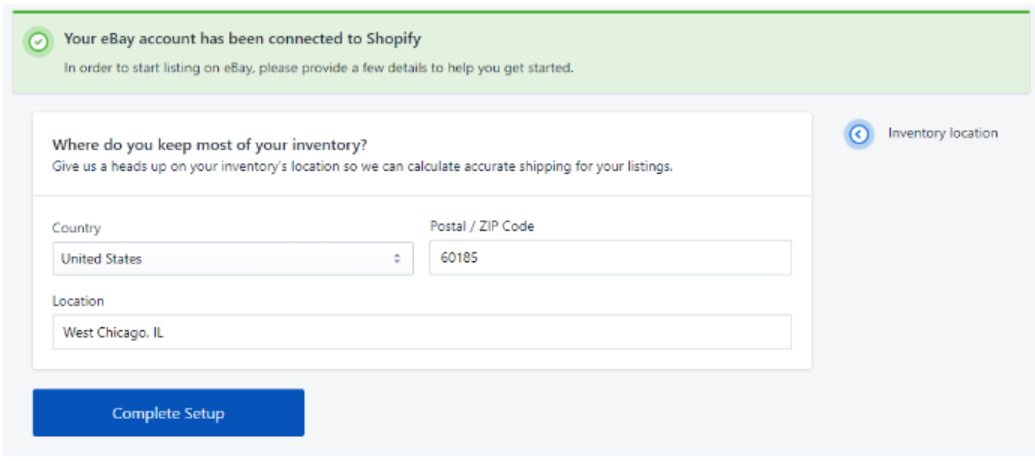 The rest of the steps are fairly easy as well: set up payment and shipping methods, edit the return policy, choose your categories and your products and you're all set! You can start publishing on eBay!
Probably, the biggest benefit of this integration is the fact that you can easily manage product uploads, for example if you add a product in Shopify, it will automatically add a listing on eBay as well. You are able to handle your entire catalog in one place, which can save time. You don't need to worry about overselling either, as Shopify keeps track of your inventory at all times.
The drawbacks of this integrations might be, to some, the costs that come from eBay and the fact that it's only open to the US market. If you're selling internationally, you might want to look into another marketplace.
Utilizing All-Round Multi-Channel Ecommerce Solution to Manage Web Stores and Marketplaces
Jazva is a complex eCommerce solution that can help you sync your inventory across multiple platforms and manage it from one place. What can it help you with? Let's name a few key aspects:
Multi-location inventory solution
Accelerated Shopify order fulfillment
Data analytic tools
Shopify listing control
Smart order management
Multi-channel fulfillment
Import listings, categories, listing images, variation images, publish listings and description
Update listings
Import orders
Order cancellation
If you are interested in finding out more about how to benefit from the successful eBay to Shopify integration, we can help you with that! Contact us today and let our experts find the best solution for you!