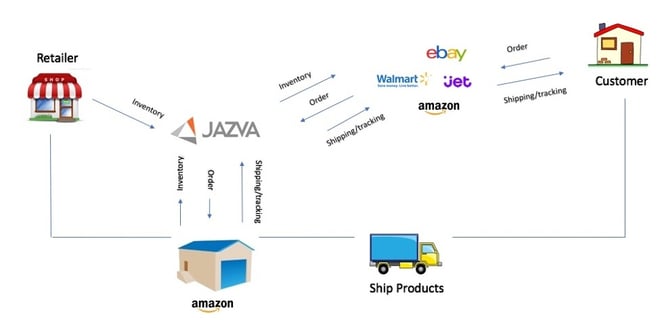 Amazon FBA is a great way to offload inventory, and when it comes to fulfillment, very few can match Amazon's standard of excellence. Amazon Multi-Channel Fulfillment goes further and allows you to use FBA for non-Amazon orders. While this service is convenient for a few orders, it really becomes a struggle when MCF orders reach a high volume.
Sellers commonly ask: can Amazon MCF be automated? If so, how?
Why Multi-Channel Sellers Need MCF Automation
If you're using MCF to fulfill orders from other channels, such as eBay, WooCommerce or Jet, then you know there's a ton of daily work involved manually entering those orders into Amazon Seller Central.
Order entry involves copying order details onto a web form on Seller Central, or uploading spreadsheets and selecting delivery options. You would then have to manage tracking information then update inventory quantities on your other sales channels. If you sell kits and bundles, inventory management will only be more complex.
This is all extremely tedious and leaves room for mistakes when transferring information. As order volume increases, manual processes will no longer be sustainable. You could easily oversell and cause backorders to pile up, making customers wait. One small data inconsistency could cause major headaches.
The challenge then for sellers is how to automate MCF while keeping all sales channels, warehouse inventory, FBA inventory and drop ship inventory all in sync.
Benefits of Multi-Channel Fulfillment Automation Software
When you use MCF automation software, you won't have to manage orders and fulfillment requests across your channel accounts. An all-in-one solution like Jazva allows you to be more hands off when managing your MCF orders. Your listings will be updated across all channels with real-time inventory.
By aggregating orders from various sales channels into one platform, you will have more varied options to fulfill orders without having to juggle different systems. From Jazva, you can automatically or manually fulfill orders through in-house, multi-channel fulfillment, drop shipping or 3PL.
You will also be able to keep inventory in sync across all warehouses, including FBA stock for each item variation and kit. Jazva will automatically calculate all inventory available across your warehouses and FBA facility, identifying stock levels for base products, item variations, and kits.
By automating your MCF orders with Jazva, you won't have to spend countless hours creating fulfillment requests on Seller Central. Once an MCF order comes in, Jazva can automatically send the information to Amazon, and it will be processed like an FBA order. Once the order is shipped by Amazon, the tracking info is automatically added back to the original order and is marked as shipped.
Is Jazva the Right MCF Automation Solution for You?
Offloading inventory to Amazon is convenient, and you can expand your business to other sales channels, potentially selling more without carrying any stock in your own warehouse. MCF automation software will ensure all inventory is updated and in sync as you increase your product line and marketplace reach.
If you're still wasting time and resources manually inputting orders on Seller Central, it's time consider the life-changing power of MCF automation.
Save time and sell smarter by unifying your marketplace management