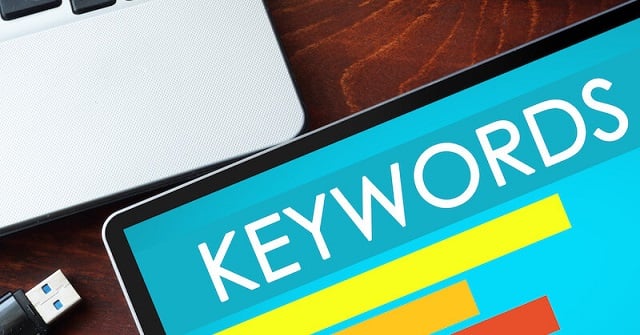 In an attempt to help and guide you in the world of marketplaces, we decided to create a series of Amazon-dedicated blog posts that will bring you valuable information on how to be more efficient as sellers.
The first article of the series is focusing on the importance of keywords and SEO in Amazon. In case you were wondering, yes, it's an extremely important aspect if you want to attract more buyers. That is your goal, isn't it?
Let's discuss more about Amazon keyword tips and Amazon SEO 2018-2019.
The Importance of SEO on Amazon Marketplace
What is SEO? Search engine optimization has been around since the '90s and it refers to the management and cultivation of online content to improve its appearance in search results, mostly the natural search results on Google. When we talk about marketplaces, particularly SEO in Amazon, this translates as the optimization of your product listings to appear higher in search results on that particular marketplace. Amazon keyword ranking is really important for your listings.
Usually, marketplaces have millions of product listings on their site, you need to optimize how your product can be found easier by buyers. What do you need to optimize exactly? Well, there are quite a few things you need to consider here: product titles, categorization, search terms, product specifics and description.
Product titles are, perhaps, the most prominent aspect of any listing and they carry a lot of SEO weight for obvious reasons. The category you choose for your products is relevant because it's a validating data-point. The search algorithm of marketplaces take this aspect into consideration too, so it's important to choose the category wisely.
Search terms are usually considered the invisible keywords that are added to your titles. It's advisable to add different search terms than the ones already included in your product titles, such as alternate spellings and synonyms.
Don't be afraid to use product attributes to help your shoppers refine their search. Using product specifics also helps the search algorithms to match search queries to present more relevant results.
Product descriptions should be accurate, thorough and include relevant information about the item. Descriptions aren't usually the first thing Google looks into. However, you want to make sure the marketplace confirms that consistent keywords are used on the listing.
Paying attention to these aspects and investing some effort in selecting the appropriate keywords and insert them in your listings will help you become more visible on Amazon. Look at the below example of a product that offers a lot of information: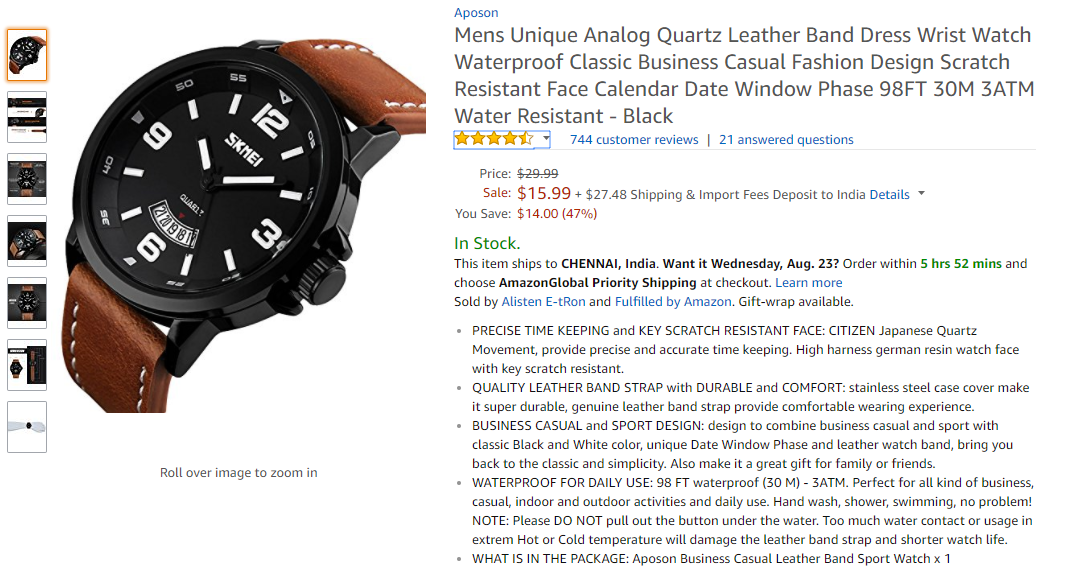 This product is a great example simply because as you can see, it offers a lot of information: the title is complex, it uses the product attributes (analogue, quartz, leather band, wrist watch etc), the description is lengthy, the seller added a lot of extra information (about shipping, what's included in the package, design elements and so on) and the images have a good quality.
So now you know what you need to improve, but don't know which Amazon SEO keyword tools would work for your business? Worry not! There are plenty of software tools cleverly designed to do the hard work for you. You just need to know which one to choose and then start creating your Amazon keyword list!
Top 10 Amazon Keyword Tools for Your Listings
The Amazon SEO software solutions provide the necessary data you need in order to solidify your marketing strategy and attract more customers to your products. Optimizing your Amazon listings will give your products better visibility and ultimately increase your sales.
Below you can find a list of Amazon keyword tools that help you achieve that:
Amazon SEO software
Features
Pros
Cons
Price
Sonar
• Amazon tool powered by Sellics
• Finds keywords for your sponsored product campaigns
• 75 million keywords used by Amazon users
• Provides search volume for keywords
• The volume search shows popular searches on Amazon
• Supports keywords, reverse ASIN search and extended search (downloadable data)
• International sellers can use it to research foreign keywords
• Shows PPC keywords
-
Free
Keyword Tool
• Uses Amazon autocomplete or search suggestion feature to generate a number of relevant keywords
• Pulls data from different Amazon websites around the world to generate keywords
• Offers sets of letters and numbers in different languages
-
Basic Edition: Free
Pro Edition: $88/month
Google Keyword Planner
• Allows you to find keywords relevant to your products and create online promotions based on them
• Hyper-local search volume (shows the popularity of content by location)
• New Ad Groups Tab
• Filter out keywords below a set search volume
• No indication of trends
• Doesn't show which device your audience is using
• No search for related terms

Free

Jungle Scout
• Offers product research data
• Product Database
• Niche Hunter
• Product Tracker
• Real-time Amazon Product Data
• 1-click Competitor Data
• 24x7 Customer Support
• Historical Data
-
Chrome Extension
Pro Version: $197/one-time fee
Lite Version: $97/one-time fee

Web App
Business: $50/month
Standard: $40/month
Start Up: $25/month
Scope
• Improves paid and organic search rankings
• Monitors keyword ranking lists and best selling products
• Reverse ASIN search
• Estimated sale per keyword
• Average CPC bid
• Product Tracker
• Keyword Generator
• Profit Calculator
• Product Research
• Filters Sales and revenue estimates

-

Essentials Version: $32.50/month
Start-up Version: $57.50/month
AMZ Tracker
• Targets Amazon
• Sellers with features to improve their sales
• Allows tracking of bestsellers
• Allows tracking of rankings on Amazon for various keywords
• Tracks your product rankings
• Keyword suggestions
• Super URLs
• Bad customer service
• Outdated user interface
Basic version: $50
Professional: $100
God Mode: $200
Legend: $400
SellerPrime
• eCommerce analytics software provides Amazon sellers data to help them improve their sales
• Provides an insight into your competition
• Shows customer trends and behavior
• Reverse ASIN
• Product Ideas
• Product Keyword Optimization
• Listing Optimization
• Track Products
• Product Watch
-
Starter: $29.99/month
Essential: $49.99/month
Pro: $79.99/month
Business - by quote
Keyword Keg
• Powerful content research tool
• Buyer Intent
• Quickly narrows down and find the best keywords using search volume, CPC, competition, trend and value
• Local listings
• Fast results
• Rich keyword data
• Sort and filter
• Bulk upload keywords
• Suggest APIs
• Categorize by intent
• Export data

-

Starter: $16/month
Pro: $26/month
Team: $86/month
Keyword Tool Dominator
• Research and track keywords easily, improve your traffic and boost your sales
• Monitor your rankings
• Monitor Search Volumes
• Easily find keywords
• Benchmark your Competitors
• Improve your SEO
• Optimize your listings
• No category selection
• Too many keywords that aren't related to your niche
• No stop to the search
$49.99 one-time purchase
MerchantWords
• Helps sellers discover new opportunities, run successful campaigns and analyze the shopper behavior
• Over 1 billion unique search phrases collected from Amazon shoppers
• Shows trends
• Global audience access
• Multi-language
• Backed search volume
• Search downloadable data
• 24x7 customer support
• Doesn't support reverse ASIN search
USA Data only: $30/month
Global Data: $60/month
How to Choose the Best Keyword Research Tools for your Amazon Listings?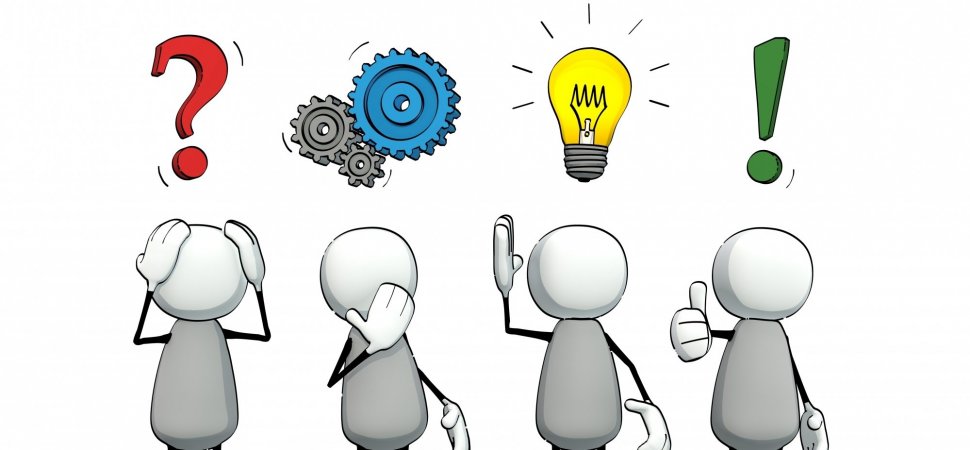 As you can see, there are plenty of resources that can help you get the job done. Having so much information also tends to be confusing and might delay the process of taking a decision. So many features, so many good options, some differences of performance, so many tools to choose from. All of these tools are built and developed with the same purpose in mind - improve SEO in Amazon, rankings and refine the search on marketplaces.
You need to assess your needs and research which tool would be more suitable for them. Consider things like location, translation feature, search volume feature, popular terms, competitor's data and pricing. What works for a cosmetics company might not be entirely valid for an electronics or clothing company. It all comes down to specific business needs and marketing goals. What are your Amazon SEO 2019 goals?
If this domain is completely new to you, go ahead and test some of the Amazon SEO keyword tools mentioned above. You have nothing to lose. Play around with the resources, try trial versions and get a clearer idea of what they can do for your visibility on the marketplaces.
Trial and error, right?
Start Selling More with Our eCommerce Software