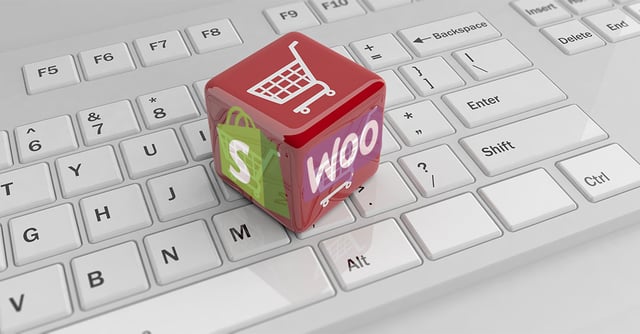 While helping our clients set up and manage their online stores, we are often asked, "Which eCommerce solution is the best, Shopify or WooCommerce?"
Shopify and WooCommerce are both feature-rich eCommerce platforms that are designed to help business owners set up their online store and have it up and running successfully within minutes.
In the simplest of terms: both these platforms have their pros and cons, and choosing between them largely depends on your own specific needs and the constraints you have such as time and budget.
Before we delve into feature-specific differences between each platform, there are a few broad considerations that you need to assess:
The budget you're willing to set aside for the store

Right from the set-up to the daily running expenses

The time you are willing to dedicate

To set up and run your store.

Your marketing strategy

How you plan to drive traffic to your website.
Let's put these in perspective:
Budget [Shopify vs WooCommerce]
To start with, WooCommerce is a free WordPress plugin that requires a core WordPress installation, which is also free. But, although both WooCommerce and WordPress are free, there are still going to be costs associated with setting the store up such as:
The domain name

Web-hosting

The website theme, if you opt for a commercial/paid theme

SSL certification
On the other hand, Shopify is a self-hosted platform that has clearly defined pricing tiers, which start at $29/month going up to $299/month.
These pricing options include a free SSL certification even at the Basic Level. However, on the outset, it's true that if budget is the main concern, opting for Shopify is bound to put a serious dent in it.
Whereas, with WooCommerce, let's assume a web-hosting plan that costs about $20/month and SSL certification at $100/year. Here, even with the core platform being free, when you factor in the additional charges, you might end up shelling out an amount comparable to the Basic Shopify level for the store.
Time to Get Your Store Up and Running
Time is a scarce resource, especially when it comes to running a business; the easier and quicker your store is set up to start driving revenues, the better.
One of Shopify's strengths is that, being a subscription-based service, when you sign up for the service you're automatically taken through the setup wizard.
That's it.
This makes it easy and ideal for beginners to use since the platform is mainly set up to run a great store with streamlined options and fewer features. Catalin Zorzini, founder of ecommerce platforms, can show you how to set up a Shopify store in less than 15 minutes.
Whereas, with a WooCommerce store, while it does have a setup wizard, the process is a lot more involved, with a focus on customization for multiple options like shipping, currency, tax, and payment gateways.
Depending on perspective, this aspect of Shopify and WooCommerce can be viewed as an advantage or disadvantage. However, once both stores are up and running, maintaining them requires a similar level of effort.
Marketing Strategy: The SEO Question
Running a successful eCommerce store doesn't stop with the setup; the next step is figuring out how you're going to draw customers to your website. This means you'll need to take steps to boost your online visibility and your brand awareness, and on top of it, outsmart your competition on the search engine result rankings.
When it comes to offering rich SEO features, WooCommerce takes the edge over Shopify.
Why?
Primarily, because it's a WordPress-based platform. WordPress is an SEO expert's haven: since it's a platform that allows users to create highly-optimized content and meta information that have a higher chance of ranking higher. Furthermore, since WooCommerce draws its basic functionality from WordPress, it has a logical approach to categorization and product organization.
This is not to say that Shopify is a slouch in this department.
Shopify has basic integrated SEO features like image optimization, meta and alt tag definitions, and product descriptions. Plus, it has a clean code and natural linking structure, which plays well in enhancing visibility in search results. Co-founder at seoplus+, Brock Murray, can give you some great guidance on how to quickly optimize your Shopify store for success.
However, since WordPress, and by extension, WooCommerce requires you to purchase your own domain hosting services, your site speed is largely contingent on the hosting package and service you opt for. Whereas, since Shopify uses its own dedicated platform, it results in websites that are faster-loading than those in WooCommerce; which arguably plays better with search engine visibility and rankings.
These broad considerations aside, you can also use the following criteria to decide between the two:
1. Support
When it comes to providing quality customer support, Shopify has 24/7 support with quick turnaround times in answering customer requests. This includes Open Chat, Email and even phone support. While the numbers for the phone support are primarily US and UK-based, they are toll-free numbers 1-800 numbers which can be called through Skype from anywhere in the world. Shopify also has an extensive resource library which includes tutorials, guides and videos, and a help center with detailed documentation for business owners and developers.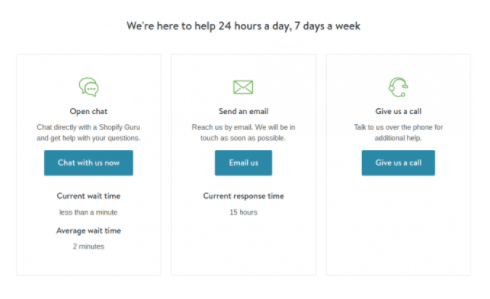 On the other hand, support for WooCommerce while not as straightforward is extensive and widespread thanks to the WordPress Community forums and blogs that are dedicated to helping WooCommerce users from everything from integrating WooCommerce themes to developing custom WooCommerce add-ons. Therefore, this WooCommerce support is ideal for those who're willing to research and dig deeper to solve their issues.
2. Code Complexity
When it comes to deep customization and code modification, WooCommerce holds the edge over Shopify. This is because WooCommerce is built to run on the open-source PHP-based platform WordPress; whereas, Shopify uses its own proprietary coding language called "Liquid". Now, deep customization and hard coding require extensive knowledge in the base coding platform or at the most, will require the assistance of developer with the requisite expertise in that platform.
Given that WordPress is such a widespread, popular platform, even if you're not familiar with PHP, hiring a developer is much easier and cheaper than finding a developer with expertise in Shopify's very niche, unique coding platform.
3. Extensions and Support Apps
The core package in WooCommerce and Shopify come with the most basic features that you'll need to set up and run your eCommerce store. However, in order to maximize the potential of your eCommerce stores, both these platforms offer a plethora of extensions, plug-ins, and apps to help you extend the functionality of your store.
Now, the Shopify App Store carries over 1200 apps - both free and paid - that can be easily plugged into your store with ease. These include powerful apps for functionality like inventory management, dropshipping, reviews, marketing, accounting, social selling, customer support, analytics and lots more. However, since some of these apps are not free and charge a monthly fee, you'll be shelling out those fees in addition to Shopify's monthly subscription fees.
The WooCommerce Extension library also allows you to scale your eCommerce functionality beyond those available with the core platform. These plug-ins are built to integrate seamlessly into the WordPress functionality and can be customized to integrate into any WooCommerce theme that you use. The extensions are mostly free but paid (one-time fee) and freemium options are also available. So, the budget-conscious can opt for paying one-time fees for the plug-in or go with free versions of the extensions.
However, one of the drawbacks of WooCommerce plug-ins is the lack of updates: this is mostly down to how frequently WooCommerce is updated. This means that some WooCommerce extensions which are not updated may cause compatibility issues with the latest version of WooCommerce being used.
4. Design Considerations
WooThemes, the developers of WooCommerce, have developed the plug-in to work with the majority of themes in WordPress' gigantic theme library.
Therefore, the aesthetic of your website is largely dependent on your chosen theme. This means, if the theme doesn't follow the standard recommendations for WordPress themes, you may run into design customization issues.
One way to overcome this is to choose a theme that has been specifically optimized to work with WooCommerce. WooThemes, for instance, provides its own free theme which is specifically optimized for WooCommerce called Storefront. The Storefront also has a wide array of child themes that allow for further customization, if needed. These child themes are mostly paid, however.
Here's an example of a WooCommerce child theme that converts: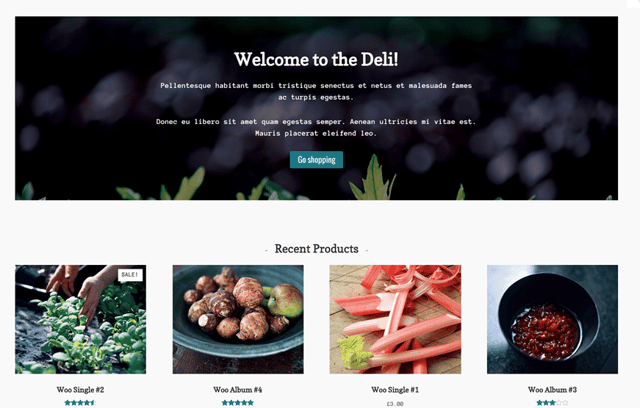 On the other hand, one of Shopify's biggest strengths is the fact that it hosts high-converting stores primarily due to its high-quality design and visual aesthetic. The Shopify Store currently carries over 60 unique free and paid themes, each of which carries multiple variations depending on the industry and niche in which they are used. On the whole, these add up to over 100 different design themes: all of which offer customization for colors and appearance.
Here's an example of a beautifully designed online store using Shopify:
Conclusion
Deciding between the two platforms is, therefore, a matter of compromise and your priorities in setting up your online business store. There's no definite answer to the question of which platform is better: both are equally good. The question really is about which one is good for you. And if you plan to sell your product on both software, you can explore Jazva's multi-channel selling platform.
Why you should go with WooCommerce:
If your aim is to be able to micro-manage every single aspect of your website, within a reasonable budget.

If you don't mind spending time setting up and customizing your store - both design and functionality - till it looks and works exactly the way you want it to.

Your primary marketing aim is driving qualified search engine traffic to your website.
Why you should go with Shopify:
If your first priority is to hit the ground running by setting up a store that is ready to start generating sales without too much input and modifications on your end.

Your budget allows for the Basic Shopify monthly subscription fee of $29, with the option to upgrade once your site starts generating sufficient revenue.

If you don't really care about the technical know-how, but still care about having a high-performance store which is aesthetically pleasing and user-friendly.
Want to streamline your online business all from a single platform?