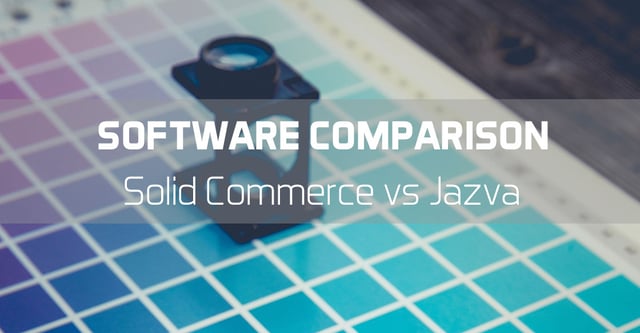 Comparing Solid Commerce and its alternative Jazva is like comparing apples and pomegranates. Apples are nutritious and accessible, while pomegranates can take more time to eat but are loaded with more antioxidants and vitamin C.
Likewise, Solid Commerce, and Jazva provide very similar offerings, but when capabilities are measured in detail, Jazva has more to offer. In fact, a technology insider has admitted that Solid Commerce may be the more popular software, but it only offers 70% of what Jazva offers.
For instance, when it comes to inventory management, Solid Commerce can do the same syncing capabilities, but its competitor does 30% more with barcode scanning, high volume processing, bin location and other warehouse management features.
In this article, we look at Solid Commerce and its alternative Jazva to help you make a wise, informed decision on which multi channel selling platform can take your eCommerce business to the next level and whether Jazva is actually a competitor worth considering.
A Quick Background on Solid Commerce
Founded in 2008, Solid Commerce was designed from the ground up to "help online sellers manage listings, inventory and orders across multiple channels including Amazon, eBay, Walmart, Jet, Overstock, NewEgg, Sears.com and 30+ other online marketplaces."
With a goal to give online retailers the ability to expand their product catalog from their website, Eran Pick, CEO and co-founder of Solid Commerce, has found success. "The fact that we have surpassed $1.5 billion in orders managed," says Pick, speaks to their accomplishments and aptitude to harness the market and to stand out in the sea of similar software.
The company, based in Marina Del Rey, California with additional offices in Hong Kong and Tel Aviv, remains one of the most widely adopted solutions for multichannel eCommerce merchants, outranking its competitors thanks to low pricing and simplicity.
Solid Commerce vs. Jazva: Features Comparison Chart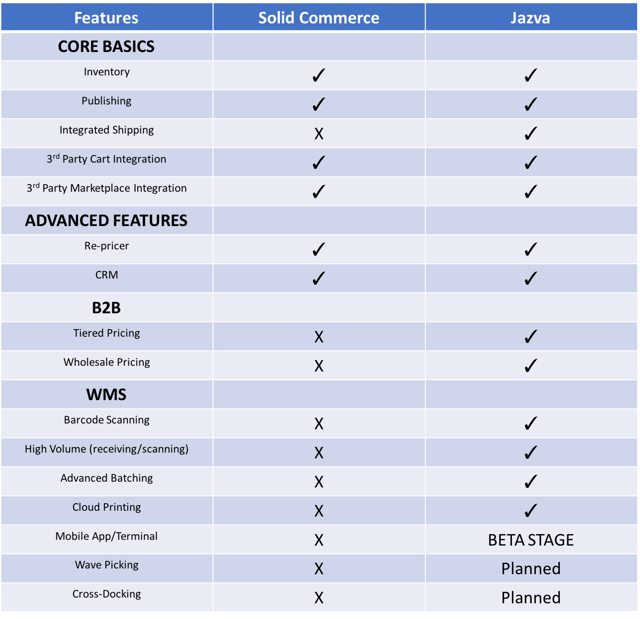 Why Customers May Prefer Solid Commerce to Its Alternatives?

There is a lot to like about Solid Commerce other than their low pricing. Customers praise the platform's ability to create kits and bundles. Their Excel tool for updating product and listing data in bulk also receives high applause, particularly from ground level online retailers. This means companies don't have to devote too much time training staff on using new technology. The web interface is simple, easy-to-use and offers several levels of authorizations. Here are some other Solid Commerce benefits that make it stand out among its competitors.
Central Pros of Solid Commerce
+ Ability to schedule eBay auctions
+ Listing in bulk
+ Offers min./max. pricing
+ Vendors connection functionality
+ Shows min. inventory count
Why Customers May Choose Solid Commerce Competitors
Inventory issues seem to take the brunt of customers' complaints, but that is only the start. The platform is fragmented in many regards, for example, order systems are said to not work correctly, shipping software is below par, and constant glitches and bugs make utilizing the system frustrating for users. "What kind of a software company does updates and brings servers down, IN THE MIDDLE OF THE WORKDAY," said a disgruntled customer on the review site, Web Retailer.
Many customers also complain that features stay in beta for far too long, or worse, replace "supported" features with beta functionality.
Central Cons of Solid Commerce
- Glitches and holes in software
- Outdated interface
- Support (lack of)
- Overselling
- System does not sync across all channels frequently
Why Customers Choose Jazva Over Its Alternatives

Jazva is one of the key Solid Commerce competitors, offering a powerful eCommerce inventory management solution wins customers over with its seamless integration of multiple marketplaces and shopping carts. However, the biggest benefit of the software comes down to helping customers save time, and keeping retailers organized and fulfilling orders efficiently. Gone are the days of juggling multiple software to manage orders, receivables/invoicing and shipping.
The solution's support is also widely acknowledged as very hands-on and quick to respond: "We feel we have a partner in Jazva that's big enough to handle our wildest dreams (ok, maybe wildest realities), but also be there for us as a small company growing and learning. The experience feels very custom and tailored to our company. They feel like extended partners of ours, that we might not feel with other companies unless we were spending millions with them," says Preston Dawson, VP of Operations at Function and Form Autolife.
Central Pros of Jazva
+ Custom bin location management
+ Integrated shipping
+ Keeping track of inventory across all channels
+ The customer service relationship
+ Very fast transaction response time
What Are Jazva's Disadvantages
We'd like to say Jazva is a flawless product that is immune to complaint and error, but in the spirit of transparency, we too experience our fair share of dissatisfaction. The complexity and sheer robustness of the solution can at times overwhelm our users who are more used to dealing with its more basic alternatives. There are many modules to learn and become comfortable with, so it's vital that users work with us to fully adopt and leverage all its capabilities. Some aspects are not as intuitive as we'd like them to be, which is why we rely heavily on customer feedback to guide our development and roadmap for improvement (and success).
Central Cons of Jazva
- No automatic reversal of journal entries, which means you have to manually open prior month if you want to reverse
- Lack of advanced marketing capabilities, for example, customer journey, advanced analysis of consumer behavior
- Inventory management dashboard could be easier to digest
Is Jazva the Best Alternative to Solid Commerce?
Like pomegranates, Jazva may not be the "best-looking" software in the market, but based on reviews from various sources, such as this review from FinancesOnline, our solution is a great Solid Commerce alternative that wins against all competition, enabling sellers to thrive in today's multi-channel landscape. You can also check out further side-by-side comparison of Solid Commerce and Jazva platforms, where we review both platforms' features, pricing options and reviews.
But don't judge a book, fruit or software by its cover! Dive deep into the software, taste it and decide yourself whether Jazva is the best alternative to Solid Commerce!
Get a free demo and let our software speak for itself