Online automotive parts and accessories sales is expected to reach $7.4 billion in 2016, excluding auctions and used parts. While this is still a small percentage of the $335 billion U.S. ecommerce market, there is significant room for growth. Auto parts ecommerce is expected to grow by 12-16% over the next four years.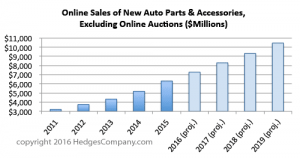 The auto aftermarket industry is getting more competitive with new entrants each day due to the low barrier of entry. If you want to be a successful aftermarket auto parts retailer, you cannot leave your business on cruise control. Each day, not only are you faced with new competition; a hundred things could go wrong when selling online. Running an ecommerce business is challenging without the right strategy and infrastructure in place. You need a proper roadmap to set goals, streamline operations, and take full control your business.
Boost Visibility with Clear and Detailed Product Listings
Buyers of auto parts and accessories are passionate, well-informed shoppers who are out there looking for great deals. But no matter how awesome your products are, no one will buy them if your listings can't be found!
This is why you need to apply proper SEO and rich product content in your listings. This data will make your products visible across browsers and marketplaces, improving your brand's presence and helping you rise above the competition. eBay has also been pushing sellers to provide more accurate product information as part of their structured data initiative.
In your listings, make sure to include searchable keywords in the title, such as the manufacturer name, type of part and the reference number. Provide a detailed product description and use high resolution images and product videos if possible.
Brand confidence is a significant purchasing factor, especially when selling on eBay where buyers are anxious of scams. In fact, 90% of all shopping cart abandonment occurs because shoppers feel that they don't have enough information. Retailers must ensure that their product listings are accurate, up-to-date and search optimized.
Provide Value Through Kits and Bundles
People love a great deal, and bundling is an effective strategy that not only entice consumers but also enriches the shopping experience. Bundling lets you diversify your catalog and expand your offerings without adding warehouse space.
Bundling lets you test what sells with different combinations and discounts, and it also lets you move slow inventory by pairing them with best sellers. The more buying options a consumer has, the faster they can make a purchase, which leads to less cart abandonment.
While kits and bundles are great in offering assortments, they could lead to errors when it comes to inventory count, especially when you are dealing with large volumes, listing tens of thousands of SKUs across multiple channels. As a result, many retailers choose a product management system that can bundle effectively across multiple channels.
Improve Search Traffic with eBay Parts Compatibility
eBay Motors is a great place to buy and sell auto performance parts and accessories. eBay helps products be more accessible through parts compatibility listings, a tool that lets sellers show all compatible vehicles for a part in a single listing.
Through parts compatibility, you can save time and money by reducing the number of listings you'll have to manage. This will also boost your search results and listing performance score, since customers will be able to find your parts and accessories more easily.
Not all listing software fully integrates with eBay Motors or parts compatibility. It's important to choose a product management solution that supports fitment and parts compatibility data.
Jazva, for instance, lets you create and edit listing data for Motors listings, and allows you to set up parts compatibility quickly and efficiently through a number of bulk listing and editing tools. Fitment data can easily be imported and exported, and fitment profiles and model information can be saved for future use.
Consider Having a Dynamic Web Store to Boost Brand Confidence
Some retailers will benefit from a web store, especially those that sell parts where branding matters to customers. A well-designed web store is one of the primary ways to establish trust and define your brand image. Buyers of auto performance parts want to be confident in your brand before making a purchase, and an online presence is critical given the competition sellers face in the market.
Your auto parts web store should provide easy navigation while offering robust search functionalities. Whether they're on mobile or desktop, consumers should be able to find products quickly without getting lost. You need to deliver a consistent user experience that encourages customer loyalty.
A custom-built web store has many advantages over marketplace listings. Aside from designing the look and feel of your brand, you have better control over the customer's shopping experience. For instance, Jazva's custom web store lets you assemble product groups similar to kits and bundles, allowing you to upsell, match or suggest related items and add-ons.
Jazva's web store can also be customized to feature catalog mapping - that is - mapping product listings to a schematic image to create a seamless visual shopping experience for your customers. A user simply hovers over a vehicle part, and it will list out the product with an add-to-cart button.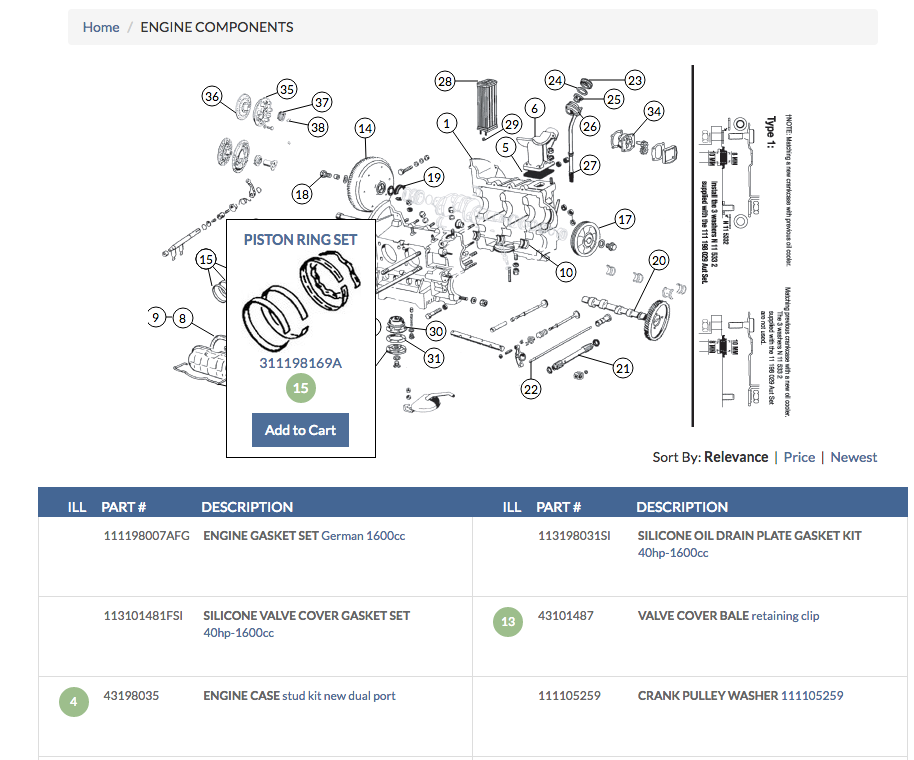 Instead of relying on marketplaces with its many restrictions to dictate your selling, a web store can offer the flexibility you need to grow your business. Furthermore, a software like Jazva also integrates many back-end functionalities, including inventory management, vendor management, accounting and reporting.
Jazva's multi-tier ecommerce support is especially useful for B2B retailers. Your distributors can log in through your site's portal, see your products' inventory levels in real time, and order based on availability with adjusted pricing.
Maximize Your Sales with Jazva
Jazva is a robust enterprise class solution for auto parts sellers looking to accelerate their sales across multiple channels. Jazva not only provides powerful product management tools, but also enables retailers to list effectively on all channels. Whether you sell on eBay or your own web store, Jazva is the complete solution you need to compete in today's market.
Check out part two of of our roadmap for auto parts retailers.
Start Selling More with Our eCommerce Software