Is your company's mobile shopping experience meeting today's shopper expectations? With so many people using their phones to shop, retailers need to ensure that their web stores are mobile optimized for multiple devices.
If you do not optimize your site, your search ranking will drop and you will lose to rival businesses. Mobile shopping offers many opportunities, but also come with challenges. How should retailers navigate mobile in order to reach today's online shopper?
Opportunities in mCommerce: Why Shoppers Gravitate To Smartphones
Mobile commerce is rapidly growing, and the bulk of this growth is coming from smartphones. According eMarketer, smartphone retail mcommerce sales in the U.S. nearly doubled, driven by larger screens, smoother buying experiences, better mobile search and context-driven discovery. eMarketer expects this trend to continue throughout 2016, as mcommerce sales would total $123.13 billion, a 39.1% increase over 2015.
Tablets still encompass the majority of mcommerce sales, but will soon be eclipsed by the growth of smartphones. By the end of 2017, smartphones will account for half of all retail mcommerce sales, surpassing tablets for the first time.
Smartphones have become ubiquitous shopping tools for today's tech-savvy consumers. Empowered shoppers are searching for the best deals, offline and online, browsing on their phones, checking products in-store, then purchasing them online.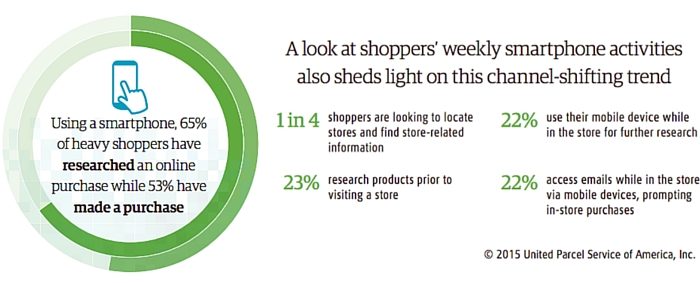 According to a study by UPS, convenience is the main driver of smartphone usage. Among those who purchased from a smartphone:
40% shop on a smartphone over a desktop because they always have it with them and it's more convenient.
36% shop on a smartphone since they have it with them in the store.
24% track their order deliveries weekly.
23% search for a different online retailer when in a store.
Mobile-optimized retailers will win on customer experience. The shift towards smartphones offer many opportunities for analyzing customer preferences and building personalized shopping experiences. By knowing customers better, retailers can leverage location data and in-store technology to effectively market and convert shoppers.
This includes mobile moments where retailers engage customers through contextual experiences. Whether they're browsing products through their phones or walking in your store, brands should use mobile moments to provide customers exactly what they need in their immediate contexts.
A mobile moment strategy can include contextual and location-based notifications. For example, a retailer could send a promotion to mobile users near their store with a discount on an item they have previously browsed on their app. When marketers use real-time personalized notifications, they can boost engagement and build brand loyalty.
Challenges in Mobile Optimization and Site Speed
While opportunities abound in mobile commerce, many retailers struggle to keep up. Customers have high expectations for mobile engagement. To convert site visitors on mobile devices, retailers must deliver a fantastic user experience that meets their expectations.
Shoppers expect businesses to provide dynamic experiences characterized by rich content, clear images, detailed product information, trustworthy reviews, personalized recommendations, and secure checkout systems. What's more, retailers need to fit all this within mobile-friendly pages and ensure optimal viewing on multiple devices, multiple screen types, and different operating systems.
According to a study by BigCommerce, the average abandoned cart rate is still high at 69%. In identifying what hinders conversion, they found that:
29% of shoppers are concerned about privacy.
21% of shoppers are frustrated by unattractive or hard-to-navigate sites.
19% of shoppers hesitate when entering payment information during checkout.
To address these inconveniences and concerns, mobile payment applications, such as Apple Pay and Walmart Pay, are facilitating faster checkouts and streamlining mobile purchasing.
Retailers need develop or adopt solutions on the mobile front to meet customer expectations. This may mean supporting mobile wallet payments or investing in your own app. Starbucks, for instance, built their own app to drive loyalty and convenience, and out of their total transactions, 16% are driven by payments via their mobile app.
Moovweb also found similar challenges when it came in mcommerce:
64% of smartphone users expect a site to load in 4 seconds or less.
40% of shoppers have turned to a competitor's site for a better mobile experience.
1 in 4 online shoppers abandon their carts if a site's navigation is too complex.
There's still a lot of work to do to improve mobile shopping. While most retail websites are now mobile optimized with responsive design, site speed is still an issue, especially during important peak times such as the holiday season.
Load time is a crucial factor in mcommerce performance. The slower the page, the lower the conversion rate. Retailers will need to spend more time and money on optimizing mobile speed, in addition to responsive sites. This may involve adding server-side or adaptive techniques, or even maintaining separate mobile sites.
Investing in the mCommerce Customer Experience
A LogMeIn survey of 8,000 participants found that mcommerce customer satisfaction is continuing its downward trend. Despite the surge in mobile traffic, only 52% of respondents said they were satisfied with their last mobile engagement with a business, a drop from 59% in 2015.
Mobile is a critical part of the shopping experience. Among all respondents, 85% said they wouldn't go back to a business after having had a bad mobile experience. Respondents who gave up on one mobile experience, ended up discovering offers and products from rival companies.
Mobile optimization will be an ongoing challenge, specifically when it comes to load time, user experience and convenient checkouts. Retailers need to invest in the mobile shopping experience, from building an optimal web store to ensuring secure checkout experiences. Mobile has a powerful influence on consumers today. Those who overcome challenges will reap the reward of customer loyalty.