Mother's Day is one of the biggest shopping events on the calendar for many businesses. In the US, Mother's Day spending is expected to reach $21.4 billion this year, according to the National Retail Federation (NRF). Consumers will spend an average of $172.22 on Mother's Day gifts this year, slightly below last year's record of $172.63.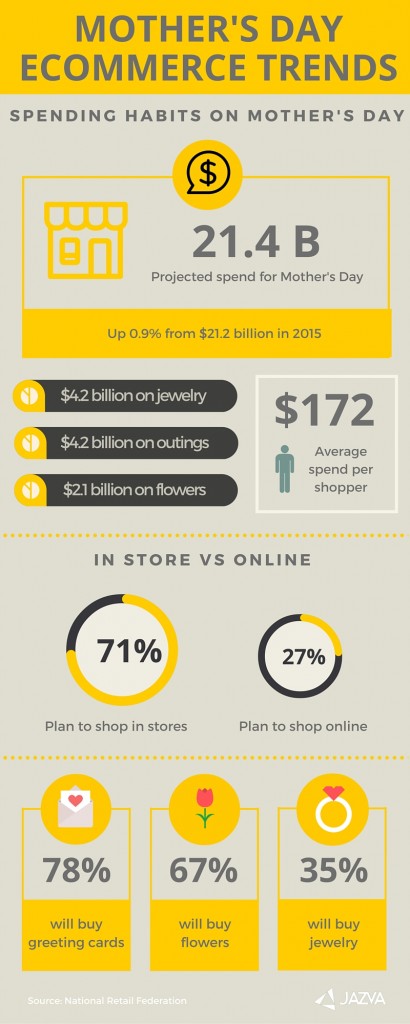 Online Mother's Day Shopping Still Lags
Despite the prevalence of ecommerce and mobile shopping, most consumers plan to purchase their gifts in physical stores. According to the survey, 71% of people plan to purchase gifts from department stores and local specialty stores, while 27% of respondents plan to buy gifts online. Only 2% plan to buy gifts from a catalog.
Of those who own a smartphone, 16% plan to purchase products on their phones, and 18% of tablet users plan to buy gifts from their tablets. Younger consumers are more likely to purchase gifts through digital means.
Online Mother's Day shopping still lags when compared to Black Friday online sales. This is likely because consumers prefer gifts of experience, such as tickets to a concert or sporting event. The survey revealed that 22% planned to give an experience-themed gift, while 24% would like to receive one.
This comes as no surprise as 55% plan to spend $4.1 billion in restaurant meals with their mothers, and 23% plan to spend $1.6 billion on personal services, such as a day at the spa.
How Retailers Can Improve Online Sales for Mother's Day
Yet, there's a huge potential for ecommerce for Mother's Day, especially as more people are living further away from their families and are not able to take their mothers out to dinner or hand them gifts personally; and as online gift-giving capabilities improve.
NRF reports that much of the spending will be on greeting cards (78%), flowers (67%), and jewelry (35%). These categories translate well to an ecommerce model. Online retailers can help many consumers send gifts to their mothers by improving personalization options and creating better experiences.
According to a study by IBM Digital Analytics, online sales on Mother's Day increased by 15% in 2015 compared to 2014. With more people shopping online, it's only a matter of time before Mother's Day ecommerce truly takes off.