It's been a busy month here at Jazva. We've developed deeper integrations with Walmart, Jet and Volusion. Similarly, we've added some cool features related to order management, which will give you more flexibility and options in handling your daily operations.
Still not selling on Walmart? Start your Walmart application today!
Full-Service Integration for Walmart Marketplace
Jazva is now a recognized full-service Solution Provider for Walmart Marketplace. Jazva will help multi-channel sellers manage and synchronize ecommerce data accurately across Walmart and other sales channels. Item setup, inventory, order fulfillment and pricing can now be managed easily and efficiently through all through Jazva's all-in-one platform.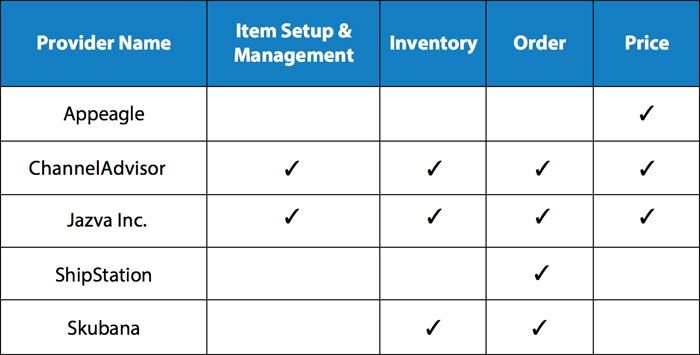 Jet Enhancement: Price Control Options
Jet uses three types of price control settings: No Price Control, Minimum Advertised Price, and Minimum Selling Price. Any of these options can now be selected when creating a Jet listing profile in Jazva. Products will default to No Price Control when no listing profile is found.
Jet Enhancement: Merchant-Initiated Refunds
With Jet's new API, returns are a lot easier to handle in Jazva. Merchant-initiated refunds can now be imported and processed in Jazva, and you can also initiate RMAs directly from Jazva. This enhancement eliminates the need to log into Jet.com in order to initiate a return.
Volusion Enhancement: Category Update for Products
Due to Volusion's API limitations, product categories will need to be imported manually into Jazva. This new enhancement will allow Jazva to identify and match previously imported categories, and products will be linked accordingly to the categories in Volusion.
Edit and Send Emails from Order Invoice
When sending an invoice to a client, you now have the ability to customize the email content using a popup editor. You will be able to send the invoice to a different and/or multiple email addresses as well.
Auto Apply Sales Rep on New Orders
You can now set a default sales rep to automatically apply on new sales orders. The sales rep can be set on each company profile.
Scan Items Using FNSKU and/or Kit Barcodes
In addition to being able to scan UPC, SKU or item barcodes from your products, you can now also scan items using the FNSKU barcode. This will identify which item (or items, if a bundle or kit) you are about to ship out. The feature also lets you scan the pack of the kit, which will tell the system that you've picked all items from the kit.
---
Still not using Jazva? See how intelligent automation can save you time and money, so you can grow your business! Get a free quote and demo!