As a marketplace seller, you might be wondering how important it is to invest in a webstore. After all, most shoppers use Amazon for online shopping these days. So, why bother building out your brand's online experience through a webstore?
For many product categories, brand image matters a lot. Today's tech-savvy shoppers spend a day or more researching an item before making a purchase. This means looking up your company on a search engine or social media. Besides increasing your digital footprint, you'll need to define your brand image to establish trust and win your customers.
Direct Webstore vs Online Marketplaces
When browsing for deals, consumers today prefer the convenience and user experience of trusted marketplaces over search engines. In fact, more than half of online shoppers start their product search on Amazon instead of Google. For this reason, some marketplace sellers choose not to invest in a webstore. Some sellers don't even have mobile-optimized websites.
While selling on a marketplace could mean higher traffic for your products, you're likely to compete with other sellers offering the same products. In crowded marketplaces like Amazon and eBay, shoppers are more likely to purchase from sellers with better ratings and reviews. In fact, 80.7% of shoppers have said that marketplace reviews were important influencers.
You also have limited branding ability since the look and feel of product listings are fairly standard on marketplaces. Each marketplace has its own fees and shipping regulations, and a few mistakes could result in negative reviews or even getting banned from selling there.
By contrast, independent selling through your online store gives you full control of the customer and brand experience. A good website is indispensable for branding and establishing credibility, and a custom shopping cart solution can give you the flexibility you need to increase sales and grow a loyal customer base.
4 Ways Your Webstore Can Bring In More Customers
Investing time and money on a custom webstore allows you to maximize your online presence, reach new customers, tell your brand story, and deliver new shopping experiences. Branding is significant for boutique stores, aftermarket auto parts merchants, florists, toy shops and sellers of luxury and personalized products.
A custom webstore lets you build out a brand experience that delights shoppers and encourages repeat customers. Here are a few ways a custom solution can do that:
Personalized Remarketing Efforts & Social Commerce
Unlike Amazon or eBay, a webstore lets you collect custom data such as names, emails, addresses, order history, and other useful data for remarketing purposes. You can have customers sign up for your newsletter, have them follow you on social media, or send them promotions and discounts.
A mobile-optimized website is also important when engaging customers through social media. Marketplaces and search engines are not the only places where people discover products; many consumers are finding brands on Instagram and Pinterest, so it's important to direct them to a well-designed webstore with a trustworthy mobile checkout process.
Wholesale Portal & B2B Selling
The B2B market size is twice the size of B2C, and high volume retailers can capitalize on this and capture more revenues by incorporating a B2B wholesale portal as part of the sales strategy. According to a study by CloudCraze and Salesforce, B2B customers want an ecommerce experience similar to the B2C shopping experience.
A wholesale portal allows your distributors to log in from your webstore, see products inventory levels in real time, and order based on availability with adjusted pricing. A B2B shopping cart solution like Jazva provides easy navigation while offering robust search functionalities, so your customers can find products easily whether they are on mobile or desktop.
Upselling Opportunities with Add-Ons & Related Products
A custom webstore has many advantages over marketplace listings. Aside from designing the look and feel of your brand, you have better control over the customer's shopping experience. A sophisticated shopping cart solution like Jazva lets you suggest or match products through related items and add-ons, upselling your customers and enticing them with discounts.
You can also kit together gift bundles and multi-pack bundles to expand your product assortment and help shoppers make faster purchasing decisions. These options enable you to move excess inventory by combining slow sellers with best sellers, while at the same time bringing value to customers.
Custom Features like Catalog Mapping & BOPIS
A webstore gives you unfettered opportunities to unleash your brand's creative potential and commitment to customer service. By investing in custom development, you can offer live chat support, chatbot support, or even a cool feature like Jazva's catalog mapping functionality for auto parts sellers, which maps auto parts listings on a schematic image.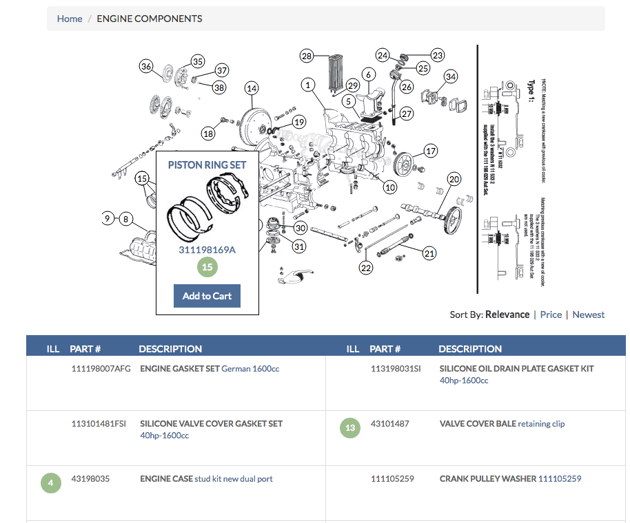 Buy Online, Pick-up In-Store is another convenience you can give to your customers, and is an advantage marketplace and online-only sellers do not have.
Don't Miss Out on Sales. Invest in a Good Webstore
A webstore is key to delivering a unique brand experience, and if consumers find your website wanting, they will turn to another brand. Most smartphone users expect a site to load in less than 4 seconds, and 40% of shoppers have turned to a competitor's site for a better mobile experience.
While the direct model and marketplace model have their advantages and disadvantages, both are complementary and necessary in today's multi-channel landscape. A custom webstore will enable you to build your brand and win customers, but requires more effort by the seller.
Fortunately, solutions like Jazva help high volume sellers and wholesalers unify their ecommerce operations to streamline and simplify multi-channel selling. From listing and order management to accounting and analytics, Jazva provides a holistic approach to ecommerce management, with a range of custom features out-of-the-box, at ⅓ the cost of leading ERP systems.