As a developer, it's important to get hands-on experience working on a software that delivers value. Equally important is the need to find mentors, to work with smart, experienced engineers. This has been the experience of Ken, one of our developers at Jazva. He's gained valuable experience here, thanks to great mentorship and a fun team to work with.
Ken graduated from the University of California at Irvine where he studied Computer Science (and won an A.I. tournament). Before working as an engineer, he worked as a server at Boiling Point, a restaurant chain that specializes in Taiwanese hot pot cuisine.
While working at Boiling Point, the management noticed Ken's value for the company and quickly promoted him as assistant manager. In this position, he learned that there was a lot of paperwork and manual processes involved on a daily basis. To mitigate human error, Ken decided to code a system for the store.
Ken's program proved successful, improving the efficiency of the store. Upper management took notice and they promoted Ken to the Research & Development team. There, he helped automate and optimize various workflows of the company.
Ken says he finds beauty in math and logic. Some examples would be the bisection of a triangle passing through a single point, solving differential equations, and the number π (pi = 3.14159…). He finds satisfaction in writing code that fits perfectly.
Being one of the few developers at Boiling Point, he found himself lacking a mentor to bring his skills to the next level. Graduating from school was not enough; he wanted a bigger challenge to get more hands-on experience. This path led him to Jazva. In his interview with Levon and Paul, he knew this was the right place for him.
Ken has been working at Jazva for 2 years now. He has been very involved in Jazva's backend system, completing major projects such as sales channel integrations and shipping evaluation. He is the resident expert on WooCommerce, Magento, Volusion, Salsify, Jet and eBay Auctions integrations.
He has also worked on many order processing and shipping features, including parcel items, Ship-Ready, multi-address orders, Amazon Multi-Channel-Fulfillment, in-store pickup options, and distance evaluation.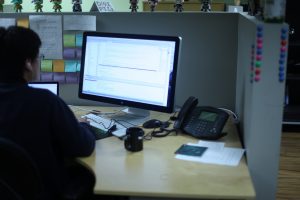 Ken starts his day with code review, bug management and answering questions and emails. Afterwards, he starts coding while listening to music (mostly anime music or classical). He likes to get his work done in a timely manner, and he usually takes up urgent and fast-track tasks.
He is a big fan of anime and strategy games, and he goes to events like Anime Expo. While playing games, he typically pushes himself to be one of the best players in the game.
Ken says he continues to learn a lot from the great talent here at Jazva. He remembers being mentored by very smart people, all the while working together.
"Now, I've become the one who can help and mentor someone else," Ken said. "The path from a rookie to an expert is the best memory I've had here."