Jazva is excited to unveil some new features to improve and expand your selling capabilities. We've been implementing several new integrations to give our customers the power and flexibility to sell effectively on more channels.
eBay Auctions is Now Supported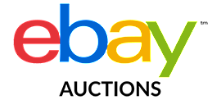 The ability to hold auctions is one of eBay's hallmark features. Online auctions give you the possibility of selling items at a higher price than that of your asking price. They also let the price be set based on demand by letting the market determine the value of your products.
With our new eBay Auctions support, you can now create and manage online auctions directly from Jazva. Our new feature enables you to list products for auction and sell them to the highest bidder.
Shopify POS Integration

Shopify POS is a mobile application that lets retailers sell products from any location. Whether you're at a retail store or trade show, Shopify POS allows you to manage orders, process credit card payments and email receipts.
Jazva's integration with Shopify POS enables you to automatically sync products, orders and customers across all physical retail locations, online Shopify stores and marketplaces. You only need to enter inventory once, and as soon as a product gets sold via POS, all your other sales channels will be automatically updated.
Jet.com Marketplace Integration

Jet.com is a new and growing marketplace that went live in July 2015. In less than a year, Jet.com has acquired more than 3.6 million users to date, and they expect sales to reach $1 billion by May. With its growing reach, Jet.com is positioning itself to be a must-list marketplace for retailers.
If you're already selling products on Amazon and eBay, you can now easily list your products on Jet.com through Jazva. Our Jet.com integration is a great way to expand your online presence and reach more customers. Manage multiple listing profiles, custom templates and multi-variation products all from a single platform.
Learn More About What Jazva Can Do For Your Business
An all-in-one ecommerce platform built for mid-sized retailers and wholesalers, Jazva understands the complexities and challenges of multi-channel selling. We constantly innovate to help our customers reach their full potential in the ever-changing world of ecommerce.
If you'd like to learn how our software can solve inefficiencies in your business, request a free demo today.