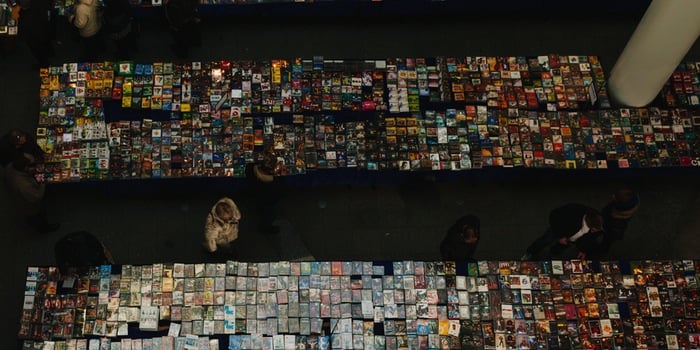 Online retailers today have many more options to sell their products. Aside from selling on their own website, marketplaces such as Amazon and eBay offer numerous opportunities for exposure and growth. The marketplace model is also being adopted by traditional retailers such as Walmart and Sears.
Marketplaces are a significant retail force and are here to stay, but are becoming more crowded and segmented. Sellers need to approach marketplace expansion strategically and find the right marketplace for their goods.
Amazon & eBay Marketplaces Dominate
In 2015, more than $100 billion worth of goods were sold by marketplace operators in the U.S. These operators include Amazon, eBay, Etsy, and Jet.com.
Even though ecommerce currently accounts for 8.1% of total retail sales in the U.S, it is consistently trending upwards and outpacing physical stores. eMarketer estimates that ecommerce would reach nearly $491.5 billion in sales by 2018.
Most of this growth will be driven by third-party sellers on online marketplaces, particularly Amazon and eBay, the two marketplaces that make up about 95% of marketplace sales in the U.S. According to Internet Retailer, 92% of consumers they surveyed in May reported shopping on Amazon in the past year. Similarly, 72% of respondents reported shopping on eBay.
It is important to note that nearly 65% of those surveyed reported feeling comfortable purchasing from merchants they had never heard of before on these marketplaces. In fact, Amazon Marketplace sellers sold 30% more items during Prime Day 2016, with 30% of all Lightning Deals sold by Marketplace sellers. These sales were driven by the influx of new sellers joining Amazon's third-party seller program.
Amazon and eBay are great platforms for merchants to drive sales and acquire new customers. Over the years, these marketplaces have built a large and growing consumer base with specific expectations and requirements. These expectations include detailed product information, trustworthy marketplace reviews, secure checkout systems and other dynamic customer experiences.
Amazon has built their brand on price, convenience and delivery speed, proven by their vast digital market share and more than 60 million Prime subscribers. Third-party sellers on the Amazon Marketplace typically generate more average orders than any other channel, shopping cart or marketplace. Merchants can further take advantage of the Amazon brand by fulfilling through FBA or Seller Fulfilled Prime.
Even though Amazon increased their FBA fees this holiday season, many merchants believe the profits will likely offset the costs of being an Amazon Marketplace seller.
On the other hand, eBay has more than 164 million active buyers spending more than 8.8 billion annually. eBay offers a number of tools to help sellers personalize their listings and deliver the right merchandise to the right buyers at the right price.
As stated during their Open 2016 Sellers Conference, eBay will innovate through artificial intelligence and structured data, driving consumer demand and delivering highly personalized experiences by improving real-time product relevance. These tools and initiatives serve to grow the marketplace and benefit both buyers and sellers.
Retailer-Operated Marketplaces: Selling Beyond Amazon & eBay
Seeing the success of Amazon and eBay's marketplace model, several major retailers, including Walmart, Sears, Newegg and Bluefly, launched their own marketplaces, allowing third-party merchants to sell on their websites. Even virtual coupon shop Groupon launched their own marketplace, Groupon Stores, opening their platform to more merchants.
As more and more shoppers purchase goods online rather than in physical stores, many traditional retailers are understanding the need to adopt a marketplace model. Walmart recognized that their ecommerce infrastructure was not enough to compete with Amazon, so they decided to acquire Jet.com for their dynamic pricing engine and millennial consumer base.
Aside from the Walmart-Jet.com acquisition, Macy's also took the headlines these past few weeks, the iconic retailer is closing 100 of its department stores nationwide. Despite Macy's attempting omnichannel strategies, such as Buy Online, Pick-up in Store (BOPIS), these failed to connect with shoppers and sales continued to shrivel. Macy's will need to truly reinvent themselves in order to survive and adapt to shifting consumer shopping habits.
"In the same week that Jeff Bezos pockets roughly $800 million personal dollars, Macy's is forced to suffer a tremendous physical retail loss," said Adrien Nussenbaum, co-founder of Mirakl. "The marketplace momentum of Amazon and eBay is undeniable. You either believe there is a world where many retailers exist, or you believe there's increasingly only Amazon. I believe in a world where such a monopoly does not exist, and these iconic retailers not only survive but thrive. But they need to embrace the marketplace model to do so."
The marketplace model is significant to traditional brick-and-mortar retailers who need to diversify their product selection and cater to the needs and expectations of consumers. While this strategy may benefit the retailer-turned-marketplace-operator, one must ask if the platform would profit the third-party merchants.
Many Amazon Sellers believe that "low tier" marketplaces such as Sears and Newegg are not worth the costs and fees. These merchants that have attempted multi-marketplace strategies have experienced poor-to-no sales in these lesser known retailer marketplaces. They also expressed discontent with these marketplaces' lack of customer support.
The marketplace model is not to be taken lightly. It involves a well-designed user interface, a platform that drives consumer demand through relevance and personalization, and an excellent user experience built on convenience and trust - marketplaces that Amazon and eBay spent decades to build. Third-party sellers must do their research and know the pros and cons when considering these retailer marketplaces.
Community-Driven Marketplaces: The Growth of Niche Marketplaces
Shoppers expect something different from every marketplace. Whether it's because of the website's design, the trusted reviews or the user interface, each platform can be said to have a specific culture or community. Amazon, for instance, primary targets wealthier Americans that value convenience and product quality; whereas Jet.com shoppers attract younger shoppers who value price above all else.
Niche marketplaces such as Etsy and Reverb are popular among the creative communities that seek specific products that would otherwise be lost in larger marketplaces. Products that are unique or creative can get lost and undervalued on Amazon and eBay, since shoppers on those marketplaces expect low prices and great deals.
Artists seeking better value for their creative work would want to sell on marketplaces driven and curated by a community that attracts specific buyers that value creative quality over price and convenience. Similarly, these marketplaces are built for casual sellers dealing in unique goods rather than high volume orders.
Developing a Savvy Multi-Marketplace Strategy
While multi-channel selling is expected in today's ecommerce landscape, it is too simplistic to think that selling on multiple platforms will immediately drive more sales. More listings and more traffic will do nothing if they are neither relevant to the consumer nor cater to their expectations.
What's more, each marketplace has inherent barriers that retailers must navigate, whether that involves shipping regulations, listing guidelines or other channel-specific rules. Not following these guidelines could lead to delays, negative reviews and lower seller rankings. A poor customer experience could even get you suspended or banned from selling on that marketplace.
Selling on multiple channels and marketplaces is too cumbersome without intelligent automation. Online sellers must use a robust multi-channel inventory management system with all the tools needed to sell effectively in each marketplace, one that includes a dynamic repricer or a powerful inventory control and reordering capabilities.
Built for high volume sellers, Jazva is an all-in-one ecommerce management software with deep integrations with Amazon, eBay, Jet.com, among others.
Start Selling More with Our eCommerce Software