Tech giants Facebook and Amazon made some big moves this week as they look to go head-to-head with some major on- and off-line companies in their quest to expand and deliver new customer experiences. Facebook introduced Marketplace, a buy-and-sell feature tightly integrated with the social network's friend listings and messaging app. New reports have also emerged regarding Amazon dominating product search and building its own delivery operation.
Will Facebook Marketplace Replace eBay and Craigslist?
In its latest push into social commerce, Facebook is launching a new feature called Marketplace, its own version of Craigslist and eBay. Facebook Marketplace will let its 1.7 billion users easily buy and sell items based on location and relevance.
Facebook Marketplace poses a direct challenge to Craigslist, as Facebook offers an element of trust not present in Craigslist's platform. Since Marketplace transactions are linked to Facebook user profiles, it's easier find out if the other person on the other side is legitimate and not a scammer.
Facebook Marketplace also features a bidding service similar to eBay's auctions. Users can make an offer and haggle using Facebook Messenger. Unlike eBay, however, Marketplace currently does not offer a buyer/seller rating system or native checkout options. Users would have to set up a meetup or work out the details on their own.
Via USA Today
---
55% of Consumers Turn to Amazon First Instead of Google
A new study found that more than half of online shoppers start their product search on Amazon's website or mobile app, an increase from 44% earlier last year. The study, which surveyed 2,000 U.S. consumers over Labor Day weekend, found that search engines and retailers lost ground to Amazon, coming in at 28% and 16% respectively.
The study also found that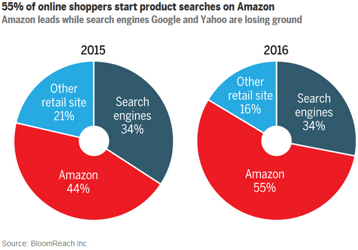 even if they find the product they want on another retailer's site. On the other hand, comparison shopping also worked against Amazon, as 70% of respondents said they would consult another retailer before purchasing on Amazon.
Amazon.com has become the reference point for today's shoppers and is set to dominate during holiday season. This is good news for third-party sellers, which sell 49% of all units sold on the marketplace. Sellers will need to ensure they compete effectively in Amazon's marketplace, paying close attention to order fulfillment, repricing strategies and the customer experience.
Via Bloomreach
---
Will Amazon Compete Directly with UPS and FedEx?
With shipping costs increasing every year, it makes sense for Amazon to take control over their delivery chain. According to a report by Wall Street Journal, Amazon is laying the groundwork for building out a large-scale transportation operations and logistics network. Some believe that Amazon is preparing to go head-to-head against UPS and FedEx in the delivery business.
Amazon has publicly said that building their own delivery operations is a logical way to add delivery capacity to complement UPS and FedEx. According to the report, however, Amazon's true ambition is to eventually haul and deliver packages for itself, other retailers, and consumers, based on interviews with several unnamed current and former Amazon managers and business partners.
Logistics experts and executives at UPS and FedEx remain skeptical, given how difficult it is to replicate a domestic delivery network that can rival the big players. FedEx alone spends more than $5 billion annually on expansion and upgrades, while UPS spends more than $2.5 billion. Still, Amazon has been taking further control of its own logistics operations and will continue to do more in-house each year as density grows.
---
Amazon Bans Incentivized Reviews From Its Marketplace
This week, Amazon announced that reviews tied to free and discounted products will no longer be allowed in the marketplace. Amazon does make an exception with its Vine program, where Amazon - not the seller or vendor - identifies the trusted reviewers.
Historically, Amazon has prohibited paid reviews, going so far as to sue businesses who pay for fake reviews as well as the individuals who write them. Until this week's announcement, reviews posted in exchange for free or discounted products being rated were allowed, provided that reviewers include a disclaimer.
Research done by ReviewMeta found that incentivized reviews are much higher than a regular review. Incentivized users were also 12 times likely to leave a one-start review, and gave overall positive reviews 4 times more often. Since consumers have become more distrustful of incentivized reviews, Amazon has made necessary steps to keep bias out of its review and rating system.
Via TechCrunch