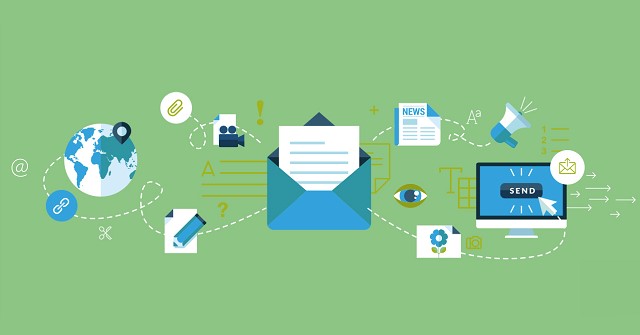 Some marketers doubt if they should use email marketing as a part of their business marketing strategy: "Do I really need it?". But we know the answer is "yes, absolutely". The point is randomly sent newsletters won't work. You should know the strategies that work for you and you need a schedule.
Building your own email list means, you've got a unique base of the people who are interested in your brand. It's hard to ignore it what you look at emails from this perspective, huh?
Emails help you get to know your customers better, interact with them, share the information, show them that you do care about your clients.
Find out what you can do to develop your business and which eCommerce email marketing strategies you can't ignore anymore.
Personal Discount Emails
I had my birthday not so long ago and to be honest, I was expecting some personal discounts. And… I was a bit disappointed when I didn't get one from the eCommerce store, which always sent me a promo code.
What I'm trying to say is - most of the people do like presents and they will remember if you gave them one (or not).
Personal discount emails are good at:
Increasing your customers' loyalty. A couple of nice words and a little present - not so difficult (or expensive) for you, but it definitely brings you a positive impact.
Growing your popularity. Some people share such things with friends. Use it. This way you'll have more loyal customers.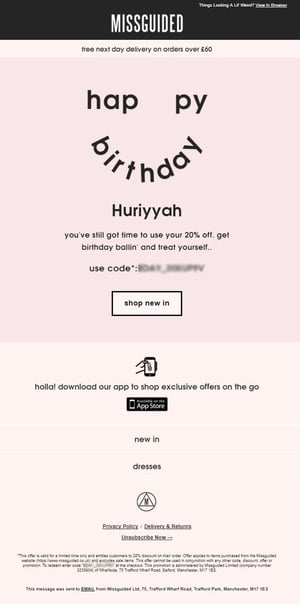 Special Occasions Emails
Christmas is coming. This is a perfect moment to create a newsletter as everyone is looking at presents for their families and friends. Make recommendations, maybe give a little discount and you get a profit!

The other reason can be your company anniversary. Share your joy, give presents, send some promo codes - let your customers feel like a part of one big family that your company is.
Special occasions emails are good at:
Increasing your customers' loyalty via a discount. Giving your client a discount certainly helps to make people like your eCommerce brand. And yes, you increase the chances, they will purchase from you soon and share the information with their friends or, let's say, Instagram subscribers.
Increasing your customers' loyalty via recommendations. By sharing what is popular now or creating recommendations based on the customers' preferences, you show that you do care.

Transactional Emails
Transactional emails usually contain information based on the user's activity. This type of email marketing is sent only to one user at a time.
Transactional emails have very high open rates as they are triggered by the customer's action. So don't ignore these emails and try to get as much as you can from sending them.
Transactional emails are good at:
Helping you sell more items. You can add a "People also buy" or "Trends" block and offer some products, which will go with the ones your customer just purchased. A pair of shoes for the dress, a belt, which will go nicely with jeans or jsut extra shoelaces.
Increasing your customers' loyalty. Add a coupon, a promo code with the next purchase, a gift - anything that people like to get for free. And your customers will come back over and over again.
Add your social media buttons. Be in touch with your customers. Always.
Offer a coupon for downloading your app. Researches show amazing results about how mobile sales are growing. Don't miss the chance.

Order Confirmation Emails
Order confirmation emails have one of the highest open rates as they have the information about the purchase: tracking number, delivery date. It's likely that your customer will open this email. So, think of sending this link of emails, too.
Order confirmation emails are good at:
Providing your customer with all the necessary information. The tracking number, delivery date, payment details, the receipt.
Promoting related products. Just another way to make your customer buy from you. Even if s/he did that a minute ago.
Offering to subscribe to your newsletters. Just one more way to make people subscribe to your newsletters. It drives traffic to your website.
Offering to download your app. Everyone is shopping online, so give your customer this opportunity, too. By the way, if you have an Apple Pay or a Google Pay button in your app, it'll be so easy for customers to buy.
Offering to subscribe to social media. Communicate with your audience, show what is new.
Promoting your new arrivals. Don't miss the chance to attract people with something new. Let them know they'll be exclusive if they buy this trendy clothes first.
Paying people's attention to the sale. Have you ever missed a "Sale" button? I haven't.
Offering people to become a part of your referral programme. Loyalty, loyalty, loyalty. And yes, more people get to know about you.
Giving a discount or a gift. Classic. Don't know what to do? Give a discount.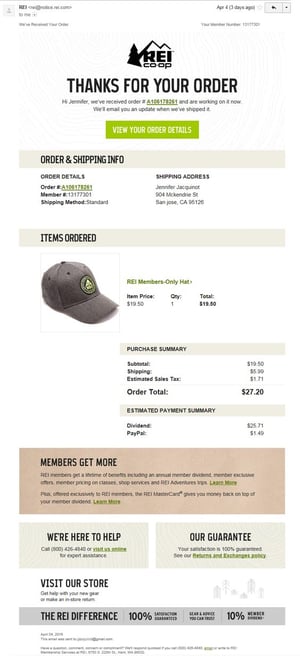 Abandoned Cart Emails
Who hasn't heard about the abandoned cart problem? I bet every eCommerce business owner and every second customer. So, let's do something about it.

Why do people leave their carts full of products?

Not sure they really need what they picked up
The total cost is higher than they expected
The total cost is not high enough to have free shipping
No free shipping available
They expected a discount
They were distracted by something
It is too complicated to fill-in the sign-up form
Sooo there are a lot of reasons why people don't buy. But! You can fix it. There are two kinds of emails, which you can send: an abandoned cart email or an abandoned cart series.
Abandoned cart email reminds people of what they left in the cart, this email is usually sent the same or the next day after the cart was abandoned.
Abandoned cart series is also good at reminding people about the stuff, but the difference is that they send follow-ups in 1, 3-5 days. Sometimes offer a discount for the products in the cart.
Abandoned cart emails are good at:
Bringing you the money. You remind about the products in the cart, customers buy them, you get the money.
Increasing your customers' loyalty. People will appreciate your reminder and, probably, a discount. I like such email marketing tricks.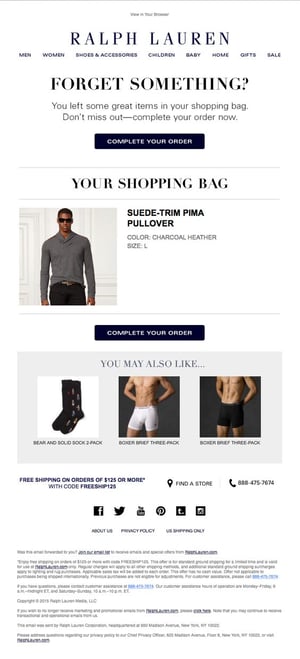 To sum up
Email newsletters work great in eCommerce marketing. My experience at X-cart proves this. Just remember that at first, you should work out your eCommerce brand style not to be lost in the bunch of emails that customers receive every day.
Try different kinds of email marketing techniques, do A/B tests and never stop looking if you haven't found your style yet. And even if you did, watch the trends.
Start Selling More with Our eCommerce Software