When your pick, pack and ship process runs like clockwork, you'll have more time for tasks that will bring in sales, whether it be marketing your products or studying competitors. Unfortunately, these days time is a rarity for retailers, who often find themselves struggling to improve their fulfillment operations to meet ever increasing customer expectations.
Without a well-designed workflow and an integrated automation software, ecommerce order fulfillment becomes repetitive, disorderly and inefficient at best. Fulfillment becomes more complex as retailers attempt to grow and scale their operations.
Sellers need a flexible solution that not only automates most of the pick, pack and ship process, but also optimizes their entire operations.
Whether you're shipping an order to multiple addresses, or if you need to send staggered shipments, Jazva was built to handle these complexities and challenges that high-volume retailers face in today's competitive multi-channel landscape.
How Jazva Optimizes the Picking & Packing Process
According to a recent UPS study, about 75% of your warehouse resources or manpower is allocated to order picking and shipping. For a warehouse operation with five full-time employees, a 30% improvement in processes with intelligent automation could result in over $55,000 of cost savings per year.
Jazva provides robust, customizable tools for generating pick lists and packing slips to suit your specific fulfillment workflow. Aside from matching your existing processes, Jazva also helps you achieve greater efficiency while reducing errors. For instance, Jazva's intelligent location management solutions allow you to easily set up and label aisles, shelves and bins in your warehouse. Batch settings and pick list priorities can be customized for the most efficient picking paths.
In Javza, you can select how and when pick lists and invoices are printed, whether manually by individual orders, or processing them in highly flexible batches.
By default, packing slips and invoices are included in your batches. Jazva helps you choose the most appropriate boxes for each order, and the system offers additional packing instructions such as gift wrapping and notes.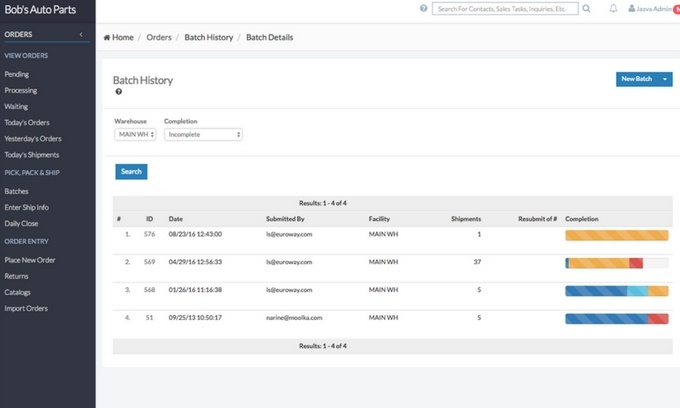 Efficient Order Fulfillment with Batch Processing & Barcode Scanning
Batches initiate the first step in efficient, scalable order processing. When you create a new batch, you can customize them by warehouse, batch size, channel, carrier, category and even weight. These filters allow you to separate orders containing specific items from the rest of your shipments.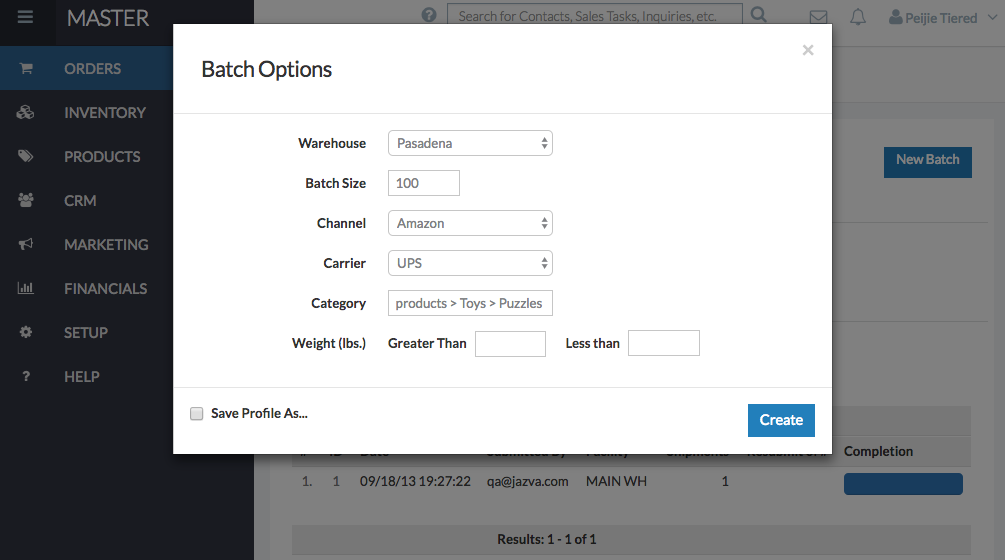 For instance, choosing a specific carrier allows you to prioritize one carrier over the other based on carrier pickup times. Similarly, you can create a batch for shipments that contain items from your "Clearance" category, or a batch for shipments containing items heavier than 30lbs. Batch profiles can be saved for future use.
Advanced batch printing options are also available, letting you choose which components of the batch you would like to print. You can include or exclude the batch item summary, pick lists, and invoices before you print your order batch.
You can either print a huge batch of 500, but we recommend printing smaller batches of 25 or 50 and split up the labor. Once the batches are printed, your pickers can pick multiple orders in a single pass route, then double-check with a barcode scanner to ensure the right items were picked.
What's more, Jazva offers a series of shortcut barcodes to help you cycle through orders much faster simply by scanning them. By scanning these barcodes, you can perform a range of actions without having to click buttons or enter data in the system.
Fully Integrated Shipping for a Streamlined Workflow
Once you have the products packed and ready at the shipping station, you can begin the process of shipping out your orders. Each order's shipment page can be loaded in Jazva by scanning the barcode on the pick list.

Jazva then calculates the most cost-effective shipping method in real time by automatically selecting the best carrier and mail class for each of your parcels.
Jazva is integrated with all major shipping carriers and we are proud to be a UPS strategic partner and a Certified Partner of Endicia. Our partnership with Endicia lets our customers ship through USPS at discounted rates.
If you fulfill Prime orders using Seller Fulfilled Prime (SFP), Jazva will automatically identify those orders and select an Amazon Partnered Carrier and the most suitable mail class.
Once you have verified the items and made all necessary changes, the shipping label will be purchased and tracking information will be automatically updated. You can then print the label from Jazva, attach to your parcel, and be ready for delivery.
A Powerful, Unified eCommerce Experience
At Jazva, we take the complexity and guesswork out of order fulfillment, so you can focus on what matters most: growing your business and improving the customer experience.
Jazva's powerful, flexible solution simplifies and streamlines picking, packing and shipping, so high volume retailers can work at greater efficiency, reducing errors, without paying for extra labor. Transform your business into a powerful operations machine today!