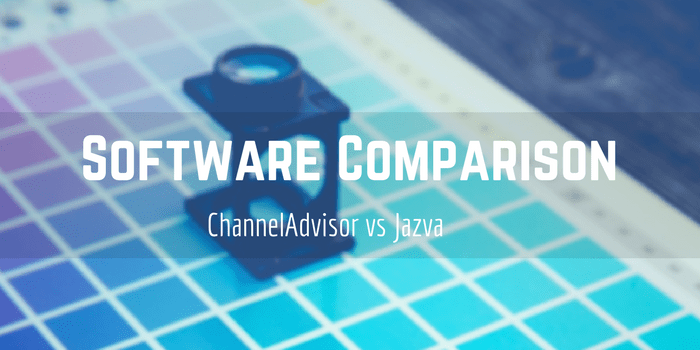 ChannelAdvisor is probably the best-known solution in online retail management. At the very least, it's one of the oldest and the most expensive platforms in the market.
Founded in 2001, ChannelAdvisor first emerged as a platform for synchronizing inventory and repricing Amazon and eBay listings. It has since added many more features, such as marketing services, along with numerous steep fees to match.
As a result, it's no wonder many sellers are looking for alternatives to ChannelAdvisor. One thread on Amazon Seller Central started with the almost rhetorical question "Is anyone happy with ChannelAdvisor?" and revealed broad seller discontent about their substantial ChannelAdvisor e-commerce expenses.
But these considerable costs are only one front on which it doesn't match up well with easy-to-use ChannelAdvisor alternatives, such as Jazva:
Features
If you're going to pay so much in one-time and recurring charges for ChannelAdvisor, you'd expect a complete suite of functionalities, right? This isn't the case: You often pay a lot more for much less.
Past users have noted that ChannelAdvisor has been slow to integrate advanced capabilities such as automation. Plus, it lacks the end-to-end capabilities of a platform like Jazva, meaning you may have to juggle multiple siloed sites and platforms to compensate for missing functionality. ChannelAdvisor is known to excel at listing management, but the lack of integrated features can impede your growth and make it impossible to recoup your initial investment.
Jazva's powerful listing and inventory management capabilities allow you kit and bundle products while keeping stock levels optimized across multiple warehouses. You can also create pick lists, packing slips and shipping labels directly from the system without the need for custom integrations.
Jazva consolidates everything from listings to analytics in one place and supports it with automation, minimizing the risks of manual errors and unpredictable expenses. You also get a built-in accounting system and won't have to go through the hassle of connecting ChannelAdvisor to a legacy solution such as QuickBooks.
Costs
While exact ChannelAdvisor pricing is proprietary information, it's easy to get a general sense of its one-time and recurring fees. Both are relatively high.
Basic fees alone can amount to $15,000 or more annually, with yearly totals for ChannelAdvisor e-commerce often approaching $40,000. There's also the issue of channel integrations and setups, which can add $1000+ apiece to your tab, whether done individually or as parts of a bundle.
Since ChannelAdvisor requires the standard 1-year contract, you might spend too much up front - in addition to the percentage commission on revenue - for something that doesn't give you everything you need. In contrast, Jazva provides more economical pricing with greater overall bang for your buck.
Instead of spending an arm and a leg just to get started with your listings, you get a highly integrated and automated e-commerce solution. Jazva includes comprehensive features for inventory, warehouse, shipping, financials and much more.
Future-proofing for growth
Any good alternative to ChannelAdvisor must be a more streamlined and sustainable platform for online retail management, capable of scaling to more orders, sales and channels. ChannelAdvisor is not ideal here, for several reasons:
Long channel setup times, compounded by complex fees and schedules.
Complicated requirements for making data compatible with ChannelAdvisor.
Limited training and support options.
Why limit your growth potential with these hurdles? With Jazva, you get a solution that scales alongside your business and offers everything you need to win at the multichannel e-commerce game.
Let us show you exactly what we mean