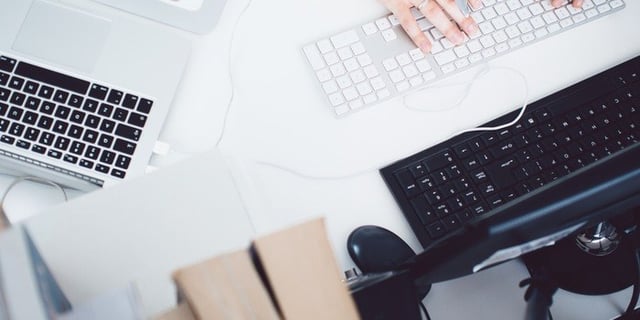 Managing orders and returns has never been easy, but they have become more complex and challenging in today's multi-channel ecommerce landscape.
Many retailers are reluctant to leave their existing legacy systems, either because of perceived costs or fear of change. But without a solid order management system, fulfillment becomes disorderly and inefficient, causing delays, errors and unhappy customers.
If you still use an antiquated system for order management, you won't be able to scale your business or manage higher sales volumes.
What to Look for in an Order Management System?
When looking for the best order management system for your company, you'll need to consider your business size, budget, average order volume and fulfillment requirements.
According to Intelligraded, order fulfillment and replenishment typically accounts for 50-65% of warehouse labor expense. Companies that use automation to optimize these processes have been able to generate more revenue without having to increase manpower.
This research shows that investing in a proper order management solution will not only result in a more flexible supply chain, but will also improve your ROI and lead to sustainable growth, better risk management and customer service.
In other words, a good measure of an ecommerce order management system is not what it can fix right now, but how will it help your business grow in the long run.
Rather than save a little money on band-aid solutions, investing in a system that can turn your operations into a well-oiled fulfillment machine for years to come is worth it.
Scalable order management will allow you expand into more marketplaces, as well as use more flexible fulfillment options such as dropshipping, Amazon FBA, MCF and SFP.
1. Centralized Orders for Multi-Channel Sellers
Order management gets more complex the more channels you add. You'll need a system that can give you a holistic view of all your orders, in different stages of the supply chain. You'll need to be able to track each order, whether that came from eBay or Walmart Marketplace, and you should be able to know if that order will be fulfilled by Amazon FBA or your dropshipper.
An integrated order management system is crucial for fulfilling orders timely and accurately.
When you look for a scalable system, make sure their backend is integrated with the specific channels you sell on. You'll need to be able to accept and process returns quickly and determine which orders are expedited. Amazon will need to know when you've shipped the product, and so does Shopify and your customer.
2. Optimized Picking & Packing Processes
In a study by UPS, order picking accounts for 55% of your warehouse resources. For an ecommerce operation with five full-time employees, a 30% improvement in order picking through intelligent automation could result in over $30,000 of cost savings per year. Efficient processes not only save time and reduces errors, but also improves warehouse safety.
So when looking for a solution provider, you'll need to find a system with a customizable location management system that helps you set up aisles, shelves and bins in your warehouse according to the most efficient picking paths. The system should then generate flexible pick lists and packing slips based on the most optimal fulfillment workflow.
3. Faster Fulfillment with Batch Processing & Barcode Scanning
To achieve high volume scalability, you need software that can help your pickers fulfill orders faster while reducing errors. Intelligent automation is key to scalable fulfillment.
The more human interaction you have in your operations, the more errors you may end up with. Research has shown that in any complex system, most errors and failures can be traced to a human source.
In a warehouse setting, you'll need to be able to customize your batches to guide your pickers. Once batches are printed, your pickers can pick multiple orders in a single pass route, then double-check with a barcode scanner to ensure the right items were picked.
Shortcut barcodes can further automate and expedite fulfillment, letting you cycle orders faster.
4. Integrated Shipping & Scalable Options
High volume sellers will need fully integrated shipping in their order management system. Not only would this streamline the fulfillment process, but it also saves money so you wouldn't have to purchase a third-party solution like ShipStation or ShipWorks. Stellar fulfillment will lead to happy customers and positive reviews.
If you want to scale your business even further, you should look into solutions that are integrated with Amazon's Seller Fulfilled Prime and Walmart's Free Value Shipping.
Customers crave convenience, and tying your products to these trusted marketplace brands will not only drive conversions, but also helps you diversify your revenue streams.
5. Business Rules for Orders
Convenience is king when it comes to online shopping, and more customers are demanding flexible delivery options.
If orders and returns are not synced, you risk having discrepancies, miscounts, backorders, delayed refunds, and angry customers at your store waiting for a purchased order that is out of stock.
Why We Recommend Jazva for Order Management
An order management system is the backbone of an ecommerce business. You need a solution that not only supports all the processes involved in managing your retail operations, but also streamlines them effectively, delivering greater ROI and sustainable growth.
Jazva is an all-in-one ecommerce management system built for sellers looking to scale and be more efficient, without having to pay exorbitant amounts for a custom ERP solution. You can check out the detailed comparison reviews where Jazva is stacked up against other order management systems like Skubana, SellerActive and more.
Beyond optimizing the pick, pack and ship process, Jazva offers great flexibility and delivers a seamless multi-channel selling experience that wins customers.
Schedule a free demo with Jazva and see the benefits of a unified eCommerce software first-hand